Dr. Kellyann's Bone Broth Diet
Dr. Kellyann's Bone Broth Diet Reviews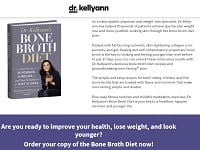 Reviewopedia is supported by our readers. This page contains links through which we may earn a small commission for purchases.
Kellyann Petrucci has developed the 21 Day Bone Broth Diet Challenge to help people lose weight quickly. But is the diet legit, and is this diet book worth it?
About Dr. Kellyann Petrucci
Frequently seen on the Dr. Oz show, Dr. Kellyann Petrucci is a New York Times bestselling author and the 21 Day Bone Broth Kit creator.
Her medical experience comes from studying biological medicine at the Marion Foundation and Paracelsus Clinic, Switzerland.
In addition to these roles, Dr. Petrucci runs a private practice in Birmingham, Michigan, and is a concierge doctor for famous clients in New York City and Los Angeles.
What Is The 21 Day Bone Broth Diet Challenge?
Dr. Kellyann's strategy is implementing bone broth, intermittent fasting, and fat-burning foods for 21 days. Per the website, this process can reduce your weight by up to 15 pounds and four inches.
Additionally, the diet can reduce the number of wrinkles that you have.
How Does Dr. Kellyann's Bone Broth Diet Work?
The benefits of bone broth are far more exceptional than one might think. The homemade recipe that Dr. Petrucci sells has components that benefit you health-wise in many ways.
According to the program, drinking chicken bone or fishbone broth gives your cells a boost due to the inclusion of:
Collagen Powder
Gut-healing glycine
Glucosamine and chondroitin
Inflammation-fighting ingredients
Combining all of these allows you to reduce your weight, increase your health, and decrease your wrinkle count.
How To Use
The suggested process is to eat a Paleo diet five times per week.
During these five days, you will also consume 1-3 cups of bone broth. On the weekend, you will fast while only consuming bone broth in large quantities.
What Ingredients Are In Dr. Kellyann's Bone Broth?
The combination of ingredients within Dr. Kellyann's Bone Broth include:
Chicken bone broth powder
Natural flavors
Grass-fed bovine collagen
Salt
Cauliflower powder
Minced green onion
Parsley
Reishi mushroom powder
Turmeric extract
Additional Products:
The newest option from Dr. KellyAnn is the 5 Day Cleanse and Reset Kit (Improved)
This condensed protocol combines bone broth with some of the latest products from the company. It's also a good option for those who don't want to commit to her 21 day program.
The program promises to help with gut health, skin and nail appearance, and weight loss. For 5 days your meals will be replaced by soups, smoothies, and bone broth.
Lemon Sips with a new melon concentrate called SOD B. This all-natural extract has been clinically shown to smooth away cellulite by shrinking fat cells hiding just below the skin.
Each 5-Day Kit includes:
15 Lemon Sips - A drink that features a melon concentrate that has been shown to reduce cellulite. (Full Product Review)
5 Super Chocolate Smoothies -OR- 5 Super Vanilla Smoothies
5 Bone Broths
5 Super Berry Smoothies
5 Lemon Chicken Soups
The 5 Day Cleanse and Reset Kit has lots of positive reviews on her website with many users claiming they were able to use a few lbs quickly without feeling like they were starving themselves.
Cost and Price Plans
There are several components to the 21 Day Bone Broth Challenge. These include the book, the e-course, and the bone broth.
The cost for Dr. Kellyann's Bone Broth Diet: Lose Up to 15 Pounds, 4 Inches--and Your Wrinkles!--in Just 21 Days in paperback form retails for $14.99. This book includes the recipe for how to make Dr. Kellyann's bone broth.
You can order the bone broth through her website. When you do this, you also get free access to her Bone Broth Fast Diet E-course, which typically retails for $97.
The cost of the broth varies by quantity and comes in many different flavors and vegan. Additionally, you can purchase the broth in liquid or powder form.
1 weeks worth = $56
2 weeks worth = $112
3 weeks worth = $168
There is a $5 shipping fee when purchasing the broth packs, and it comes with a 90-day money-back guarantee. There is also an option to subscribe for automatic deliveries. In choosing this option, you receive a 10% discount on your monthly purchase.
Customer Service
On the ordering page of the company's website, they list their customer care number 888-871-2155.
Additionally, they have a section containing a contact box, email address ([email protected]), text number, Facebook support group, and physical address on the main page. They offer weekend hours for sales support as well.
Unfortunately, even with these avenues, it seems that the company's customer service is lacking.
Several online reviews state that it is difficult to get anyone on the phone when they call the number and difficult to take advantage of the money-back guarantee.
Customer Reviews & Complaints
The 21 Day Bone Broth Diet has a 4.3-star average rating on Amazon. Many of the negative complaints center around the diet not working for them or that the book was difficult to read.
Additionally, many feel that it is essentially a Paleo diet with fasting and expensive bone broth.
Some reviews talk about the side effects of being on the diet for an extended period. One customer became severely dehydrated after doing the diet for 13 months.
Furthermore, many people don't appreciate the cost of the pre-packaged broth packets. There is convenience in purchasing it this way due to the lengthy process of making it from home.
However, the price is not feasible for many customers to take on long-term.
For all of the negative comments, there are a large number of positive ones as well. Many have gone through the program many times over and have achieved outstanding results.
Competitors and Alternatives
There are several forms of the Bone Broth Diet out on the market, each with its unique twist. Some of them are longer, while some are more simplistic.
21 Day Bone Broth Diet Challenge vs. Bone Broth Diet - the main difference between these two methods is that the Bone Broth Diet is primarily a cookbook that champions easily made broth recipes to make at home.
Vs. 30 Day Bone Broth Challenge - besides the noticeable difference in length, the 30 Day Bone Broth Challenge is very similar to the 21 Day version.
Vs. 7 Day Bone Broth Diet Plan - this method focuses on resetting your gut health and having a clean slate for going forward.
Where To Buy?
You can purchase Dr. Kellyann's Bone Broth Diet: Lose Up to 15 Pounds, 4 Inches--and Your Wrinkles!--in Just 21 Days for $14.99 on the company's website, Amazon, and Barnes and Noble.
If you are interested in acquiring her pre-packed bone broth and e-course, you can find these on the company website.
Is Dr. Kellyann's Bone Broth Diet Worth It?
We think that everyone's body is unique in its way. Therefore, no diet is one size fits all. It is essential to look at the different options and figure out which will be the best fit for you.
The 21 Day Bone Broth Diet Challenge is very beneficial to some but not feasible for others.
We think that the high reviews and the science behind the diet, as well as the telling before and after photos, make the Bone Broth Diet an option that is worth it for many people.
If you have any experience with Dr. Kellyann's Bone Broth Diet, please leave your reviews below.
You may also be interested in
Dr. Kellyann's Bone Broth Diet Customer Reviews

Dona D
Not working, bloating, expensive
I did try the broth for 2 months I only wanted to lose 5 lb , after all that time absolutely nothing happened except bloating and inflamed intestines
And wallet much lighter, I need to add that I am a Fitness instructor and PT, so I am active , to me at that price is scammy…same thing happened with lemon sip

MARY J
Do not order this overpriced product. you can buy it cheaper at the supermarket...The customer service is deplorable and they are not consumer friendly!!!

Lynn
I bought the $168 3 mo boxes of Dr Kellyannes Bone Broth Diet after seeing GMA Tobin Roberts & Dr OZ "Supposedly " Rave Review. I ordered as I need to lose weight & should know better . Not only Did I not lose any weight while even doing "Intermittent Fasting" But found the Powder was near impossible to dissolve in Hot water.
I'm assuming the Collagen causes it to have Globs form & I had to scrape on side of mug to try & break up So I could drink . I feel so foolish falling for this Scam . They did say they would return my $ via chat as I could find no direct ph # also suspicious. So all I can say is Buyer p . Buy Carton Bone Broth at Grocery Store for a lot less and purchase Collagen pills or powder . And hopefully this will help . ??
As my Mom always said if it sounds too good to be True ,.. it is !!