Dr. Holly Lucille Reviews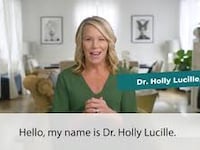 Dr. Holly Lucille Review: A Closer Look
Dr. Holly Lucille is a licensed naturopathic doctor with many years of private practice and a growing media presence.
How Does it Work?
Lucille has been featured on several daytime TV programs and can be heard on the Mindful Medicine podcast.
Recently she has been featured in advertisements for a variety of supplements from PureHealth Research, a company that relies on Dr. Holly and a handful of other specialists to make up their advisory board.
As a naturopath she believes that doctors should treat the whole person, not just address current symptoms, and that getting at the root cause of health issues can better empower individuals to address their health needs.
Below we take a closer look at popular supplements recommended by Dr. Lucille, compare the claimed benefits to scientific evidence, and look at customer reviews.
Is Dr. Holly Lucille a Real Doctor?
Dr. Holly is a licensed naturopathic doctor with a degree from a four-year graduate-level naturopathic medical school accredited by the Council on Naturopathic Medical Education (CNME).
While both naturopathic doctors and medical doctors are licensed healthcare professionals, they differ in their education, training, and approach to patient care.
NDs emphasize a holistic and preventative approach, using a combination of conventional and alternative treatments, while MDs focus on diagnosing and treating diseases using evidence-based medicine.
The efficacy of naturopathic treatments varies widely, as it encompasses a diverse range of therapies and approaches.
Some treatments, like nutrition counseling and certain botanical medicines, have strong scientific evidence supporting their use. Others, like homeopathy and hydrotherapy, have limited or conflicting evidence and lack biological plausibility.
As the field of naturopathy becomes more mainstream, there is a growing interest in conducting rigorous research to evaluate its methods and develop evidence-based guidelines for practice.
Dr. Holly Lucille Products
Blood Sugar Formula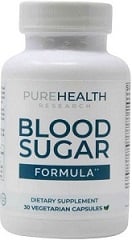 ( Blood Sugar Formula from PureHealth Research )


This product promises users several benefits, notably supporting healthy blood sugar levels.
The sales presentation for this supplement makes use of common supplement advertising tactics:


Referring to secret/banned formulas
Dumbing down complex health problems to one issue
Offering a super simple solution
Mentions solution found in the bible
Promotes the idea of a "Metabolism Reset Button"
Claims to work in as little as 7 days


Generally, we view these sales tactics as warning signs of a possible scam product.
However, in her presentation Dr. Holly Lucille routinely cites research studies supporting the reasons for each ingredient used in the Blood Sugar Formula.
Unfortunately, the specific details of the studies are often skipped over, with many of the studies performed on mice in lab settings with very specific conditions.
It's also important to note that the studies referenced test the individual ingredients found in the supplement. There is no study specifically testing the Blood Sugar Formula as a whole.
That said, the studies available are promising. For instance, there is research to support the claims of Berberine as an AMPK activator along with several other ingredients included in the Blood Sugar Formula. [1], [2]

As the presentation suggests, some of the other methods for supporting healthy blood sugar levels are:


As Dr. Holly Lucille states, since these methods require more effort they can be more difficult to do regularly.
At the very least a high quality diet and exercise should be incorporated for anyone wanting to regulate their blood sugar and improve overall health.


Blood Sugar Formula Reviews & Complaints


On the PureHealth Research website, Blood Sugar Formula has hundreds of positive customer reviews with only a few people mentioning that they didn't feel any benefit from the supplement.
On Amazon, Blood Sugar Formula has fewer reviews but more customer complaints, where some unhappy customers complain that they didn't see the promised results.
Some diabetic customers familiar with blood sugar supplements pointed out that they'd prefer if the supplement contained higher amounts of the active ingredients.
Finally, some customers felt the price was too high for a one month supply of the product.


Liver Health Formula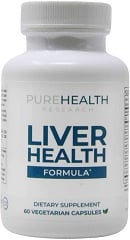 ( Liver Health Formula from PureHealth Research )

Most Liver Health supplements share key ingredients based on their uses in traditional medicine and some supportive current research.
Some of these ingredients include:


Artichoke Extract
Beet Extract
Bioperine
Turmeric
Silymarin (from Milk Thistle)
Dandelion
L-Cysteine


One of the main issues with many liver supplements is in the way that they are marketed.
Manufacturers often tout the concept of a "liver detox," something that is misleading and has little scientific support. [7] Many sellers even claim their liver supplement promotes weight loss.
At best liver supplements can provide your body with nutrients that may help support liver function and reduce inflammation.
In most cases the best things to do for liver health involve making lifestyle changes such as:


Quitting smoking
Reducing alcohol consumption
Limiting exposure to toxins
Losing weight


You can read more in our in depth review of Liver Health Formula.


Ageless Brain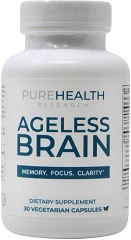 ( Ageless Brain from PureHealth Research )

This supplement claims to support brain health and mental acuity.
Key ingredients include:


Caffeine Anhydrous
Gamma-aminobutyric Acid
Bacopa Aerial Parts Extract
Alpha Glycerylphosphorylcholine
L-Theanine & L-Tyrosine
Huperzine-A
Niacin & Vitamin B6


As with all products that Dr. Holly Lucile endorses, the ingredients in Ageless Brain are research backed.
For instance, L-Theanine has been shown to have a "...significant effect on the general state of mental alertness or arousal." [8]
Overall though, customer reviews of Ageless Brain on Amazon are mixed with a rating of 3.8/5 from 350+ customer reviews.
Common complaints note customers not feeling any noticeable changes from taking the supplement, as well as feeling that Ageless Brain contains too much caffeine.
Unfortunately, since PureHealth Research uses a proprietary blend of ingredients they do not reveal specifically how much caffeine is in the formula.


Fungus Eliminator
You can view our full review of Fungus Eliminator, as well as customer reviews.
Contact Info
Dr. Holly Lucille maintains a personal website where she offers telehealth appointments, additional media information, and information about her current work.
She states that any contact attempts regarding PureHealth Research products should be made directly to the company at the following:
Phone Number: 1-888-558-9836
Email: [email protected]
Customer Reviews & Complaints
PureHealth Research has fair to positive customer reviews for most of their products, with some performing better than others.
The company has a B+ rating from the BBB and are responsive to complaints there. Customers complaints on the BBB mention issues with ordering and billing practices.
Some customers mistakenly sign up for the "Subscribe and Save" option when ordering and are later surprised at recurring charges on their account.
Other customers have had issues with incorrect or extra items shipped to them, and then having to deal with returning and obtaining refunds from the company.
In general, PureHealth Research customer service has a reputation for being responsive and working to close customer complaints in a timely manner.
The Bottom Line
PureHealth Research uses certified labs to produce their products and focus on science backed ingredients.
The company earns fair reviews from customers that put them on par with many other supplement companies.
It's often difficult to assess how well supplements work outside of lab settings where ingredients are isolated and tested in controlled experiments, as there are too many variables at play.
Patients considering naturopathic treatments should discuss their options with a licensed ND or MD and consider the available evidence when making decisions about their healthcare.
If you have any experience with Dr Holly Lucille or PureHealth Research supplements, please leave your reviews below.
You may also be interested in
Dr. Holly Lucille Customer Reviews

Greg S
She lost all credibility when she did that stupid video that drags on and on about the Blood sugar switch developed by Ivy League doctors. The whole video is a SCAM. Sad, she stooped to this level. I work for a well-known Homeopathic Medical company, and I can say she is more interested in money than helping people.

lorenzo
Her supposed "short" videos are long videos of nonsense. Practice medicine to "money grab" Miss Holly, rather than advertise.. Many of the products she "advertises" do not get good reviews on amazon.com.