Liver Health Formula Reviews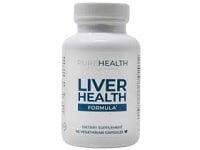 Liver Health Formula Review: A Closer Look


Liver Health Formula is a dietary supplement from PureHealth Research that's claimed to help reduce stubborn belly fat, return youthful energy, improve clarity and focus, support healthy blood sugar, and aid in digestion.
The advisory board for PureHealth Research includes Dr. Holly Lucille, ND, RN, a licensed neuropathic doctor.
Lucille has made television and radio appearances on such programs as Dr. Oz and The Doctors, and is also the author of two books on naturopathy.
Ingredients
The ingredients in Liver Health Formula include turmeric, beet root, dandelion, milk thistle, artichoke extract, and alfalfa.


Turmeric
Turmeric is a spice often used to flavor and color curry powders and mustards.
Clinical research suggests that turmeric may be effective in reducing cholesterol, alleviating pain from osteoarthritis, and reducing itchiness brought on by chronic kidney disease.
Other conditions that turmeric may be useful for include hay fever, depression, high cholesterol, and fatty buildup in the liver in individuals who drink little alcohol.
Turmeric has been reported to be effective in treating conditions such as:


stomach ulcers
rheumatoid arthritis
high blood sugar
tuberculosis
Alzheimer's disease
cancer
inflammatory bowel diseases


However, these claims have not been supported by laboratory studies.


Beet Root
Beet root refers to the same vegetable that you may have in your refrigerator. Beet root shows some promise for use in athletic performance and muscle soreness caused by exercise.
This is possibly due to the beets ability to increase levels of nitric oxide in the body, although more data is needed to verify these claims.
Beet root may help to treat high cholesterol, high blood pressure, and high triglycerides (when taken with hawthorn), but these results have not been proven conclusively in laboratory studies.
Conditions that beet root is apparently ineffective in treating are obesity, prenatal high blood pressure, pulmonary hypertension, Raynaud syndrome and liver disease.


Milk Thistle
Milk thistle comes from a plant, the seeds from which a substance called silymarin is extracted. Milk thistle may have antioxidant properties.
It has been used for many years to treat liver issues, although more data is needed to confirm this. Milk thistle also shows some promise in treating type two diabetes and indigestion.


Dandelion
Dandelion, which is the same plant as the weed with yellow flowers, has typically been used in alternative medicine to treat conditions such as bladder infections, tonsilitis, arthritis pain, and upset stomach.
However, there is insufficient laboratory data to confirm the validity of these treatments.


Artichoke Extract
Artichoke extract, which is another ingredient taken from the common vegetable, had been touted as a treatment for health issues such as:


high cholesterol
high blood pressure
liver issues
irritable bowel syndrome
However, these claims have not been scientifically proven.


Ginger
Ginger has a long history of use as an anti-nausea treatment, and it also shows promise as a treatment for menstrual cramps and osteoarthritis.
Conditions that ginger has not been proven effective for include weight loss, migraines, and high cholesterol.


Alfalfa
Alfalfa, the same plant that alfalfa sprouts come from, has been used as an alternative treatment for such issues as:


high cholesterol
kidney and bladder problems
prostate problems
asthma
arthritis
diabetes


However, there is insufficient data to back up these claims.


L-Cysteine
L-Cysteine has been used to treat overdoses of acetaminophen. It also shows promise in treating some lung diseases, such as chronic bronchitis.
It may also be effective as a treatment to prevent kidney and neurologic damage caused by some medications. More laboratory evidence is needed to substantiate these claims.


How to Use the Supplement
Liver Health Formula comes in pill form, with the recommended dose of two capsules per day.
Potential Side Effects
Consult with your physician before taking turmeric if you are breast feeding.
Do not take turmeric if you have any of the following issues:


diabetes
gallstones
iron deficiency
blood clotting disorders
Gastroesophageal reflux disease (GERD)
uterine fibroids
erectile dysfunction
asthma
diabetes
migraines
autoimmune disorders
endometriosis
breast cancer
uterine cancer
ovarian cancer


Do not use turmeric if you are pregnant as it could cause uterine bleeding.
Taking turmeric as a supplement may cause nausea, dizziness, diarrhea or upset stomach. Turmeric may also affect sperm motility and may lower testosterone.
Beet root may make your urine or stool pink or red. This is a harmless reaction. Ingesting too much beet root can make kidney disease worsen.
Milk thistle can cause diarrhea, constipation, nausea, vomiting, bloating, itchiness, and headache.
Do not use milk thistle if you have diabetes, breast cancer, uterine cancer, ovarian cancer, endometriosis, or uterine fibroids.
Milk thistle can cause allergic reactions in those who are allergic to daisies, ragweed, marigold, and chrysanthemums.
Milk thistle may interact with medications such as Valium, Coumadin, diabetes medications, raloxifene (Evista), Simeprevir, and Sirolimus (rapamune).
Do not take dandelion if you take any of the following medications: lithium, antibiotics, blood thinners, diuretics, blood pressure medications, or Valium.
Artichoke may cause side effects such as upset stomach, gas, and diarrhea.
Do not use an artichoke supplement if you have an allergy to daisies, marigolds, chrysanthemums, or ragweed.
Taking a ginger supplement may result in diarrhea, stomach discomfort, heartburn, and heavier than normal flow during menstrual cycles.
Alfalfa supplements may cause symptoms that are commonly associated with the autoimmune disease Lupus, such as joint pain, fatigue, and skin irritations. Alfalfa might also cause increased sensitivity to the sun.
Do not take an alfalfa supplement if you are taking blood thinning medications, birth control pills, hormone replacement medications, medications meant to decrease the immune system, and medications that can increase sun sensitivity.
L-cysteine may cause chest pain, anxiety, nausea, muscle spasms, and stomach cramps.
Do not take l-cysteine if you have the following medical conditions: asthma, fluid overload, hepatic encephalopathy, or gastric hemorrhage.
Customer Reviews & Complaints
The ratings on Amazon are good at 4.5 stars out of five, taken from 343 reviews.
The company website lists the average review at 4.7, based on 97 reviews.
Largely, the complaints regarding this product center around the product's ineffectiveness.
Customer Service
Customer service is available 24/7 at (888) 558-9836. If calling outside of the U.S. call +1-863-301-4007.
Customer service can also be reached at [email protected].
The company claims to offer a 365 day money back guarantee on the Liver Health Formula. If you're not satisfied contact them for a refund.


Where To Buy?
Liver Health Formula is available on the company website, Amazon, and Nutrifood.


Cost and Price Plans
One bottle costs $49.00. Three bottles cost $117.00. Six bottles cost $198.00.
The subscription plan will save you 20%. You also get two books. Free shipping is available throughout the U.S.
The Bottom Line
PureHealth Research makes some rather bold claims regarding Liver Health Formula based on the use of several ingredients that have not undergone rigorous laboratory testing.
Although some of the ingredients do show promise for certain conditions, the mixture of several ingredients that have not undergone sufficient laboratory testing would seem to make this a product best approached with caution.
If the singular ingredients have not been verified sufficiently, combining these ingredients certainly hasn't been verified to be safe or effective.
We think the price is also quite high for this supplement, and the many potential side effects and interactions with medications make this a product to approach with real caution.
If you have any experience with the PureHealth Research Liver Health Formula, please leave your reviews below.


You may also be interested in
Liver Health Formula Customer Reviews