Dr Sears Primal Force Reviews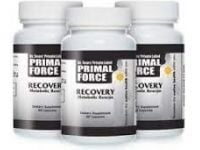 Primal Force is a line of supplements and vitamins developed by Dr. Al Sears, the doctor responsible for founding the Center for Health and Wellness in Florida.
Sears has written a plethora of books, research reports, and is an avid lecturer with lots of radio and media appearances.
He's a graduate of South Florida College of Medicine and one of the first to be board certified in anti-aging medicine.
A lot of what he does focuses on exploring alternative medicines and learning from cultures all over the world to improve the care that he provides to his patients and customers.
How Does Primal Force Work?
Sears states that the Primal Force line of supplements are designed to deal with a variety of issues and ailments that include weight loss, heart health, inflammation, joint discomfort, sexual potency, mood, energy levels, and mental health.
The supplement made up of the following ingredients:
Vitamins D3 and C, Folic Acid, Proprietary Amino hTert Complex, Ginseng, Kudzu, Milk Thistle extract, Horny Goat Weed extract, Bacopa, Green Tea, Resveratrol, pTerostilbene, Fenugreek extract, Citrulline, Mixed Tocotrienols, Ginkgo extract, Gotu Kola, and Ashwagandha.
Some of Sears's other popular products include Primal Lean, a weight loss supplement and Primal Force Ultra Accel, a formula designed to benefit energy levels and improve sleep.
Side Effects and Ingredients
All the ingredients for each product can be seen online giving customers the chance to check for any potential allergens before purchase.
If you have any concerns you should consult with your doctor before starting any supplement regimen.
Customer Service
Customers can reach a customer service rep at 866-895-8555 or 561-792-4262.
Customers can also reach the company via a contact form on PrimalForce.net/contact-us.
The company website states that all products come with a 100% satisfaction guarantee for a full refund for items that the customer is not happy with.
The mailing address listed by the company is Primal Force, Inc., 11905 Southern Blvd. Royal Palm Beach, FL 33411.
Online Reviews/Complaints
We found mixed customer reviews for Dr. Al Sears' product line online.
Some of the supplements have great reviews and others have customer complaints claiming that they didn't' work and people did not experience any of the benefits.
It's often difficult to evaluate whether any supplements work or not. For instance there is still an ongoing debate over whether multivitamins are effective.
Further, many times people don't take the supplements long enough to see any real value or have unreasonable expectations.
Competitors and Alternatives
The vitamin and supplement industry is a billion dollar business and there are myriad companies selling their own products.
It's important to do your research and focus on buying products that will address any specific needs that you may have. A popular paleo option is the supplements from SFH.
If you have any experience with Dr Sears Primal Force, please leave your reviews below.
You may also be interested in
Dr Sears Primal Force Customer Reviews