Dice.com Reviews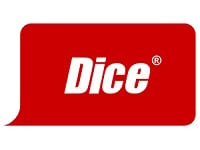 You may also be interested in
Dice.com Customer Reviews

Angela S
Just out for as much money as they can scam out of you. Beware!
I cancelled our contract with Dice because we did not receive a single resume from the ads that their rep helped us write. Now they are using intimidation and threats to collect a renewal fee.
They actually told me that they would be sanding an investigator to take photos of our assets and property, as if we would let them in the door.
I wish I had never even heard of them. Quite useless.

Heather A
Consumer beware, horrible product
Consumer beware with the DICE product and service. If your organization is considering signing a resume database search agreement, be advised there is an "evergreen" renewal clause in the contract you will sign. It is very cumbersome to get out of once signed. DICE is ruthless in pursuing auto renewal payments and your credit card will be auto charged if on file. Once friendly account managers go "silent" if you have not cancelled (in writing) 90 days in advance of your 12 month contract end date. You will indeed be "auto renewed" and charged (in advance) an entire year's renewal fee. Be also advised that the talent within the database is primarily looking for Corp to Corp opportunities and about 75% (or more) require some form of VISA sponsorship to legally work within the United States.

Adam R
100% scam website. No longer legitimate.
TL;DR: The site is no longer legitimate. STAY FAR AWAY FROM DICE DOT COM>
Several years ago this may have been a legitimate site. However now, it appears to be nothing more than data scraping for scammers. Confirmed this today.
Received a call from a lovely lady in "California". Obviously very thick middle eastern accent. Said that I matched a job posting they were recruiting for, requested my resume (which intentionally does not have much usable personal information). Received a response from a "senior" recruiter. Wanted more information, setup an interview etc. Wanted me to sign up and take a certification course on a site he provided (huge red flag).
So, I googled his company - his email signature included an address in California. Googled that address and found another company listed at that address. Having had calls from many "recruiters" just like this, I decided to dig deeper and call the actual company in google. Quickly explained myself and the person who answered laughed, said they are constantly getting calls and mail for this fake company.
Went a step further. Started doing this to all of the "recruiters" from dice and sure enough, same exact outcome every time. The site is no longer legitimate. STAY FAR AWAY FROM DICE DOT COM

Dolph D
Russell Tobin, rose international, dice and other Indian scam people. Asks for ssn, talks over you, they can't say anything that makes sense.

Sali F
The Dice website is a well known IT industry FEEDER.
I've used Dice website for most of my professional contracts, for over thirty-five years. Twenty-five years of which the contracts were all Wall Street contracts and very lucrative and rewarding. I have NO COMPLAINTS ABOUT THE DICE WEBSITE. IT'S DEFINITELY IS NOT A SCAM. VERY VERY REPUTABLE.

Roark
Dice is likely a scam recruiting company
I agree with other reviews. Seems very shady. Multiple first contact recruiters asked me for the last four digits of my SSN. Have had a few of the first contact recruiters send me rate confirmation emails and said someone with company would contact me regarding next steps.
Also, the emails they send out often are almost identical. The names like "Gary Ace" seem like fake names. One email wanted me to have more years of experience with software than the software has even been released. So, overall I don't trust this Dice recruiting company. I have tried to get in touch with companies that they say they represent but, have been unable to connect with a human at any of the companies.

Nick
Signed up for the site and within minutes my phone and email are blowing up with crappy consulting opportunities that pay peanuts from supposed recruiters in India.
Worst part is, these call center agents know nothing about the job or your qualifications(they don't review your resume prior to calling). They then proceed to say, their manager will call you back with more information. I deleted my account after about a month as it was simply ridiculous and didn't even get me an interview.
I tried other sites and within a couple of weeks landed not only multiple interviews but also offers.

Ayesha S
I received an offer for airlines through dice.and later they asked for money to get the registration i totally paid 12300 rupees and post which they asked 30000 which i refused to pay.i asked for the cancellation they told me to share my bank details and wait for 6 monyhs to refund the money which i paid its been 4 months now their phone numbers are switched off now.

tommy
Honest to god best job search website out there
I don't understand why these other reviewers are lambasting Dice.com as a fraudulent hub for identity theft. I can only surmise that only those with severely negative experiences have been incentivized to post here.
My experience with Dice was absolutely fantastic, I had been unemployed for nearly 2 months having applied to everything of interest on Indeed, Career Builder, and E financial careers. I was beginning to run out of options and decided to create an account on Dice and see if I could find something that all the other job search websites were lacking.
Within a week of posting my profile I had three recruiters reach out personally to me for jobs that I thought I was clearly under qualified for. Let me emphasize that these recruiters were legitimate and coming from some of the largest recruitment firms in the US.
I took up 2 of the three interviews that were sent my way and within that same week I landed a very ideal job after just 1 in person interview. I don't mean to bash on other job search sites but I've had a few recruiters from small firms contact me on Indeed for jobs that they weren't even able to help me secure an interview for.

Jenny M
I applied for 3 jobs this morning, and since then my phone and email inbox have been blowing up from random people claiming to represent the jobs. One guy called from what sounded like a call center in India literally 30 sec after I applied.
If the job opening is at Wal-Mart E-Commerce, and it's listed on Dice, then why is someone from "Kutir Corporation" calling me 4 times in one morning, asking about my rates and personal info? They're not even a staffing agency: http://www.kutirtech.com/index.html
I get a very sketchy vibe from Dice - time to go back to SimplyHired and Indeed.
(And their search engine and resume upload are also horrible)

jack c
Site maintenance - very frustrating
Again the Resume upload is not working. Probably the key feature when looking for a new position is to post your resume. The "my resume" screens are unpredictable at best, some days they work other days you thrown into an endless loop of screens.
Jack

Ricardo D
I question the legitimacy of this site
So I signed up with Dice because I'm looking for a new career. It seemed legit. The very next day I received an email that seemed promising. I responded that I was interested in the position and requested more information.
I received an email response that asked about 12 questions. A couple of the questions were "What is your full name" and "What is your email ID". Well, 1) my full name is listed on the Dice account they accessed in the first place and 2) they emailed me the questions so they already had my email ID. I wrote back asking if they were serious.
I have not heard back. I just received another email about another position. I responded and have not heard back. Dice seems to be a gathering of scammers and suspicious activity. Maybe not everyone on it, but so far it's been a joke. Even the "About Dice.com" article above is ridiculous. Just beware if you decide to use their site.

Lucy
A Rep called 10 times every hour stating he was a representative and asked for my ssn and dob. I declined and received a call back in 30 mins with a different rep and stating I could email my ssn and dob. It is a scam

OMG!!!
THEY STOLE MY RESUME AND CREDENTIALS!!!
Bottom line, this site is NO DICE to me. That's all I have to say...along with one lost resume with my personal credentials on it.
Who knows what identity thief (or thieves) have it now?
Just not happy with this site, period. No more questions and no more fake job searching with them.