DegreeLink.org Reviews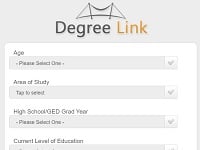 DegreeLink, found at DegreeLink.org, is a website which promises to help people find degree programs for counseling and behavioral sciences, fields which they say can help you change the lives of people.
According to their website, the government's Bureau of Labor Statistics says that psychology and psychology related fields will grow as much as 22% by the end of this decade.
DegreeLink.org says that they will help you find degrees which will eventually get you a job in the field of psychology, and that they specialize in programs which will help you complete your bachelor's or master's degree on your own schedule.
All you have to do is input the field that you are hoping to work in, your current level of education, your age, whether or not you have ever been in the military, whether you are a US Citizen, and when you are hoping to begin your degree program.
Then Degree Link requires you to give them your contact information, which they promise not to sell to any third party. However, before you can receive your school matches, you are asked check a box saying that you agree to have a variety of for profit universities contact you by email, telephone, and text message.
This means that DegreeLink.org is not actually an education informational website, but a lead generation website for this group of universities, which includes Argosy and Ashford University.
Unfortunately, because this website is only going to provide your information to a select few schools and their information to you, it's not a good website for finding the best possible match for your needs.
You can use this website to get information about this specific group of schools, but you'll need to expand your search beyond Degree Link to get the full picture and find the best school for you.
If you have any experience with DegreeLink.org or their services, please leave your reviews below.
You may also be interested in
DegreeLink.org Customer Reviews

Jessica V
This website texted my phone saying "Thank you for your application. You can now apply for jobs in TX. http://edudegree.link/apply. Reply with Stop to unsubscribe."
Since I had a bachelors degree from an actual university, why would I apply to a "school" I've never heard of to get an "assistant" certification?
I don't know where they received my phone number from, but I'm assuming this is a scam to sell your information just as the article says.