Curable App Reviews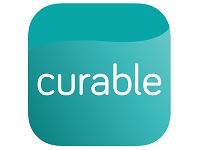 The Curable App is a program for chronic pain management that was developed to treat those who suffer from these debilitating conditions.
What is the Curable App?
According to CEO John Gribbin, Curable has the ability to cure the world's chronic pain through software.
The app argues that many chronic pain conditions, like back pain or migraine, are exacerbated (and often caused by) pathways for pains that are created by trauma, fear, and other genetic and environmental factors.
According to the research of this app's developers, most chronic pain issues are not related to biomechanical issues, but are instead responding to ultra-sensitive alarm systems that don't return to normal after injury or illness.
Therefore, the app addresses and presents strategies that can help you retrain and calm your nervous system.
Curable provides a three-step approach to retraining your brain and stopping these pain pathways. It utilizes meditation, writing activities, and mind body exercises to address the innate causes of your pain.
Originally a web-based app, this program is now available for iOS and Android. The app introduces you to Clara, an avatar voiced by a calming and soothing real person, who walks you through all of the exercises.
The first several lessons are free and introduces you to the manners in which emotions affect your physical symptoms. It includes recovery stories and background information about the tools that the app introduces.
Does the Curable App Really Work?
Users recommend going for the full subscription instead of just sticking with the free plan to ensure that the app really does work. The free program only includes a sampling of pain science lessons, exercises, healing stories, and expert interviews.
The paid plan includes all of these plus a full program of over 100 guided exercises, access to the Curable community, program customization, and a panic button in case you have a flare up.
How Much Does the Curable App Cost?
If you are browsing your Apple or Android app store, you may be asking yourself, "Ok, well is the Curable app free?" The Curable health app does offer several free lessons, after which you can subscribe for a monthly or annual subscription.
Afterward, you can choose the packet you'd like to start with -either writing, meditation, or mind body/brain. After completing three to four exercise in each set, you can do a different level or trying something else. Most last only ten minutes.
A monthly subscription starts at $14.99 per month. This is a recurring payment that can be canceled at any time, and includes access to a dynamic user community.
Another option is the annual subscription, which costs $5.99 per month and is billed yearly. This includes a substantial discount. The final option is a lifetime subscription of $299.99 - which is less than an average doctor visit.
This app is considered an approved purchase for most medical HSA/FSA plans. The company also offers a money-back guarantee for annual subscriptions that show active use for over two weeks.
Competitors and Alternatives
While Curable is one of the most popular pain management apps, it's far from being the only name in the game. There are several other mobile apps that can be used for chronic pain management.
Migraine Buddy, for example, is a digital headache log that makes it possible for migraine sufferers to keep track of the conditions that cause an attack and influence its severity. This app is completely free.
My Pain Diary: Chronic Pain Management is hailed as one of the best pain-tracking apps, and is set up like a calendar to be comprehensive and detailed. This app links with the user's Dropbox account and can even go so far as to sync weather data.
The WebMD Pain Coach is another free option. This program is available on iPhone and Android and has an easy-to-use interface along with a clean layout.
You can give each day a pain rating, like great, bad, or unbearable. This program gives users the option of designing a customized treatment plan and to target certain triggers.
Customer Service
Along with good customer reviews, the customer service department at the Curable App is also easy to contact. You can reach headquarters in Chicago or Denver by emailing [email protected]
Is the Curable App Any Good?
Look anywhere online and all you will find is positive reviews about the Curable app. Testimonials praise how effective this program was for removing all lingering pain, including those from headache, back pain, and more.
Although the Curable app won't heal you overnight, it will give you the tools you need to put you back in control of your own pain.
There are very few complaints online about this app, but most have to do with the fact that non-members cannot access the company's Facebook page. In other words, in order to be part of the community, you need to pay a subscription fee.
Where to Buy?
You can find the Curable app via the company's website. It is also available for download on the Apple and Google Play stores for your mobile device.
Is Curable Worth It?
If you suffer from a chronic condition, you might wonder how you can stop your symptoms for good.
Regardless of whether you are suffering from migraines, arthritis, or fibromyalgia, you have likely found yourself bombarded with a barrage of (mostly) helpful tips.
With a monthly subscription fee that is far lower than the cost of a doctor's visit, the Curable app is certainly worth a try.
This app teaches you how to take your health back into your own hands, providing the tools necessary for managing depression and anxiety, and teaching you the skills necessary to be back in control.
If you have any experience with the Curable App or their services, please leave your reviews below.
You may also be interested in
Curable App Customer Reviews

Ellen M
It was not what I expected
I did not click with the CurableHealth app. I paid for it and do not regret it. It was worth trying.
That said, for two years of chronic pain I listened to the free youtube videos by "Mindful Movement".
At night, when getting to sleep was challenging, I turned on one of their many soothing videos. Extensive collection to choose from.

Danne V
Scammy business practices.
I signed up for the app on my computer during the pandemic but was not able to find any real information on how to use it or any information about my account or initial signup information. I did get curable emails. After I was charged for renewal, I tried to find my account and how to cancel. I found no account, no original signup receipt and no way to cancel the account at all since I had NO information about my account except for a charge on my card. I was able to request technical support on the site to cancel the account. There is a disclaimer that says there are NO refunds. I had not used the app at all. This sounds like a scam. I am thinking about reporting to BBB

Don S
Don't waste your money there much better apps out there calling your pain a 'banana' really hasn't helped me at 3am while in pain!

Maki
I found that they have chosen for everything doesn't resonate with me nor do I like their interface for navigating curable once you become a member. Although they have many helpful ideas I don't find myself using my membership because it stresses me out more. I just wrote to give curable feedback on this and they said sorry you don't like it and but it's well over your trial period (it was only by 13 days). I don't take issue with not getting a refund but a nice note that they would consider or review my feedback would have been nice. Finding a way to even contact them on the site is difficult. I also find there are almost no 3rd party reviews but only glowing reviews on the curable site. I can't be the only one that has a slightly negative comment. Makes me wonder.