Contours RX Lids by Design
Contours RX Lids by Design Reviews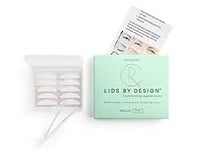 As individuals age, different areas of their bodies are subject to change. The changes will be more noticeable for some than for others and can cause confidence and self-esteem issues as a result.
One of these areas is around the eyes. As people grow older, they can often start to see their eyes appear saggy or hooded. At times they can give the appearance of being droopy or tired.
Contours RX sells eyelid correcting strips that give the impression you hope for. And further - you can wear them with makeup as well.
How Do Contours RX Strips Work?
While many people turn to surgery or fillers to get the youthful look they desire, Contours RX has created strips that affix to your eyelids for an instant eye lift.
The company states that the adhesive strips are dermatologist tested and work for Asian eyes, hooded eyes, and for ptosis.
Contours RX use does not require intensive procedures like other eye lift options. Instead, they provide an eye makeover with just the use of tape. There aren't any eyelid prep pads or a special contour pencil that you need to use for application.
Additionally, you don't have to worry about finding the correct sizes for your eyelid out of an assortment pack. All Contours RX strips come in the same 5mm size on the company website.
However, you can order them in different sizes from other vendors. Equipped with a set of tweezers, you can use them immediately upon receiving them.
Contours RX is made with minimal ingredients and claims to be:
Dermatologist Tested
Medical Grade
Latex-Free
Hypoallergenic
The manual comes with steps on how to apply and how to remove. To summarize the process, you use the included tweezers to remove the strip from the backing and place it on your eyelid.
Upon smoothing it out, you can cover it with makeup, and it should last all day. To remove, simply peel the adhesive off and dispose of the strip.
The company website provides an array of before and after photo compilations to see the difference in appearance when using the lift strips.
Is Contours RX Legit?
The product appears to be legit. However, it is a temporary fix to a permanent issue. While many choose to go the route of surgery or fillers to have a more solid fix to their flaw in appearance, using eyelid lift strips will only remedy the situation while they are in use.
Doctors recommend other solutions for those distraught over aging and are lost on how to fix it. It is essential to know that the eyelid comprises muscles that stretch out over time, although some experience sagging or droopy lids due to genetic conditions.
Medical doctors recommend taking the following approaches to build up muscle strength in your eyelids instead of resorting to alternative methods.
Stimulating the muscles through eyelid cleaning
Massaging the eyelid
Applying warm compresses to activate the nerves and muscles
Using an electric toothbrush on the eyelid to stimulate the muscle
Performing eye movements more frequently to increase eyelid function
Raising your eyebrows every hour and holding them up with a finger to exercise the muscle
Trying ​​Trataka yogic eye exercise
Incorporating an eye patch into your routine if one eye sags more than the other
For those who want to utilize a medical or cosmetic change, options include:
Fillers
Botox
Radio Frequency Treatments
Eye Drops
Blepharoplasty
Ptosis Crutch
Muscle Resection
In the end, there are many different approaches to take to improve the appearance of saggy eyelids. While Contours RX provides a temporary solution, other options are available to remedy the issue.
Customer Service
If you would like to get more information on Contour RX, you can try contacting the company via their phone number at (800) 701-4269 or through Email: [email protected].
The business address is:
200 2nd Ave S PMB 701
Saint Petersburg, FL 33701-4313
Cost and Price Plans
The cost to order one pack of standard lift strips (5mm) through the company website is $31.95 plus shipping and handling. This option includes 80 lift tapes and a set of tweezers.
However, if you purchase it in multi-packs, you will save on the overall cost. Therefore, the price will be $30 each if you buy two and $26 each if you purchase three. The shipping and handling are free when purchasing more than one pack.
If you purchase the kits on Amazon, you can gain access to different sizes and packages. Many selections qualify for Prime benefits as well.
The company website states that they offer returns within a certain period. However, many customers have had difficulty getting the company to provide the appropriate return information in a timely manner.
Online Customer Reviews & Complaints
The Contours RX website offers many one-sided customer testimonials about the product and the efficacy of the strips. Although, these are all filtered through the company, so the validity is unknown.
However, many third-party distributors have a high level of positive feedback and ratings on the product. Current and past customers have expressed joy at the difference in appearance and the simplicity of affixing the strip to the eyelid and removing it later.
While there is a solid amount of favorable feedback, some customers have expressed frustration with the application. Although many customers find the process easy, others have difficulty affixing the strips correctly without the strip twisting and sticking to itself.
The company is not accredited with the Better Business Bureau (BBB) but does have a C+ rating. Many of the complaints are in regards to improper customer service.
Competitors and Alternatives
Several eyelid lifting strips are available on the market that are similar in design to Contours RX. These include Wonderstripes, Ama's Bay, and Eye Magic.
FAQ
Where to Buy?
You can buy Contours RX strips from their official website or through Amazon.
Do They Work?
There are positive reviews that attest to the product working as it is intended. However, it is a temporary solution. Many state that it performs correctly, and as the website claims that it does.
How long do Lids by Design last?
While the eyelid strips are not meant to be reused, they can last all day with the adhesive that affixes the strip to the lid.
The Bottom Line
Aging can bring a host of changes that can cause you to feel insecure and not as confident in your own body as you used to be.
Finding solutions that keep your pride intact without intense procedures is ideal and one that many turn to during this season of life. Contours RX is one of the available options on the market for a non-intrusive solution.
The low cost per day to utilize the strips and the dermatologist-approved ingredients, combined with the many positive reviews on the product, make many individuals happy to use the Contours RX eyelid lift strips.
With that, we determine that the Contours RX strips from Lids by Design may be worth it. The low cost and positive reviews are affirming, as well as the company's claims of safe ingredients.
If you have any experience with Contours RX Lids by Design, please leave your reviews below.
You may also be interested in
Contours RX Lids by Design Customer Reviews

Scarlett L
I ordered contour rx for my hooded eyes. I ordered based on the many videos that I watched about the product. I liked the fact, based on the video, that they were virtually "translucent" and eyeshadow could be applied after they were set on the lids.
This was not the case. Contour rx is no more than scotch tape. I know this because I have used scotch tape from time to time. When I attempted to apply eyeshadow over the Contour rx it did not work. I'm very disappointed with this product.
The videos show that the Contour rx had small ventilation and could absorb the eyeshadow. This is not an accurate representation of this product. I will not reorder and I will not reorder.

RadArtChic
Will cause tearing of you skin.
Not a good product for woman older than 40. I purchased them to help with drooping lids, when I tried to reposition them. It ripped the skin so badly it bled for an hour. Called customer service, they claimed it never happened before. Really?? This is a dangerous product in my opinion.

AnnW
Ordered to help with droopy eyelids when surgery not an option. Didn't make any difference at all. Also caused irritation to the sensitive eyelid skin. Ordered as a Christmas gift on 10/29. Tried to return on 12/30 and was refused as it was past the 60 day extended period. Don't waste your time or money.

Orly B
I bought 2 packs of invisible eye lids.
A few minutes Iater I canceled the purchase, the company returned the money but charged US$10 fee cancelation.
I explained to customer services that the cancellation was right away and my order has not yet been processed and that it doesn't feel right to charge me $10 for nothing.
The customer services replied to my email by sending me a link of their policy that confirms the validity of this fee.
The policy is so long that they obviously know no customer reads it.
It seems that the company found a legitimate easy way to make more money.
This $US10 is more important to them than my satisfaction and a returned customer.
Very disappointed!!

Kathryn
I bought a package of Contours RX Lids by Design and found them to be quite acceptable. I chose the 6mm size, and maybe could have gone with a slightly bigger one, but these do work well. It takes a bit of practice to put them in the right place on your eyelid, and I don't use the included plastic tweezer - I have better luck just using my fingers. They are quite transparent once you press them on. I haven't tried to put makeup on over them. They last the day and are easily removed.

Nicky A
Don't waste your money, satisfaction not guaranteed
Thought I'd try these Lids by Design eyelid tape since there site said money back guarantee. I did not like the product. The lids are hard to apply and they show. The company would not give me a refund because I had already opened the package, how am I supposed to know if I like it if I didn't try them. They would only give me store credit which I didn't want, I don't like their products so do not want an exchange. Don't waste your money!