CompressionSale.com Reviews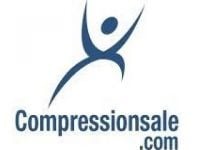 CompressionSale.com is an online retailer which describes themselves as "a friendly place to buy compression stockings," which they promise are hand picked from well known and respected garment manufacturers from around the world.
How Does It Work?
According to their website, they work hard to bring you a wide selection of top of the line compression stockings which are meant to provide greater foot and leg comfort, proper circulation, and overall podiatric health.
They also carry supports and braces for ankles, knees, elbows, wrists, back, shoulders, abdomen, and neck.
In addition, their website promises that they give their customers detailed information such as sizing charts, washing instructions, therapy guides and more so that their customers can make informed decisions when purchasing from their site.
Cost/Price Plans
With such a wide variety of different items, there is no particular price range for their products.
Refund Policy
Due to the nature of their products, their website has very specific instructions for customers looking to receive a refund or make an exchange. Products that are new and in their original packaging may be returned or exchanged for up to 180 days following the original purchase date.
But products which have been removed from the package and tried must be returned in accordance with specific instructions, which are published on their website. Regardless of your circumstances, however all Returns and Exchanges must be requested through their website.
Customer Service Contact Info
Customers who wish to contact their Customer Service team to discuss any questions, concerns, or complaints can do so by phone at (800) 504-7315, by traditional mail at 175 N Milwaukee Ave, Vernon Hills, IL 60061, or by submitting them directly to their website.
Reputation
In general CompressionSale.com seems to have decent reviews online except from customers which report serious difficulties with their return and exchange process, and customers who say that they have poor customer service.
Competitors and Alternatives?
There are many different brands of compression wear available out there, like Tommie Copper and others.
If you have any experience with CompressionSale.com or their products, please leave your reviews below.
You may also be interested in
CompressionSale.com Customer Reviews

Judy Z
I ordered hose in size Petite. The website allowed me to do that. The confirmation said Petite. The packing slip said Petite. But THEY ARE NOT PETITE!!. I have been waiting almost 3 weeks to get a return label. I have also dealt with Melissa. Nothing happens. I will never use this site again.

Dean B
Company does not stand behind product and poor customer service
This is what I sent to customer service--note: I have been a loyal customer for about 10 years.
1. I spoke with a representative prior to order 200223954
2. I mentioned that I have lost some weight and that the XLFC 20 to 30 mm was no longer sufficient
3. Representative informed me that the xl should work as they would be smaller than the FC and I ordered 3 pairs
4. I tried 1 pair for the day and observed the same problem as with the full calf
5. When I called again, I was informed that the representative I spoke to originally was WRONG
6. I then filled out your return form and waited, waited, and waited with no response
7. At this point I placed another order (200234196) for XL but in 30 to 40 mm
8. I spoke with Alex in customer returns earlier today and he informed me that he placed another return for me and await your email.
Their response: Please do not send double emails. I will reply to you within a few hours, please give me time to respond. The XL size is smaller than the XLFC, the representative was not wrong. The XL supports only up to a 19.5" calf and the XLFC supports up to a 24" calf. You are responsible for shipping the items back to us. Below is a return authorization to return these items. The order you placed today was for the same size in a tighter compression, that does not mean the representative was wrong about the size. We either suggest going to a smaller size or a tighter compression. Note: I provided all necessary measurements at time of contact with representative.
So, I will have to spend about $15 dollars to return ship and I can only send 2 pairs back. How do they expect you to not try them on to verify fit. In addition, their representative did not provide me with the proper information. They have insufficient staff and training and charge the same price as every other vendor. I would stick with foryourlegs as they have a much better return policy with a more knowledgeable support team.

S B
DO NOT Purchase "Spoils" from Compressionsale.com!
If there was an option to give 0 out of 5 stars, this would be the exact and precise moment to do so. I empathize with the other customers who have left a low review for compressionsales.com.
Their account of their personal experiences with this company is quite accurate. I would strongly advise that you reconsider purchasing anything from this company at all.
Unfortunately, the negative reviews that liter the internet are true. I made a purchase in which I accidentally hit the submit button for an old order basket that I was contemplating purchasing.
I immediately contacted customer service to inform of the mistake and that I would like to correct the purchase for another which included more items and whose cost was greater than the first. I was told that I would receive full reimbursement in spite of their return policy as a one-time courtesy, and so I made the correct purchase.
Unfortunately, when the time came, they refused to credit me the full amount. To make matters worse, they gave no instructions along with the RMA number they issued me for how to return the products.
And so, using the same package the item was shipped in, I wrote "Return to Sender" to ensure that the package was delivered to their address and not returned to myself again. I was doubly penalized and ended up paying double the return shipping fee.
When I thought that I was through dealing with them, I discovered that the incorrect pantyhose was mailed and customer service never bothered to reach out and notify that they received the wrong product. I suppose they assume that customers who complain are dishonest because that is precisely what they are.
I contacted them about this discrepancy in my refund and they refused to acknowledge or further respond to my inquiries. I asked for a supervisors contact number or email and was ignored for 19 minutes until the company closed.
For this reason, I strongly caution anyone who is considering making a purchase from this company. We work incredibly hard for the dollars that we spend and I cannot, with a good conscience, uphold the poor customer service where Compression Sale treats its customers like criminals and blatantly steals money from its honest, hard-working customers.
STEER CLEAR of this company! I would strongly advise that if you have been victimized by this company, that you file a report with the Better Business Bureau.
Sincerely,
Appalled

Tim
Compressionsale.com is a ripoff
Terrible company I've learned my lesson check online before dealing with a new business the reviews I've read on here match my own. I'm out $37 and have absolutely nothing to show for it customer service is non-existent I've lost my money and I have no way of getting it back what else can I do to show what a terrible company this is.

F. W
Tried to cancel an order 30 minutes after it was placed and was refused as I was advised the order was already processed and could not be rescinded. I was totally scammed and believe they are not a reputable company. Am still fighting for my refund through my credit card, which isn't much help. I would never purchase anything from this company and I advise you not to get involved as once you do, they dig their teeth into you and don't let go. Buyer beware. Stay away. There are many other reputable companies out there.

Wendy
Absolute scam!!! They will not allow exchange for wrong size. I ordered knee highs for $67. Wrong size. You can never get anyone to speak with you. Total scam!!!

Natalia B
Dishonest scam company!
From a very day you paid them they forgot you! After they have your money you are don't exist anymore as a customer for them!
I have complained about faulty stockings. The manufacturer has provided free return and sent replacement stockings to compressionsale (unfortunately!!!)
Compressionsale demands my credit card details to pay for replacement! They just stole my money and my stockings. They are criminal.

Myra L
I ordered compression stockings for my husband. He could not even get it over his foot! i immediately contacted compression and received an email advising us how to return them. I followed their instructions and paid to ship them back.
Tracking shows that they received the item on 4/26/21. After waiting patiently I called them this morning (6/18/210 and was told that I cannot get a refund because the item was "worn". How else do you find out that you cannot use the product? These were never worn.
Would never buy anything from them again no matter how "good" this price was.

Florence P
Do You Get Your Money Back?
I am in the process of trying to get my hose returned, not tried on, original packaging and understand there us a restocking fee of 25%. The restocking fee was a surprise and you have to do a lot of reading before you are aware of this fee. I have emailed them numerous times and keep getting a run around because they do not want to return my money but will allow me a credit so I can buy something else.
I have requested they credit my card with the understanding that the amount will be less 25% plus shipping. After telling them numerous times and answering their emails they suddenly stopped emailing me. The question is will I be getting my money back - their rules or are they going to write me off and keep my money? Would not buy from them again but it would be interesting to see where this company resides and where all their hose are made.

Arica C
Should be a 0 Rating! Horrible
Should be a 0 rating! Customer service is very bad. No compassion at all. When buying( we ordered over the phone) these socks for my Elderly father nobody told us of the return policy. The stockings were Cheaply Made, No Elastic at the knee to hold stocking up and not worth the money you spend. When you return you have to pay a 25% restocking fee. That's absolutely ridiculous. Why even buy them?? Cheap, not made well and customer service is HORRIBLE!! Do Not Buy!

Claude P
After some good experience on their products, I cancelled an order they could not deliver in time as I was relocating to France. They ignored my instructions and shipped nevertheless , after I left. For some reason my Building did not refuse the parcel and now it is lost ! Customer service say they did not receive it back and do not want to refund. This is very poor service.

Stephen H
Don't believe it. We ordered over the phone on a Tuesday and paid for next day delivery, because we had to leave town for 6 months on Saturday morning, and they didn't bother shipping it until Friday, so it will arrive tomorrow (Saturday) after we leave, dropped off on the porch. We called customer service, and the rep said she could do nothing, and that we cannot speak to a supervisor, we have to email, which we did, to ask for help getting the compression socks I need.
When they wrote back, the "supervisor" took no responsibility for their failure, blaming me for not knowing their "policy" on Next Day Delivery (The customer service rep said one of the two items we ordered was not in stock, so they waited three days until one arrived at their office, something the sales rep surely didn't tell us on Tuesday). The "supervisor" refused to refund either our purchase or our $35 extra shipping charge.) We will NEVER do business with these people again.

Candace C
Company should not be allowed to operate in the state of Washington
They take your money and give you an irregular product. Showed up late. Product damaged. Won't refund your money and are very rude. When complained to credit card company they lie. I have filed a consumer complaint with my state. The should not be allowed to do business here. Beware they are con artists. Don't do business with them.

Ronald V
terrible customer service and exchange
I received the item 30 days after ordering. I returned unopened in original packaging.
Company Would not return our full refund to the credit card saying item needed to be returned within 15 days of original order date, even though I had an email stating we would receive a refund to our credit card.... No one would speak to me at the company.
Ordering on 5/6 and receiving 6/2 makes it impossible to return within 15 days of order date. I do not recommend this company at all.

Autumn C
Bad Customer Service, Don't Stand Behind Products
After wearing my arthritis gloves for less than 2 days, the stitching started coming undone. If you have worn them, don't expect an exchange or return. Maybe it's just me, but I expect something that I pay $22 for to last a little longer. Buyer Beware!!