ClearChoice Dental Implants
ClearChoice Dental Implants Reviews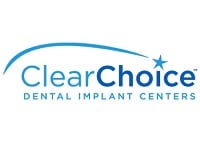 ClearChoice Dental Implants is a dental care treatment center which provides customers with a one-stop shop to get high quality, premium dental implants.
How Does It Work?
Dental implants are artificial tooth roots that provide a permanent base for replacement teeth, which makes them a popular and effective long term solution for people who have missing teeth, failing teeth, or chronic dental problems.
Dental implants are generally preferred over dentures, bridges, and crowns because they fit and function like natural teeth.
According to their website, while most dentists and dental centers provide their customers with the option of dental implants, it is generally a long and complicated process.
Dental implants can take several visits to the dentist, as well as additional visits to other specialists.
Then the teeth are created at an off-site lab and shipped to the office, where the dentist will determine whether any changes or alterations need to be made. If changes do need to be made, the teeth will need to be returned to the off-site lab.
ClearChoice wanted to simplify and improve the entire dental implant process, so they created a clinic where all the specialists and labs required were under a single roof.
This means that the dentist, oral surgeon, and lab technicians are able to work together throughout the entire process, and the patients will know each member of the team that is responsible for their wellbeing.
Customers who are interested in learning more about dental implants and whether or not they are the right solution for their needs can schedule a consultation with the ClearChoice team at their nearest location.
Customer Reviews & Complaints
It seems as though this company has mixed reviews at this time.
There are many different people who speak highly of their experience at this clinic and the long term results they have received from the dental implant process.
Unfortunately it appears as though many other people have had poor experiences, feeling as though their implants were uncomfortable and the doctors they were working with did little to address this complaint.
Since this company has so many different locations, prospective patients should look for reviews for their specific location and the doctors that work there.
Then those customers that go through with the free consultation should speak to the clinic representatives about what will be done for them if they are uncomfortable with the results.
Customer Service Contact Info
Customers who wish to speak with Customer Service about their questions, concerns, or complaints can do so by phone at 888-651-9950 or by email depending on which of their locations is your nearest location.
Cost & Price Plans
The website is unable to provide a pricing chart on their website at this time, as every patient will have different needs and different circumstances.
Customers will need to schedule a free consultation with their team at the nearest location, and since their doctors, technicians, and labs are all on site, they are able to provide a single price for the entire process from beginning to end.
They promise there will never be any surprise fees or hidden costs; the price you are quoted at the end of your consultation will be the price that you pay.
Refund Policy
As a healthcare clinic that provides medical procedures, they do not offer traditional Refund Policies.
Instead, if you feel something was poorly handled, you must speak to one of the clinic doctor's or representatives as soon as possible so the issue can be handled in a prompt and timely manner.
Competitors and Alternatives?
Certainly there are many different dental offices and specialists that provide similar services, but as mentioned above, ClearChoice is currently one of the only clinics that provides their customers with a single location that will handle all of their dental implant needs.
If you have any experience with ClearChoice Dental Implants, please leave your reviews below.
You may also be interested in
ClearChoice Dental Implants Customer Reviews

BB
I went to the Clear Choice office in Pittsburgh, PA. I obtained a loan for $31,000 to get a full set on the top & a couple other minor things done. I got the loan in June 2022 but the surgery wasn't even scheduled until early Nov 2022. Who wants to pay on a car for 5-6 months & not be able to drive it?!? No one, but whatever.
I went to the appt in Nov but wasn't able to have the surgery done, it was my fault & I owned it. It was rescheduled for mid Dec but I decided not to go through with the surgery. I canceled my appt & then canceled the loan with the finance company - both well in advance. Clear Choice refunded around $18,000 to the finance company but when I got an account statement with a breakdown of costs they were charging me $5,500 x 2 for a "missed appt" scheduled in Jan 2023.
Thats $11,000 total!!! Who does that??? There was NO appt scheduled in Jan, everything was canceled in DEC!!! I refuse to pay this amount & have been conversing with them for over a month while they drag their feet, avoid me, don't answer questions & say they are working with the "regional team" to see what fees they can waive.
There were no separately listed "fees" to waive, $5,500 each went into the pockets of two doctors for services NOT RENDERED. Cancelation policy says nothing about a fee being charged even if the appt had been missed, which it wasn't. To top it off, my credit has been severely negatively impacted by this outstanding loan that I refuse to pay. I am prepared to litigate this mess.

Santiago
Great staff, great experience and great implants
So far, so good! No one knows I have upper implants except ClearChoice staff, my family and friends. I'm pleased with my implants and take very good care of them. The hospitality at the QUEENS office is exceptionally fantastic and the implant specialist is kind and patient. They work with you and of course you have to work with them. I say this because they were able to find a solution when I had an issue with my medical provider.
Yes, it's expensive (all my savings went into this process) but in the long haul you'll be glad that you did this. You'll be able not only to smile again, but also to eat foods that perhaps you were unable to eat before.
The overall experience was emotional as well because losing your teeth affects your self confidence and self-esteem, but gaining your teeth back with implants and seeing the difference that's when your self confidence and self esteem shoots right back up. I had happy tears. Thank you ClearChoice!
P.S. Took a star away because I was informed in the beginning that I would get an electrical water flosser which I never received.

Carol
RUN away from Raleigh NC ClearChoice
I am so furious with these people. I was told by them that the procedure would take 6 months (for a bridge). A year later, $17,000 poorer, I've received every damn excuse in the book as to delays! I pleaded with them to get my bridge done before my trip 2/11. They said they'd have it done and in by 2/9. Today, 2/6, they called with another excuse - "there's an issue with the lab." Again, this is a year after being told it would only be 6 months! RUN away from ClearChoice as fast as you can. The facility I went to is in Raleigh NC.

Fred J
One of the worst companies I have ever dealt with. Do not use these scammers. They told us one thing, then another and just bs'ed us after we came back because the teeth we paid so much money for just kept breaking. Did not care one bit after they got our money.

Hailey M
Do NOT do Clear Choice!!! Medical Malpractice and False Advertising
DO NOT DO CLEARCHOICE!!!
The basis of this review is from the horrible experience my father had with the terrible company. He was lured in by the FALSE promise of new teeth in one day.
He knew that this wasn't exactly one day... what he didn't know was how he would spend YEARS of his life in horrible teeth pain he lost tons of weight in the process from being unable to eat. He had monthly or bi month appointments of grinding down bone, adjustments and tons of horrible painful procedures. He 100% regretted this.
Also to make things worse he developed mouth cancer in this time and was not notified by these dentists, when it was made obvious to his in hindsight that they would whisper things of this nature behind his back. They only notified him of the sores they saw when it was too late.
Horrible medical malpractice and absolutely FALSE advertising. Do not fall for this! Do not do this!

Christ F
Do not go to ClearChoice!
I paid them 55,000 for a full set of implants. They were all smiles and accommodating until I paid them.
The procedure was much more horrific than they let on. For 5 days I couldn't get out of bed. My eyes were almost swollen shut. The bruising took almost 2 months to fade.
They said they would customize a set of teeth to my liking and I would be able to talk normally. 9 months later I still can not pronounce S or D and I have not been given my final set.
They boasted about an onsite lab that can adjust or make teeth in record time. Yet I have to wait 5-6 weeks for every appointment and then they cancel appointments and I have to wait another 4-6 weeks.
I told them 3 months ago I was moving to another state. They didn't care and refused to keep to their agreement that I would be done with everything in 6-7 months.