Cirkul Reviews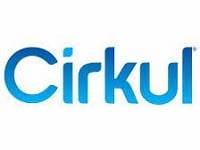 Cirkul is a company that markets a line of BPA-free plastic and stainless steel water bottles, accompanying flavor packs, and other accessories.
The company states they are focused on health and sustainability, with their flavor pack formulas being zero calorie and free of any added colors or artificial flavors.
How Does Cirkul Work?
The Cirkul bottle has a sleek, ergonomic design, which fits easily in the hand. Each bottle is BPA free and dishwasher safe.
Cirkul bottles allow a cartridge inserted into the mouthpiece to infuse flavor as you drink from it.
After you fill the bottle with water, you can choose to add a flavor cartridge which is easily turned on or off with a dial.
You can turn the dial to get different doses of flavor, choosing between mild 3s and 4s or stronger sips at 5 or 6.
When you use your device in the middle range, you can get about six bottles of water per cartridge. When you stop noticing flavor, you can simply turn up the dial to get more flavor until you run out entirely.
The flavor cartridges insert easily, and the multiple flavor categories include vitamins, electrolytes or caffeine, making it easier for you to replace your daily dose of coffee.
There are 40 + flavors and purchasing options available. Popular flavors include Life Sip, Fit Sip, Tea Sip, and Brew Sip.
Cost and Price Plans
Cirkul is definitely not free, and while it's an affordable alternative to soda or juice, it's more expensive than plain water.
32 cartridges will cost you $82, while you can get a subscription plan that includes a four-pack of cartridges for $15.
If you use a cartridge every other day, which will happen if you only drink from the Cirkul, you can accrue significant monthly costs. However, you can unsubscribe from this beverage service at any time.
Cirkul also offers a free trial program, in which you can get a free trial Starter Kit with everything you need to experiment with all the tasty Cirkul flavors. Customers must pay the shipping costs.
You receive a free, dishwasher-safe Cirkul bottle with a leak-proof lid and two flavor cartridges. This offer is limited to one per household.
You can also get a stainless steel bottle with an upgrade fee of $30, but this includes free shipping.
Is Cirkul Gluten Free?
Cirkul is not only gluten-free, but it also has a whole host of other health benefits that make it a convenient, tasty option.
Cirkul cartridge blends are sweetened with sucralose, stevia, or no sweetness at all.
They do not use aspartame or other artificial sweeteners, allowing you to receive optimal hydration without sacrificing your nutrition by consuming harmful ingredients.
All blends contain zero calories and no artificial coloring. Cirkul is also a great choice for those on the Keto diet, who cannot have fruit-based or other sugary drinks.
Online Reviews/Complaints
The main complaint about Cirkul is that you have to replace the entire cartridge, nozzle, and tube whenever you replace your Cirkul flavor kit. This means that you have to throw out the old ones, contributing to a fair amount of waste.
That being said, Cirkul has received rave reviews for it easy of use and its ability to curb cravings for sweet, fruity beverages. If you're looking for an alternative to plain water, this is the way to go.
Customer Service
Cirkul can be a bit tough to get ahold of, with very little contact information available on their website. There is an easy-to-use contact form, but it does require you to create an account. You must create an account to order any products. At this time, there is no publicly listed phone number for you to contact the company.
Where to Buy?
Right now, you can only purchase Cirkul from the manufacturer's website. There is also an active Facebook page associated with the company, through which you can ask questions and communicate with other Cirkul customers.
Competitors and Alternatives
Cirkul vs. Mio - Mio is a liquid beverage mix that can be added to any glass or bottle of water. Its price is comparable to that of Cirkul, but it is easier to find in stores around the country. Cirkul is a full water bottle system while Mio just consists of cartridges.
Cirkul vs. Drinkfinity - Drinkfinity is similar to Mio in that it offers plastic flavor pods in over a dozen different flavors. According to the company's slogan, all you need to do is "Peel, Pop, and Shake."
Cirkul vs. Hidrate - Hidrate works in a different manner, calculating daily goals when it comes to ideal hydration needs. It syncs with your health apps to gauge your daily activity, local temperature, humidity, and elevation to determine how much water you should drink in a given day.
The Bottom Line
Many people set monthly targets when it comes to their hydration, telling themselves that they should be drinking eight eight-ounce glasses of water each day.
This can be a challenge if you dislike the taste of water, or if you have trouble reminding yourself to drink.
Cirkul can be a great solution for kids headed off to school, as well as college students, professional athletes, and others who need to stay fully hydrated.
You may find that you drink much more water than usual, and that you won't be as likely to drink juices and sodas.
If you have any experience with Cirkul or their products, please leave your reviews below.
You may also be interested in
Cirkul Customer Reviews