ChillWell 2.0 Portable AC
ChillWell 2.0 Portable AC Reviews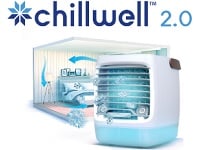 ChillWell AC Review: Is it Worth Buying?
The ChillWell 2.0 Portable AC is a portable air cooler whose advertising claims that it can keep you cool and comfortable in hot summer temperatures.
How Does ChillWell Work?
These types of small personal cooling products are promoted seasonally direct to customers through ads on popular news and entertainment websites.
They promise energy efficient cooling as an alternative to expensive central air or window units. But do they really work?
Below we take a closer look at the ChillWell 2.0; explain how it works, analyze user reviews, and let you know if it's worth buying or not.
The sales page for the product does not offer much in depth information, simply stating that:


It can rapidly cool your space
Is portable and rechargeable
And has has "instafrost" technology


If you read through the FAQ section they state that the "ChillWell 2.0 portable air chiller helps reduce the temperature of the air through evaporative cooling."
Evaporative coolers work by moving air across a cold water reservoir, as that water evaporates the cool air coming off it gets blown through the room providing a cooling breeze.
This basic cooling concept has been around for hundreds of years and homemade versions of these fans are often called "swamp coolers."
With the right setup these coolers can add moisture and create air flow in a hot stagnant room.
How Good Are Evaporative Coolers?
The effectiveness of these systems depends on a few key factors.


Climate - Evaporative cooling works best in hot and dry climates with low humidity. In these circumstances introducing moist cold air will make a noticeable difference.


Room Size - These coolers work best in small well ventilated areas. Expecting one of these units to cool off a large room is unrealistic.


Energy Efficiency - Running one of these instead of a traditional AC unit using a compressor and refrigerant is definitely more efficient since the only thing using energy is a small fan.


Convenience - Unlike automated AC systems the cartridge in the ChillWell will need to be replaced and the tank will require water refill.

The company states that if plugged in the unit can run for 8-12 hrs on a single fill. The tank holds 550ml of water.
Potential Issues
If you run one of these units in an already humid climate you likely won't experience any cooling benefits and in worse case scenarios may be contributing to mold and mildew growth in your home.

If you understand the pros and cons of evaporative coolers then you can determine if they are right for your needs.
Ultimately, these are not a substitute for AC units but may provide temporary relief in the right circumstances.
Customer Service
If you have any questions or problems you can reach a representative by email at [email protected] or via phone at 888-998-6324.
The company business headquarters is located at:
Ontel Products Corporation
21 Law Drive
Fairfield, NJ 07004
Return Policy
Their terms state that the company offers a 60 day return period.
However, it also states that to be eligible for a return items must be in brand new condition and in original packaging.
Also shipping costs are not refundable and customers will have to pay shipping for sending the item back.
Customer Reviews & Complaints
Given that this is a newly released product under the "2.0" model there has not been much user feedback for this specific version.
However, there are a lot of online reviews for previous versions of this product and many other similar units sold under different names, several of which were also sold and marketed by the same company, Ontel.
For instance here on Reviewopedia we have reviewed the Arctic Air Pure Chill 2.0 and the Arctos Portable Air Cooler.
Both are sold by Ontel and using the same cooling principals. Those two products have lots of negative reviews.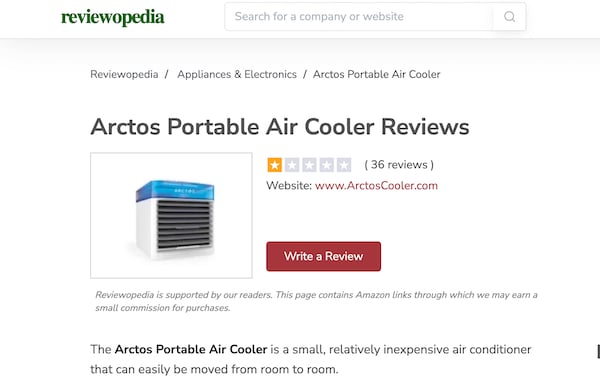 Customer reported issue include:


The units leaking
Not working
Not making any difference in room temperature
Issues with refunds
Poor customer service
Cheaply made product


The parent company, Ontel, has a BBB rating of "B". However they have amassed a lot of complaints on that platform and have a customer review score of just 1.14/5 from 170 customer reviews.
To their credit Ontel reps do reply to BBB complaints and will work with customers to resolve those issues.
Is The ChillWell Portable AC Legit?
Based on the history and reviews of these kinds of products we do not believe that they are a legitimate personal cooling solution.
Under the best circumstances the relief that they provide may be marginal and is used when no better options are available.
Furthermore, $89.99 is a lot to spend on this type of basic technology.
Something that can only cool a very small immediate space, and ultimately turns into an expensive fan once the water warms up, is not worth it in our opinion.
Competitors and Alternatives
There are a lot of options for cooling devices on the market, whether you just want a high powered fan, an air circulating fan, an in window unit, or a small portable ac unit.
Below are some high rated alternatives:


Black+Decker Portable AC - This budget friendly line comes in several options depending on the size of space you're trying to cool.

An 8,000 BTU unit can cool up to 350 sq ft while their most powerful 14,000 BTU unit cools up to 700 sq ft.
These air conditioners are recommended by the New York Times product review team and are an "Amazon Choice" selection where they have great reviews from thousands of customers.

The Black + Decker earns 4.3 / 5 stars from over 40,000 customer ratings.
Midea 8,000 BTU U-Shaped Smart Inverter Window Air Conditioner - If an in window unit is a possibility this is a great option.

This unique design places the bulk of the AC outside your home for a much quieter experience.
Compatible with Google Assistant and Alexa this model is also an Amazon & NY Times 'Choice Pick' with great customer reviews.

The Midea has a rating of 4.4 / 5 stars from over 17,000 customer ratings.


Ultimately, for only a few hundred dollars more than the ChillWell you can choose a powerful AC unit that can cool an entire room and from established brands with proven customer service.
If you have any experience with ChillWell 2.0 Portable AC device, please leave your reviews below.
You may also be interested in
ChillWell 2.0 Portable AC Customer Reviews