Arctic Air Pure Chill 2.0
Arctic Air Pure Chill 2.0 Reviews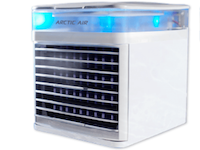 The Arctic Air Pure Chill 2.0 is the latest version of Arctic's small and relatively cheap portable air cooler.
These units have gained popularity by promising an easy solution for those trying to beat the heat without traditional AC in their homes.
As summer heat waves continue in many regions around the world, more and more people look for alternatives to window AC units, portable ACs, or full cooling systems, which can be unavailable or too expensive.
The company behind the Arctic Air Pure Chill 2.0, Ontel Products, has released other cooling products in the past in addition to the Arctic Air.
Below we take a closer look at how these types of air coolers work, what's different about this version, and customer reviews for Arctic Air and Ontel.
How Does It Work?
The Arctic Air claims do deliver hours of cooling refreshing air with the following features:
No Loud Noise
No Freon
Four Fan Speed Settings
Night Light
Doubles as White Noise machine
Adjustable Air Vents
Energy Efficient Cooling
These types of fans are also called evaporative coolers based on the physics of how they work. The basic concept is that as cold water evaporates a fan blows that air out into the room providing a refreshing breeze.
The principles behind this method of cooling have been around for centuries; these days they are also often referred to as "swamp coolers" and there are many DIY versions available.
Overall, with the Arctic Air Pure Chill 2.0 you're getting a device that provides an easy way to add moisture and air flow to a room or your personal outdoor space.
Are Evaporative Coolers Effective?
The answer is, it depends. In general, this form of cooling is more effective in dry heat as the unit adds moisture and humidity to the air to bring down the temperature.
This process is far less effective in hot and humid environments as all you end up doing is making the air even more muggy.
There are other factors that play a role in how well these devices work and that is the fan speed, water capacity, and water temperature.
In this case, Ontel states that the water capacity of the Arctic Air Pure Chill 2.0 tank is 550ml but they do not give any other detailed specs on their website.
Evaporative coolers come in many different sizes with the larger ones having the ability to lower room temps from 5- 15 degrees given the right conditions.
However, these units are much larger and costlier than personal coolers like the Arctic Air Pure Chill 2.0. and have the ability to move anywhere from 3,000 - 25,000cfm (cubic feet per minute) of air.
Ultimately these types of coolers do have their uses and are more environmentally friendly but make no mistake, they are not a substitute for traditional air conditioning units.
Additional Products
Arctic Air Arctic Air XL - An extra large version of the Pure Chill which is more powerful and has a larger water reservoir.


Arctic Air Freedom - A rechargeable and portable unit that can be worn around the necks.


Arctic Air® Pocket Chill - A small lightweight personal fan that you can take with you where you go.
Cost and Price Plans
There are a variety of offers available for this product. Direct from the manufacturer's website the unit costs $39.99.
However, there are some promotional offers that offer two Arctic Air Pure Chill 2.0 units for that price.
Customer Service
Phone: (877) 881-4754
Email: [email protected]
Ontel lists its company mailing address as:
21 Law Drive
Fairfield, NJ 07004
Return Policy
The Arctic Air Chill 2 comes with a 30 day return policy. The product must be in new condition and in the original packaging.
Customers are also required to have a customer service rep provide them with the return shipping address.
You can also order this cooler from big brand stores such as Target, Bed Bath and Beyond, and Walmart.
If you end up having issues or need to apply for a refund, start with your point of sale first.
Customer Reviews & Complaints
The Arctic Air Pure Chill has very mixed reviews with many customer complaints. However, customer reviews for competing evaporative coolers are fairly similar.
Some customers, who understand the limitations of these units, find that they do serve a purpose as temporary means of cooling.
That being said, common recurring complaints for the Arctic Air that we have found are as follows:
Unit Leaks
Does Not Cool
Not Worth the Money
Leaves a Puddle
Makes the Room More Humid
Generally Does Not Work
There are many reports from customers who claim that they followed the instructions, included an ice tray, ran it on the highest setting and still did not feel that the unit made a significant difference to their comfort level.
On Amazon and other big box store websites the customer rating for Arctic Air sits at around 3-3.5 stars out of 5.
On the other hand, you can find many promotions for this device on social media, with a large number of influencers claiming that it works great for working from home and having it on your work desk.
Competitors and Alternatives
Some other evaporative cooler brands include Evapolar and the Arctos Portable Air Cooler. The Arctos is marketed by Ontel, the same parent company as Arctic Air, and has generated generally negative reviews on Reviewopedia.
Another option is to DIY your own evaporative cooler just to see if it will work well in your home. This can be done fairly easily if you already have a fan. You can find a number of tutorials online on how to build one.
The Bottom Line
Based on the customer feedback these types of coolers are a toss up.
At best you're getting a cooling unit that blows mildly cold wet air at you with at least the temporary capability to cool you down in a small space.
At worst, you paid $40 for a small humidifier that may leak.
Unfortunately, not everyone can afford a high powered top of the line AC unit during hot weather, which is why these devices are so popular.
If you live in a dry to moderate climate and understand how these coolers work, along with their limitations, then you may want to give Arctic Air Chill 2 a shot. Just make sure to order it from a seller that has an easy return policy in case it doesn't work out.
If you have any experience with Arctic Air Personal Coolers, please leave your reviews below.
You may also be interested in
Arctic Air Pure Chill 2.0 Customer Reviews

Frances
Scam. Unless you want to cool a small bathroom or closet. I bought one big and one small. I put both in small living room. I am still sweating my ass off.

Jamie
I wish I could write a review, but, it never came and I ordered it over week ago. Very disappointed to say the least.