Arctos Portable Air Cooler
Arctos Portable Air Cooler Reviews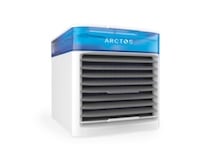 Reviewopedia is supported by our readers. This page contains Amazon links through which we may earn a small commission for purchases.
The Arctos Portable Air Cooler is a small, relatively inexpensive air conditioner that can easily be moved from room to room.
However, with a website thin on details and full of gimmicky sales tactics, customers are right to wonder if this product is legit or just another fly-by-night scam.
Below we take a in depth look at Arctos and their air cooler to see if it's worth the investment.
How Does It Work?
The idea behind Arctos air conditioner is not new and is known as an evaporative cooler - commonly referred to as a swamp cooler.
Evaporative coolers use a combination of air flow and moisture to provide a cooling effect, and have grown in popularity as alternatives to window units or large portable vented units in homes without central air.
Traditional air conditioner options are more expensive and use much more energy than the simple fan based evaporative coolers such as Arctos.
With no necessary refrigerants, these fans recirculate the air in a room across a wet pad. This humidified air is then blown back out to create a cooling effect.
Do Evaporative Coolers Actually Work?
The answer is yes and no. The biggest factor to their effectiveness is their location. If you live in a humid region, swamp coolers, as the name implies, will simply add moisture to an already muggy atmosphere.
One test estimated that for every 1 degree temperature decrease they add 2-3% to the room's humidity. Conversely, a traditional air conditioner actually removes moisture from the air.
The Department of Energy states that portable evaporative coolers installed in windows can reduce the temperature of a single room by 5-15 degrees in moderate climates.
It's important to note however, that most of the testing on these types of coolers is done on larger units.

Experts recommend choosing an evaporative cooler based on its CFM (cubic feet per meter) rating, and most recommend a device capable of 750 CFM for a 250 sq. ft. room. This rating gives a rough idea of how much air the unit will move.
You would also want one with a large water reservoir, in order to be able run the unit continuously without having to refill it.
When it comes to the Arctos Portable AC, there is no spec data listed on their website, which makes it hard to gauge its capabilities.
Arctos do state in their FAQ sections that they recommend one Arctos unit per person to be placed in their personal area. This leads us to believe that they are not very powerful and most likely would not effectively cool an entire room.
Cost and Price Plans
The Arctos sells for $89.99. The company has a tiered system of discounts where you can save when purchasing multiple units. For instance, you can buy 4 units for $246.99, bringing the cost per unit down to $61.75.
Customer Service
If you need assistance you can try to reach a representative via email at [email protected], or through their phone number at (866) 955-4574.
The parent company for Arctos is Ontel Products Corp, located at:
21 Law Drive, Fairfield, NJ 07004
The website advertising claims a 60 day money back guarantee, however in their terms and conditions Arctos states that it is actually a 30 day policy that takes effect from the time your purchase arrives.
Customers have to send the unit back in 'like new' condition and in its original packaging after receiving the return address from customer service.
Online Customer Reviews & Complaints
At this time it's difficult to find genuine user feedback for the Arctos Air Cooler.
Search results for customer reviews are saturated with affiliate websites promoting the company's products under the guise of impartial reviews. However, they are simply there to redirect you back to the order page for the product and earn a commission.
Genuine unbiased customer reviews get crowded out by these affiliate marketing websites, making it difficult for potential customers who are searching for honest feedback.
However, you can find reviews for the parent company Ontel, which has been in business for many years as a wholesaler of "As Seen on TV" type products.
They have a B rating with the BBB, but are not accredited and currently have a customer rating of 1/5 from 37 reviews.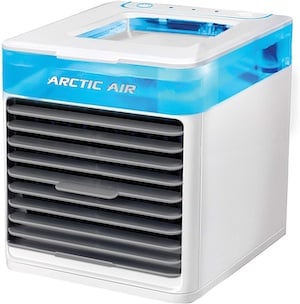 It's fair to note that Arctos is marketed as a personal cooler, so one shouldn't expect it to cool down an entire room or larger space.
Google reviews for Ontel are nearly as poor, with a 2/5 rating from 92 reviews. On both platforms the complaints follow a similar pattern.
Customers often complain of receiving inoperable or poorly functioning items from one of the company's various brands and detail the difficulties they then experienced in obtaining a refund through customer service.
Furthermore, it appears that Ontel was marketing a similar device in 2021 under the name of Arctic Air Pure Chill.
That device was sold on Amazon and in some retailers. It did not have very positive reviews, with most people complaining that it was no better than a regular fan.
It's unknown how different this new version is from the past, or if it's simply a rebranded version of the same product, but it's undeniable that the two devices look very similar.
Competitors and Alternatives
If you understand the limitations of an evaporative cooler and still feel like it's the best solution for your needs there are many options to consider.
Evapolar (full review) - is one company that makes well reviewed coolers. They have a variety of sizes and options with a technology that focuses on mitigating the bacterial spread that adding moisture to an environment can bring.
There are also tutorials available for DIY swamp coolers, since they can be put together from some basic materials.
If you live in a more humid part of the world you may have to settle for a traditional window AC unit.
The Midea Window AC can cool up 350 sq.ft., is energy efficient, smart home ready, and is an Amazon & NY Times 'Choice Pick'.
Is The Arctos Portable Air Conditioner Worth It?
Evaporative coolers can be used to provide some relief from the heat. However, they work best in temperate to dry climates and can significantly raise the humidity of your room.
Given those natural limitations, and the fact that the Arctos air cooler does not provide detailed specs of the device on their website, leads us to believe that this is likely not an effective cooling device.
The Arctos is also sold by a company specializing in gimmicky 'As Seen on TV' products and has amassed a sizeable amount of negative online customer reviews throughout its history.
If you have any experience with the Arctos Portable Air Cooler, please leave your reviews below.
You may also be interested in
Arctos Portable Air Cooler Customer Reviews