Cancer Treatment Centers of America
Cancer Treatment Centers of America Reviews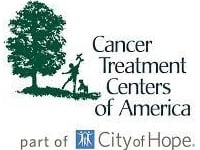 Those who have been diagnosed with cancer may search far and wide to find a treatment that will cure them of this possibly life threatening disease.
A well-known company called Cancer Treatment Centers of America is a place that offers cancer patients various treatment options. Not only do they use conventional ways to fight cancer but they also have naturopathic methods of treatment as well.
Cancer Treatment Centers of America has an integrative program that addresses the quality of life of their patients. They offer therapies including emotional support, nutritional recommendations, pain management, and rehabilitation.
Personal care for all of their patients starts when they arrive at the facility and continues 24/7 throughout their stay. It even goes beyond that to the time after they have been released to head home.
To become a patient of Cancer Treatment Centers of America, the initial step is to submit your insurance information so they can determine if your benefits will cover their services.
If your insurance plan will cover the cost then they will set up a consultation and coordinate your plans, starting with scheduling your first appointment.
Cancer Treatment Centers of America has had some lawsuits filed against them and they have been issued multiple warnings by the FTC for their practices. The FTC had discovered that Cancer Treatment Centers of America was conducting clinical studies that did not follow the proper FDA requirements.
They also found that Cancer Treatment Centers of America was making false advertising claims promoting certain cancer treatments that had no statistical substantiation.
The truth of the matter is that not everyone with cancer survives this disease. Although they may do everything in their power to cure the cancer, sometimes it is not enough.
Catching the cancer growth at its beginning stages is going to increase your chances of survival. Getting multiple recommendations from different doctors is important to deciding what route you feel the most comfortable with.
If you have any experience with Cancer Treatment Centers of America or their services, please leave your reviews below.
You may also be interested in
Cancer Treatment Centers of America Customer Reviews

Just a
CTCA has gone downhill in the more than a decade that I've been going there. Since City of Hope bought them, there is no continuity of care, staff are leaving in droves and the entire appointment process has been turned into something that resembles a factory production line. I've had 5 different oncologists or PAs seeing me in the past 4 years because they keep leaving and nobody seems to know what the other person was doing. When a doctor I've never met tried to change my treatment course over the phone to give me a very dangerous chemotherapy without even discussing it with me, I decided that was it. I'm currently looking for somewhere else to go.

PinkLilly C
Only Care About Their Success Rates
I have been a Patient at CTCA Goodyear AZ for almost 3 years. Everything was Exceptional until Thursday Aug. 11th during my regular Once a Month Office Visit and Cancer Tests.
The Results from my PET Scan Showed my Stage 4 Breast Cancer has taken a Huge Turn for the Worse. The Demeanor of my Oncologist Was Vastly Different than All of my Previous Appointments. I Was Barely Given time to Ask Questions.
Literally 20 Minutes Later I was Quickly Shuffled to my next appt. My Pain Physician I have been a Patient with for 3 Years Decided to do a "Reset". Without Explanation Dr Ivers took me Off All Pain Meds. The meds I have taken for 3 Years, 20 minutes after the PET SCAN Showed Significant Bone and Liver Mets.
Monday Aug 15th I Received a Call from CTCA Informing me I Am No Longer a Patient at CTCA.
They Only Care About Their Successful Numbers and "Cured" Percentages.

Jami
I will be an ex patient of Dr Laura Ferringtons, at the Chicago office, as of 2/9/22....She will no longer see me because I got tired of the run around, her not listening, sayn just take Tylenol, ibuprofen, Aleve, etc.
Then when liver n kidney enzymes r high tell me I take to much...My inflammation level was 3x what it should be. Guess what...Take Tylenol!! I've had 3 oncologists there, 1 at Philadelphia location then they closed, she was great!
Went to Chicago had Dr Citrin, he was great then retired n along came Ferrington, she sweeps a lot under the rug, really doesn't want to give u any meds and I never asked for narcotics! It was antibiotics, inflammation meds....Nope! Nothing!..
I got tired of it n told her what I thought n now she wont see me again! She cant handle a lil bit of criticism!! Other than her, everyone there is great!!! A mother standard of care isn't blowing it off and sayn take Tylenol!

Ted H
Cancer treatment centers is going under
This review was a star until the Tulsa center was closed. I have been trying to get an appointment at another center for almost three months. I have documented 22 calls and I have been promised 22 call backs within 48 hour that never come. I foolishly believed I could continue with my treatment there and now I am three days from my scheduled time for treatment with no appointment or even the prospect of getting an appointment.
I have stage 4 cancer that I now have to find a new doctor retake a bunch of expensive and painful tests because I thought I would be able to continue my treatment at another CTCA. Ironically I called as a new patient and got a call back same day but when I told them the truth they promised someone else would have to call me back.
This should be against the law but I think the business calculation is that I will be dead before I could sue them and unfortunately they may be right.

Coni K
Don't believe all the hype they advertise .They will offer you something to keep you hanging on to run up your bill then at the last minute change up your treatment (chemo) where you can get anywhere. Don't believe you'll get the new treatments . It's a bait and switch scam. Working on people's depression for a cure . By the time they are done with you , you don't have the strength to fight for your life. So you cave. Not this one. I'll get treatment elsewhere.

Dan A
Question: Are there any other "cancer treatment centers" that advertise on national TV?
Answer: No. Why not? Because there is no "magic bullet" to cure cancer. Despite 50 years of intensive research NO ONE has come up an easy, reliable solution to curing cancer. It is so complicated that the best minds in medicine have not been able to get much beyond where we were in the 1960s in terms of patient outcomes. Those who tell you otherwise are SNAKE OIL SALESMEN who are more concerned with separating you from your hard earned cash than curing your loved one. As the saying goes, "A fool and his money are soon parted." Don't be a fool. Your best treatment option is close to home where friends and family can provide you with support and you have a team of doctors and other health care providers that you trust. CTCA are a bunch of charlatans (and that is putting it nicely).

Jake
Sister In Law traveled to Tulsa Ok center for treatment (brain tumor).
Center wanted $5000.00 up front before diagnosis. She had an HMO insurance in Colorado which she was told was worthless in Oklahoma and all other Cancer Treatment Centers, et. al. She died 3 months later. So much for the humanitarian policy of Cancer Treatment Centers.......equal treatment available locally according to almost all local physicians. Don't be fooled......they're after the $$$ - nothing else - especially if you have good insurance......

KathyW
All I can say is if the guy who created CTCA really started CTCA in honor of his mother he must of hated his mother because the mother standard of care is a joke. CTCA is all about money/profit. From the insurance companies to screwing their low level employees by charging them for "benefits" they did not want on their paychecks they will make money any way and any how they can. No highly expensive vitamin supplement is going to cure or help your cancer or you. It is sad but they offer false hope. Sometimes no treatment is better than getting treatment and your quality of life and longevity would be better without it but CTCA is all about what gives them the most profit so you will get procedures and treatments you don't really need and that you will not benefit from in any way. If you live in an area with a top notch hospital, go there. Don't be fooled into flying to another state to get the same treatment or useless treatment you won't benefit from. Fancy buildings and hotel rooms don't make up for the toll it takes on you flying back and forth. CTCA does not have any better treatments or doctors than any top notch hospital in the USA. They just have greedier "oncology information specialists" who know how to cherry pick the most profitable patients and the few poor ones to keep the government off their backs.

Jayne H
I have been treated for cancer at the Phoenix center. I have experienced exceptional care. They work with you on insurance. They are incredibly compassionate and are on top of every detail of my care. I live out of state but have flown back & forth to receive such amazing care. Every single person involved with the center is warm & makes me feel like I am the most important person there. I am so grateful I called them for a second opinion. Their professional approach yet compassionate approach is unlike anything I experienced any place else. I have great confidence in the medical treatment I have received. I HIGHLY recommend TCTA. It can't hurt to get that second opinion. You will be glad you did! I sure am.

pam m
My daughter and I flew to Phoenix for a second opinion of her stage 3 Melanoma. We were told by her very reputable oncology team at Oregon Health and Science University, that after surgery there was no evidence of any tumor recurrence and she was deemed free from cancer. Imagine our surprise and shock that Cancer Center discovered two tumors and wanted to start immediately on a immunotherapy treatment, Keytruda. When we asked about doing a biopsy, or surgical removal we were told that it would further weaken her immune system and their treatment would give her the best odds of survival. Dr. Kwan and his team appeared to be vastly knowledgeable and competent. We flew back to Portland feeling that her doctors in Portland had severely missed the boat and good thing CTCA had found these new tumors. She immediately made an appointment with her doctors to inform them of this new development, and to question how they could have missed such an obvious development. The oncology team was quite surprised to learn of these new tumors and immediately set her up for new scans. Low and behold, the scans came back and she was given the news from the head radiologist, that there was obviously no new tumor development. Now we were really confused. How could one such renowned facility claim her disease had progressed, and the other say there was no tumors to be seen. This prompted a third evaluation. She went to another prominent Melanoma treatment center in Portland, had all the charts and scans reviewed by another doctor who concurred that OHSU was correct, there was no tumor growth and he could find no evidence of the disease.
OHSU was very hesitant to denigrate CTCA but did say they had to pay for their pricy advertising. Bottom line, it should be considered grave malpractice what they did. Saying she needed a treatment that has only been FDA approved for metastatic melanoma, (which hers was localized to lymph nodes only) given no proof of tumor activity(biopsy) and refusing to confer with her Portland doctors, I would advise anyone seeking treatment there to get a second or third opinion. It could save you life.

Tammy
Very Upsetting Experience with CTCA - Philadelphia
The Philadelphia CTCA's handling of my mother's breast cancer case was disgraceful.
A few weeks after my mother passed away, CTCA mailed my mother a customer satisfaction survey! This was consistent with the way my mother and family were treated by doctors Crilley and Topolsky. When I called my mother's team a few days before her death to let them know about her turn for the worse, they continued to fail to check in with the doctors managing her care at the hospital, or with her or the family, even after I clearly told them she was expected to die at any moment. After her death, many doctors outside of CTCA called or sent a sympathy card, but not a word from her CTCA doctors. Did they wonder what happened when their patent stopped showing up for appointments? Did they write her off as the hospital/hospice's patient, thereby boosting their own mortality statistics? Are these accusations unfair – if so, I would love to hear the reason.
CTCA has customer service and "quality" teams highly dedicated to the mission; that is, if the mission is to put up a barrier and prevent doctors from having to deal with pesky relatives. Several members of these teams have told me "I'm sorry you feel that way," the type of standard operating procedure that makes CTCA feel they are covering their bases legally but the type of apology that enrages families. A simple call or letter from a doctor could have provided closure and resolved this customer service complaint. The longer this continues to fester, the more likely it is to turn into a legal battle as we find ourselves questioning all treatment leading up to my mother's unexpected death. How could CTCA give my mother optimistic test results and hope while at the same time the cancer had spread and her lungs were filling with fluid? It doesn't make sense, even to my mother's friends and medical advocates who sat in on her sessions.
I will say I have heard anecdotal rave reviews about other CTCAs, so I wouldn't want to deter anyone from seeking treatment at the others. However if you are in desperate enough circumstances to seek out CTCA, ensure friends and relatives all have your password and permission to review your treatment, so CTCA cannot hide negligence behind patient privacy laws.

ann
it is easy to make a statement that they have been warned by FDA or have law suits against them, many research centers and hospitals have lawsuits and still give excellent care.
I would prefer to see some scientific statistics backing up this story it is unfinished and not concise at all

Steve
The advertising methods they use are extreme. Every hospital has a cancer survivor and a story. The problem is theses specialty hospitals specialize in billing for high reimbursement procedures ( as you will notice they advertise for the insurance they want to bill on the commercials and on their site) and this takes away from the general hospital which treats all needs.
The fact is its all rigged and the big players say you pay their toll or you get shut out! You have to use threats to get a cash price and even then you get shut out. It's big money and under the name hospital it makes it OK? Ask any doctor what it's like being a slave to the hospital they will tell you. Cancer center is just centering in on what fear and death pays the best and they do it with aggressive constant marketing. Look at that company The Scooter Store they were defrauding for years going after high reimbursement at whatever the cost.
Don't hate the player ( or do), hate the game.

cachapa u
Cancer Treatment Centers of America has had some lawsuits filed against them and they have been issued multiple warnings by the FTC for their practices.