Cancer Treatment Centers of America
Cancer Treatment Centers of America Reviews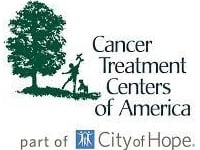 Those who have been diagnosed with cancer may search far and wide to find a treatment that will cure them of this possibly life threatening disease.
A well-known company called Cancer Treatment Centers of America is a place that offers cancer patients various treatment options. Not only do they use conventional ways to fight cancer but they also have naturopathic methods of treatment as well.
Cancer Treatment Centers of America has an integrative program that addresses the quality of life of their patients. They offer therapies including emotional support, nutritional recommendations, pain management, and rehabilitation.
Personal care for all of their patients starts when they arrive at the facility and continues 24/7 throughout their stay. It even goes beyond that to the time after they have been released to head home.
To become a patient of Cancer Treatment Centers of America, the initial step is to submit your insurance information so they can determine if your benefits will cover their services.
If your insurance plan will cover the cost then they will set up a consultation and coordinate your plans, starting with scheduling your first appointment.
Cancer Treatment Centers of America has had some lawsuits filed against them and they have been issued multiple warnings by the FTC for their practices. The FTC had discovered that Cancer Treatment Centers of America was conducting clinical studies that did not follow the proper FDA requirements.
They also found that Cancer Treatment Centers of America was making false advertising claims promoting certain cancer treatments that had no statistical substantiation.
The truth of the matter is that not everyone with cancer survives this disease. Although they may do everything in their power to cure the cancer, sometimes it is not enough.
Catching the cancer growth at its beginning stages is going to increase your chances of survival. Getting multiple recommendations from different doctors is important to deciding what route you feel the most comfortable with.
If you have any experience with Cancer Treatment Centers of America or their services, please leave your reviews below.
You may also be interested in
Cancer Treatment Centers of America Customer Reviews