CampingSurvival.com Reviews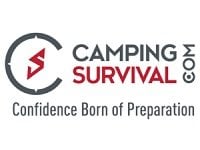 CampingSurvival.com.com is a company that promises to provide customers with everything they need for both their camping needs and their wilderness survival needs.
How Does It Work?
This company says that they were established in January 2002 by Tom Sciacca, a former Marine who loves the outdoors and enjoyed hunting, camping, and playing outdoors with his children. He especially loved practicing "urban survival" and enhancing his wilderness skills.
Because of his love for all these activities, he decided to start CampingSurvival.com, which he describes as an Army/Navy survival store which operates entirely on the internet.
This company sells a variety of useful products, which customers can search through either by using the website's search feature or by looking through their categories, which include Paracord and Accessories; Food, Water & MRE; Outdoor Survival Gear; Knives; Clothing & Footwear; Fire Starters; First Aid & Nuclear; and Survival Kits & Emergency.
Cost & Price Plans
This company sells such a wide number of products that there is no way to quote a specific or static price range for the products they sell, especially when you take into consideration different sales and promotions that will take place over time, as well as the variety of new products that this company will continue to add to their inventory.
Refund Policy
This company has a very simple Refund Policy, only saying that any customer who is disappointed with their purchase or believe that their purchase is different than expected are welcome to either return or exchange their purchase within 30 days.
They do ask that before you return your product that you contact their Customer Service team by phone and receive an RMA number.
They do say that all consumable items such as food and nutritional supplements must be returned in their original unopened condition, but they do not provide any other instructions regarding how products are to be returned.
They do not even explain whether this policy is intended to be used within 30 days of the date of purchase or 30 days of the date of delivery.
Concerned customers should contact their Customer Service team as soon as they suspect they may need to return their item, so as to ensure that their return will be accepted and honored.
Customer Service Contact Info
Customers who would like to contact their Customer Service team with questions, concerns, or complaints can do so by phone at 800-537-1339 or by email at [email protected].
Reputation
Unfortunately it appears as though this website does not have that many reviews from their customers at this time, making it difficult for prospective customers to decide whether or not this is the best retailer for them to purchase from.
However, this company does appear to have a generally standard Refund Policy, so a customer who is interested in trying them for themselves should be able to do that and feel generally safe about their ability to get a refund if they are unhappy with their purchase.
Competitors and Alternatives?
There are many different companies that specialize in outdoor and camping supplies, such as REI, as well as many different companies that specialize in outdoor survival guides and materials.
Customers will want to consider what their specific needs are before they look for the best company for their own needs.
If you have any experience with CampingSurvival.com or their products, please leave your reviews below.
You may also be interested in
CampingSurvival.com Customer Reviews

Tina H
I bought 8 solar lights that aren't working consistently. Sometimes they don't come on at all and I charged them according to directions. I tried to call the company, and they just hang up.

David
Not their fault, just trouble shoot it! 6 months and 35 hours later, NOPE!
This may be my first review/bad review I've ever written. Camping Survival doesn't stand behind the product they sold me.
The first multiple times I called for help they were very polite but continually reassured me that trouble shooting would make everything better. After a month, it wasn't their problem anymore and told me to talk directly with Alexa Pure, which I did.
5 months later after Alexa Pure is giving me the same run around (I've spent, no joke, 35 hours either on the phone, trouble shooting or cleaning the product I bought) Alexa Pure said because I didn't purchase the product through them I had to deal with where I bought it from.
Each phone call is the same, the run around, me trying to be polite since it's not the person on the phones fault that their company won't help, then sending me a replacement part that will fail after less than a week! With the reassurance that if it doesn't work "this time" to call back and we'll figure something out.
Nope, I've had 4 or 5 replacement parts sent and the same thing each time. After 4 and a half months I get the explanation that their warranty is only good for 30 days, unopened and unused, lol. What?! How is someone suppose to know if it works if I cannot open it or try it!?
Then of course when you do open and try it they spend the next 6 months trouble shooting and sending the same replacement part over and over with no success. They would have saved money and time by just refunding me the first month like I wanted.

Joe H
Noticed they had WaterBricks significant'tly cheaper than Amazon, and, after reading positive feedback on other "survivaly" sites, I decided to give'em a shot. Order arrived promptly, as advertised. No complaints here. I guess the real test is what happens when u DO havaprob w/an order, but, ifu never get to that point, why fight aboutit?