Bril Toothbrush Sterilizer
Bril Toothbrush Sterilizer Reviews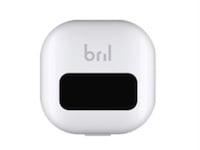 The Bril Toothbrush Sterilizer is a portable toothbrush case that the seller states uses natural UV-C light to kill 99.9% of the germs living on your toothbrush.
How Does Bril Work?
The Bril Toothbrush Sterilizer acts in the same way as popular cell phone and technology sanitation devices do.
To sanitize the bristles of your toothbrush, you place the cap on top of the brush and leave it. Within three minutes, the bristles of the brush are supposed to be sanitized and ready to go.
The case also acts as a toothbrush holder and can attach to your bathroom wall. Having a use as a holder allows you to avoid using a germ manifesting cup or storage area.
Bril's advertising claims that it kills 99.99% of germs, has a magnetic mount, and operates by USB chargeable batteries.
Customer Reviews & Complaints
Bril is owned by SlingShop LLC. Neither company has a Better Business Bureau (BBB) profile.
However, a variety of public reviews depict the company as having poor customer service and slow shipping times. Additionally, many customers have had the magnetic holder delivered in a defective state.
While there are many complaints, there are also customers that are pleased with their purchase. Those customers appreciate the ease of use with the cleaner and the long charge that the batteries hold.
FAQ
When purchasing a new product, it is essential to get a sufficient amount of information before payment.
Here are some of the top questions asked about Bril:
Does Bril toothbrush cleaner work?
While some customers have struggled with the magnetic holder or customer service, there are minimal online complaints about the product not working as advertised.
Can more than one person use it?
While the Bril is a sanitizing device and can be used for more than one person, it is recommended that each individual have their own.
Will Bril fit my toothbrush?
Bril is compatible with all toothbrush types, even children's and electric brushes.
Customer Service
Bril offers several contact methods to get in touch with customer service with any questions or issues.
Email: [email protected]
Phone Number: 888-746-8638
Address:

9160 E. Del Camino Drive, Suite B1
Scottsdale, AZ 85258


Bril states they offer a 30-day money-back guarantee on its devices. If you are not happy with your purchase, you can return it during that period for a full refund.
Competitors and Alternatives
In addition to Bril, there are other similar options available, including:


Bril vs. SmartSF: SmartSF is very similar to Bril. However, it has a smart sensor installed that knows when the toothbrush is ready for sanitizing. Additionally, it has a 3M application for the holder instead of a magnet.
Bril vs. Vie Oli: The main difference between Bril and Vie Oli is that the latter does not work as a holder but does come with a limited warranty.
Bril vs. UVNIA: UVNIA was developed for life on the go, specifically for use during travel. However, the battery inside is not replaceable like the Bril is.
There are also lower cost alternatives to sanitizing your toothbrush such as:


Microwave Ovens
Dishwashers
Mouthwash
Rinsing and Air Drying


Furthermore, most dentists recommend replacing your toothbrush every 3 months as an effective preventive measure for bacterial growth.
The Bottom Line
Bril claims that its sanitation case kills 99.99% of the germs found on your brush.
While there are studies that show UV rays are effective at reducing the amount of bacteria on a surface, they do not fully eliminate all organisms.
There is a difference between sanitizing a brush (what the Bril actually does) and sterilizing it.
Even though there are some positive online reviews for the Bril, it carries a high price tag for something that can be done through cheaper methods. Because of that we are reluctant to recommend it.
If you have any experience with the Bril Toothbrush Sterilizer, please leave your reviews below.
You may also be interested in
Bril Toothbrush Sterilizer Customer Reviews