Boston Brain Science Cerebra
Boston Brain Science Cerebra Reviews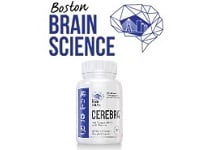 Cerebra Review: A Detailed Look


Boston Brain Science Cerebra is a nootropic claimed to help stave off cognitive decline that's associated with aging and environmental stress.
Below we take a closer look at Cerebra to see if their claims are valid, analyze the ingredients, and find out what real users have to say about this product.
How Does Cerebra Work?
The seller states that regular use of Cerebra can improve focus, prevent "senior moments", and lift brain fog.
Their promotional video makes a strong case for the product, with multiple clinical studies cited to support their ingredients.
In the Boston Brain Science video, Dr. George Karanastasis goes over his personal journey to developing this supplement.
He explains how his own struggles with stress and poor eating developed into an inability to focus, declining mental sharpness, and forgetfulness.
During his search for answers he came across scientists that pointed him to new research showing that there's more to mental decline than just aging, and that many "SuperAgers" are defying expectations by remaining sharp into their later years.
One of the keys is nutrition and the video promises to reveal foods to eat, specifically 3 foods that fight memory loss.
According to his research, as brain cells die off memories become more difficult to access, so it's imperative to provide your body with the proper nutrients necessary to replenish brain cells and cell messengers.
This is what Karanastasis claims Cerebra will do, stating that Cerebra features three proprietary ingredients designed to help your body build more brain cells, protect the existing ones, and help limit your body's physical reaction to stress.
Ingredients and Research

Xerenoos® Citicoline (500 mg)
Citicoline is the supplement form of Choline, an essential nutrient for humans.
A small amount is produced in the liver with rest coming from diet. Some foods high in Choline include eggs, organ meats, beef, fish, cruciferous vegetables, soybeans, and almonds. [1]
As a supplement it has been associated with brain health because Choline is converted into a neurotransmitter called acetylcholine which serves important roles in brain function such as memory and thinking. [2]
While more overall research is needed there are many promising studies showing its potential as a cognitive supplement.
For instance, one study tested 60 women between 40 and 60 years old and found that those receiving 250mg or 500mg of citicoline doses vs a placebo "...showed significantly better ability to produce correct responses on the continuous performance test-II." [3]
Another study found that "Citicoline may prove effective in treating age-related cognitive decline that may be the precursor of dementia." [4]

Another study administered a series of tests to 75 adolescent boys and found that,


"Adolescent males receiving 28 days of Cognizin® citicoline showed improved attention and psychomotor speed and reduced impulsivity compared to adolescent males who received placebo." [5]


Overall the makers of Xerenoos citicoline state they've conducted more than 100 clinical trials with Xerenoos to examine its role in cognitive health.
Bacognize® (Bacopa monnieri extract) (300 mg)
This Indian plant has a long history of use in Ayurvedic medicine and has many adaptogenic and cognitive boosting properties. [6]

As a supplement it is used to help reduce inflammation, alleviate symptoms of ADHD, and ease stress and anxiety.

More clinical research is coming out in support of many of these statements.

For instance one double-blind, placebo-controlled study using 60 medical students found that those taking 150mg twice of Bacognize twice a day for 6 weeks, "significantly improved cognitive function." [7]

Another study tested Bacopa on subjects between 6 and 14 years of age and found that Bacopa monnieri

"... is significantly beneficial for the symptoms of hyperactivity or attention deficit hyperactivity disorder (ADHD) and suggestive of cognitive improvement." [8]


Finally another study on healthy older adults concluded that "B. monnieri can improve attention, cognitive processing, and working memory partly via the suppression of AChE activity." [9]
SerinAid® (supplying 100 mg phosphatidylserine)
Phosphatidylserine (PS) is a phospholipid (made up of both a fatty acid and amino acid) that is produced in the body but mainly obtained through diet.
It plays many vital roles in brain cell structure and neurotransmission, which is why it has been studied in relation to memory and cognitive function. [10]
One study of 494 elderly patients with cognitive impairment, found that PS supplementation produced statistically significant improvements in behavioral and cognitive parameters versus the placebo group after three months and again after six months. [11]
Another study published in the Journal of Clinical Biochemistry and Nutrition found that, "6 months of Soy-PS supplementation could improve the memory functions of the elderly with memory complaints." [12]
One study looking at symptoms of ADHD tested soy-derived phosphatidylserine in a group of 36 children, aged 4-14 years and found that, "PS significantly improved ADHD symptoms and short-term auditory memory in children." [13]
Overall, there is a lot of positive research on the ingredients in Cerebra.
Boston Brain Science formulated this supplement using trademarked ingredients who's developers have their own documentation and research on the effectiveness of their products.
Side Effects
While the ingredients in Cerebra are generally deemed safe, according to the Cleveland Clinic supplementing with Phosphatidylserine may cause the following side effects in some people:


Upset stomach
Gas
Insomnia
Headache
Skin rash
Mood changes
Low blood sugar


Generally side effects occur at higher doses but if you are pregnant, have health conditions, or are taking medications consult with your doctor before taking Cerebra.
Customer Service
If you have questions about the product you can reach out to the company via email at: [email protected], Phone: 1-800-919-0179, or their online contact form.
The company address is:


Fisico Inc.
4001 Adler Dr., Suite 400
Dallas, TX 75211


Boston Brain Science offers a 90 day money back guarantee on Cerebra.
The terms state that customers must reach out to customer service to obtain a return authorization number, then mail back all empty and unused bottles of the product.


Note: The returned product must reach the company before 90 days from time of billing. Shipping and handling fees will not be refunded.
Customer Reviews & Complaints
Boston Brain Science is accredited by the BBB and has an A+ rating there, where they also have a 4.34 / 5 rating from over 100 customer reviews.
Positive Cerebra Reviews
There are a large number of favorable customer reviews from users who felt that Cerebra was working as advertised.
Customers mentioned being able to recall words better and an overall improvement in working memory.
The Boston Brain Science customer service team also actively monitor negative reviews and reply to customers with advice or offers of refunds when applicable.
Negative Cerebra Reviews
BBB complaints mentioned billing issues, where some customers ordered more product than they intended to due to a confusing ordering process.
Others remarked that they felt the Cerebra Video was too promotional and didn't like the aggressive sales tricks it uses.
Finally for some customers the product did not produce noticeable results.
Reps for Cerebra mention that the recommended trial period should be a minimum of 1 month with best results showing after 3 months.
Competitors and Alternatives
Another popular supplement that's advertised for brain fog and mental clarity is Sane Vitaae.
This formula approaches these conditions by addressing inflammation in the brain and claiming to defend against leaky brain.
It also includes Citicoline as one of its main ingredients, however at a much lower dose than Cerebra. It also relies on Vitamin D, Folate, a proprietary blend of L-Carnitine and l- Acetyl-carnitine and COQ10 to achieve its results.
It costs less than Cerebra but does not have as good of reviews nor the same amount of clinical research on their ingredients.
Is Boston Brain Science Legitimate?
There are many factors that affect brain health and cognitive sharpness.
In addition to looking for healthy supplements it's important to make lifestyle changes as well.
For instance some things that can lower your phosphatidylserine levels include:


Stress
Modern diets (low fat)
Modern food production (overly processed, added sugars, fried)


Additional factors that can compromise mental acuity include alcohol and poor sleep habits.
Cerebra does seem like it can play a role in an effective treatment plan of age and stress related cognitive decline.
It has a minimal ingredient list that includes only trademarked and researched formulas. There is also clinical research that backs up many of the claims made by Boston Brain Science.
The only downside we can see to this supplement is the high price tag.
If you have any experience with Cerebra, please leave your reviews below.
You may also be interested in
Boston Brain Science Cerebra Customer Reviews