Boll and Branch Reviews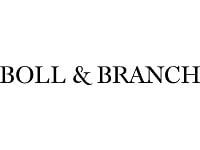 Boll and Branch is a home goods company that state they focus on making products for the home with the best quality, pure organic cotton and is known for providing their customers with high quality bedding at an affordable price.
How Does Boll and Branch Work?
The goal of Boll and Branch was to find a way to make home linens better because, according to their website, the average person spends one-third of their life in bed during sleep. The best way to do this, they decided, was to begin with pure, organic cotton.
This cotton is taken from fair trade farms where workers are paid a livable wage and then taken to be processed according to organic certified standards.
The result is their signature sateen sheets, which use a 300 thread count ultra-premium single-ply weave, resulting in sheets that are not only soft and luxurious, but also extremely breathable, a feature they claim is unique to their products.
Though their 300 thread count may be smaller than some others you've seen, Boll and Branch warns that most manufacturers exaggerate their thread count by using a multiple-ply cotton thread.
This type of thread uses multiple threads to create a single thread, but then count that one thread as many, resulting in an inflated thread count.
In order to keep their high quality products affordable for their customers, they say they have stripped away all the middlemen, markups, distribution fees, and other unnecessary pieces which force linens manufacturers to raise their prices, and they passed their fees on to their customers.
Cost/Price Plans
Boll and Branch currently offers four different sheet sheets which are made in the same fabric but with different seaming and in different colors. Each set will include one fitted sheet, one flat sheet, and two pillowcases.
Depending on the size of the bedding you order, the price will range between $200.00 and $275.00.
Boll and Branch state they understand that many different people do not use a flat sheet in their bedding sets, and others may need a variety of different pillowcases to meet their needs, as opposed to those that automatically come in a pre-arranged set of sheets.
So the company sells all their bedding in separates as well, to allow their customers to create custom sets.
Refund Policy
The website says that customers who are unhappy with their purchase for any reason are welcome to return their purchase within 30 days of the date of delivery.
Customers who wish to return their purchase should contact Customer Service and receive instructions on how to get the product back in order to expedite the return process.
No products will be accepted for return any time after 30 days, for any reason other than a manufacturing defect. Returns that are for reasons other than defects will be refunded the full purchase price, minus the cost of shipping.
Customer Service Contact Info
Customers who would like to contact Customer Service with any questions, concerns, or complaints can do so by phone at 800-678-3234 or by submitting them directly to the website through their Customer Service link, and then by clicking on Submit a Request.
Reputation
Though there are not many customer reviews available for Boll and Branch at this time, there are many reviews available from traditional publications like the Wall Street Journal and many different bloggers.
These reviews almost unanimously speak very enthusiastically and positively about these sheets, their high quality, their excellent fabric and feel, and the fact that they source their cotton from fair trade farmers.
These sheets are intended to be comparable to sets that sell for $1000.00 or more, so even though these particular sets may still be out of budget for many people, most reviewers were incredibly impressed with quality they received for the price.
If you have any experience with Boll and Branch or their products, please leave your reviews below.
You may also be interested in
Boll and Branch Customer Reviews