Big Time Bats Reviews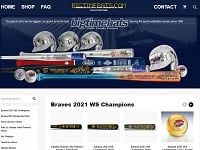 Big Time Bats, found online at BigTimeBats.com, is a website designed specifically for the purposes of helping collectors of baseball memorabilia find rare, unique, or autographed baseball items.
How Does It Work?
Though this company specializes in rare and hard to find items, they still operate like any other online retailer.
Customers can go to their website and search through their inventory using their search feature to find a specific item, or an item used or signed by a specific player.
Big Time Bats allows customers to search through their inventory by category, like Authentic Game Used Memorabilia, Rare Signed Memorabilia - Authenticated, Display Cases, Autographed Baseballs, Louisville Slugger Bats.
All memorabilia that has been categorized according to a particular team, such as the Boston Red Sox or New York Yankees.
For customers who are looking for gifts for friends or family members but cannot decide on a final purchase, BigTimeBats.com offers the option to purchase a gift card, the value of which can be put toward one of their items at a future time.
Cost/Price Plans
Since this website offers a variety of rare and unique sports memorabilia, there is no real way to quote a set price range for items available on this site.
Prices of individual items may vary from time to time as well, depending on fluctuating factors that determine memorabilia pricing.
Refund Policy
Their website does say that customers are able to return any product within 30 days of purchase and receive a refund of the purchase price, less the cost of Shipping and Handling.
Customer Service Contact Info
Customers who would like to contact Customer Service with any questions, concerns, or complaints can do so by email at [email protected] or by submitting them directly to their website.
Reputation
At this time, this website does not seem to have very many user or customer reviews available.
Competitors and Alternatives?
There are many other websites and companies that specialize in sports memorabilia and unique collectors' items, including general auction websites like eBay.
If you have any experience with Big Time Bats or their products, please leave your reviews below.
Big Time Bats Customer Reviews

Randolph B
Company billed my credit card, but I have heard nothing from them.
I purchased two bats and a two bat wall hold, and have not heard anything from this company, but they have billed my credit card, Is this a scam or what???
Amazing Made in America Bat
It's great these days to buy something that's made in America. It was hard finding an American sports item that is actually made in America. My search is over. Yes, it takes about 5 weeks for shipment, but it's so worth it. I called and emailed them in week 5 for an update and they responded to each immediately and said the bat would ship this week. It did and it's gorgeous. I highly recommend!

RSH
Beautiful, If It Does Not arrived Damaged...
This was the 3rd bat I bought from them. All are beautiful, I am very proud to own. The problem is in customer service and shipping. There is one representative who is a die hard smart ass, who is all mouth. Their shipping procedures suck. They ship the bats in a cardboard box without any protection, no peanuts, no bubble wrap, just a skimpy piece of plastic. My first Jeter HOF bat arrived looking like somebody took a hammer to it.
I opened it in front of a Red Ex customer service representative at the Fed Ex store. The Fed Ex rep commented on "how poor it was packed". Being made feel like I did the damage, I had to spend time sending pictures instead of just replacing the bat. I told the BTB representative I would hold BTB and Fed Ex for the damages. The main problem in general, besides lack of protection, they only ship by one shipper; Fed Ex.
Again, beautiful bat, but BYB's customer service is not good, being treated like you are dirt, leaving you feeling like you are there for them. Their lack of spending a quarter on inside protective materials could have avoided any and all problems in shipping. And they only give you one choice to ship, and a poor one at that applies. (Fed Ex does not follow instructions like a note on the door: "do not leave the box unattended"), then leave it unattended.
Gave only a 2 stars in this review. They got a 2, only because the bat is beautiful. The total experience was a 1. Bought three times from them. Will I buy again? Probably not.

Michael
I could not be happier with my purchase. Yes shipping takes a little longer but I understand these are not mass produced products so I am willing to wait. The quality makes it 100% worth it. This is my new go-to place for gifts for my sports fans.

CHARLES
I hate companies that cant deliver there product as advertised. They sure take your money on time so I wish they would ship on time its been 6 weeks since I paid for it and they have not even sent me an email saying when it will be shipped, I wont do business again with big time bats

Richard T
Amazing family-owned operation!
I recently made a few purchases at Big Time Bats and I am beyond pleased with what I received. This company has top-notch service and some of the coolest and most collectible memorabilia items in existence. They mainly deal in sports items, but also carry many other autographed signed items from significant't people throughout history. I was put on to this amazing company by a good friend of mine who has been doing business with them for years and now I see why. I cannot wait to save up enough money to purchase my next historic item! Thank you very much Big Time Bats! Way to go! And keep up the great work! :)

Adam
I have purchased a few autographed pieces from Big Time Bats. I appreciate their exclusive limited edition products. These are designs I cannot find anywhere else. I highly recommend BTB if you are looking for something truly unique!
We ordered an Eagles Super Bowl Champions football after they stuffed it to Brady. Took a few weeks longer than expected to arrive but this thing is a beauty! We emailed for updates along the way and they were always responsive. WELL WORTH THE WAIT.

Amanda
Big Time Bats has some wonderful memorabilia. All so unique and authentic. It's my number one gift shopping spot too! Thanks BTB for helping us create our dream sports room and helping us give the best presents!