Beverly Hills MD Deep Wrinkle Filler
Beverly Hills MD Deep Wrinkle Filler Reviews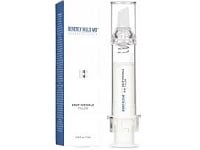 Beverly Hills MD Deep Wrinkle Filler Customer Reviews

Laurice
I've gotten hyaluronic fillers in the past that are temporary. However, This stuff from Beverly Hills MD though is the real deal! I've been using it twice a day for almost a year and I'm telling ya the lines on the sides of my mouth are like 99% gone! Yes. It's expensive, but it's worth every cent!

Tirzah Q
I was quite skeptical at first but this is truly transformed my under-eye wrinkles. I've tried so many different products and none of them worked like they said they did. I'm so grateful for this product !!!
Sincerely,
Tirzah

Linda L
I ordered the introductory products, including the deep wrinkle filler. I did use the product and noticed some improvement in my deep wrinkles - which are around my mouth and chin. The feel if I were to use this continuously, I would probably notice enough improvement to give it 5 stars. Unfortunately, the cost is prohibitive for me.

Wendy N
My "elevens" are disappearing!!
I LOVE BHMD Deep Wrinkle Filler. Within the first week I saw improvement in the appearance of those awful "elevens" between my brow and soon after I could tell a difference in the crows feet that were beginning to creep in around my eyes. I highly recommend this product to all my friends every chance I get. I have even gotten my mom hooked!

Pat G
I haven't seen any dramatic change in my wrinkles. The main complaint I have is its hard to pump to get it out of the tube. I had to keep turning it, sometimes it worked and others not.

Bernay C
It's just ok nothing special
Using wrinkle filler for a month now. Tube lasted a month and I still have no idea if I am using the right amount and if it's to be used night and day. Have not noticed much of a change but wrinkles around eyes have not gotten worse. Lol. I'm 72 and so far it seems expensive. Since you sent me 3. I will use them up then maybe we will see a change

Karen H
Product works well. Still see them close up so not giving 5 stars.

Anita M
Not what I expected, Really crap.
This product is a total nothing. It doesn't fill in anything. Do not waste money.