Evapolar Reviews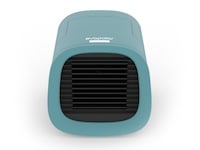 Evapolar is a company that sells portable air conditioners that use a fan to bring in hot air which is cooled as it flows over moistened pads.
Products offered by the company include:
evaCHILL
evaLIGHTplus
evaSMART
Cartridges
evaAROMA
evaBOTTLE
evaBANK
evaBAG
What Does Evapolar Do?
The portable Evapolar coolers use a cartridge, much like a pad or filter, to moisten hot air as it flows through the device.
With the cooler air coming out, the unit acts much like an AC unit would. In times of low humidity, those without other means of cooling their home will find relief with Evapolar products.
The company claims their unique design of the Evapolar mini AC unit allows for minimal noise when in use. Whereas some cooling units produce a great deal of noise, the Evapolar runs with low BTU and is designed to be undisruptive.
How Does It Work?
It is pretty simple to get your Evapolar cooling device set up and ready to go. With its evaporative cooling technology (also known as a swamp cooler), the unit runs with little effort.
Insert your cartridge into the air cooler
Open up the compartment at the bottom of the device and pour in water
Plug the portable AC into the wall (charger is included) and turn on the product
Depending on usage, you will need to change filters (cartridges) every 3-6 months, and you can purchase a filter replacement on the company website.
Once the water in the cooler runs out, the device will stop working. Once the tank refills, the mini AC will go back to working as usual.
What Does It Cost?
The purchase price of an Evapolar evaCHILL portable personal cooling device is $99, or $118 if you bundle it with an extra cartridge.
You can also add on a protection plan that will cover any necessary repairs during the life of your evaCHILL.
The company also offers a one-year warranty and a 14-day refund (you pay to ship) if you are unhappy with your purchase.
Customer Service
Evapolar offers several methods of contact for any product issues that you are facing.
Email: [email protected], their online help center on the website, or through social media channels (Facebook, Instagram, Twitter)
Physical Address:
COOLTRADE INC.
1013 Centre Road
Wilmington, DE 19805
Evapolar's customer service has high ratings and reviews on several different platforms. However, some customers have issues with the short return policy window period that the company offers for their products.
Customer Reviews & Complaints
Evapolar is sold in many different stores and therefore has a variety of independent reviews.
Some customers have complained about a bad smell that emanates from the device, giving off a chemical odor. Others have dealt with leaking, the device not turning on, and the unit not cooling as intended.
Additionally, there has been some issue with the light on the evaLIGHT blinking and a case where the device keeps turning off. However, for all the negative reviews, there are tons more positive reviews. Most third-party sources give Evapolar products a rating of 4-stars or higher.
Customers appreciate the low-cost alternative to air conditioning and can find quick relief during the hottest days.
Competitors and Alternatives
There are several products similar to Evapolar on the market, a few of which include:
Evapolar vs. Arctic Air - Arctic Air has a lower price and is available at popular retail chains like Target and Walmart. However, Arctic Air does not have a removable water compartment.
Evapolar vs. Blaux - Blaux suffers from very low reviews and ratings. However, it can be purchased in bulk if you want to have devices for all rooms of the house.
Evapolar vs. Coolair - Coolair is most prevalent in Australia. The technology is the same behind the products, but the Coolair comes in a much larger size.
Where To Buy?
You can purchase Evapolar products on their company website and through Amazon, Home Depot, Lowes, Walmart, and Sears.
The Bottom Line
Many evaporative air conditioners do not perform in the way that they say they do. Other brands boast about large drops in temperature upon using them, but the reviews say otherwise.
However, Evapolar products seem to actually live up to the claims they put in their materials, and the independent online reviews back them up.
When you see more than one site with favorable ratings about a product, you start to feel trust that it will work as it is supposed to.
It appears that Evapolar products perform in the way they claim and the price is reasonable as well. With all of that, we do believe that it is worth trying.
If you have any experience with Evapolar air conditioners, please leave your reviews below.
You may also be interested in
Evapolar Customer Reviews

Audrey
Company does't honor their warranty
I purchased an evaSMART in May of 2022. The first unit was defective. It was promptly replaced.
Unfortunately that unit was defective as well. We have now been trying to get the evapolar company to honor their one year warranty for eight months.
So far they have not responded to any of our emails. The only way to contact them is through their email. There isn't any telephone number listed
nor is there a live chat option. The address is not available on the website. I would give them a zero if that option were available.