Apetropics Reviews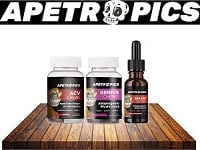 Apetropics Review: Is it Legit?
Apetropics is a brand CBD based products that the company states can offer relief from pain, stress, and anxiety.
Their cartoon logo uses images from the popular Bored Ape Yacht Club (BAYC) NFT collection, though its unclear if the companies are related.
Apetropics uses "advertorials" to promote their products. This type of advertisement is made to resemble a news articles and is often associated with lower quality products.
However, Apetropics claims to use the highest quality ingredients and provides lab test documentation for their products.

Below we take a closer look at the company's products and customer reviews to see if they're more than just hype.
Products & Ingredients
The Apetropics product line is split into two main categories, allowing users to choose between CBD chews and Tinctures (drops).
Customers can also choose products based on if they contain THC or not, the CBD dosage, and adaptogen blend vs straight CBD Oil.
Apetropics top products include Smart Drops and One Drops, along with a number of Chews.
Apetropics One Chews
Made from THC-Free hemp and organically-grown Adaptogen mushrooms.

Full Ingredient list: THC-Free Broad Spectrum CBD, Lion's Mane Mushroom Extract (Hericium erinaceus) (Sporocarp), Cordyceps Extract (Cordyceps sinensis) (Sporocarp), Black Pepper Extract (Piper nigrum L.) (Dried fruit), Tapioca Syrup, Cane Sugar, Purified Water, Pectin, Natural Flavors, Citric Acid, Sodium Citrate, Coconut Oil, Artificial Colors. 0.0% THC.
This formula contains: 25mg of THC-Free Broad Spectrum CBD + 400mg Organic Lion's Mane + Cordyceps Proprietary Adaptogen Blend (Non-Psychoactive)
The Tincture version of this product, Apetropics One Drops, has similar ingredients but contains: 30mg CBD + 3mg CBC + 333mg Proprietary Blend Lions Mane + Cordyceps + Turkey Tail + Reishi.
Apetropics Genius Chews
This blend contains only the Proprietary Adaptogen Blend without any CBD/THC.

Full Ingredient list: Organic Lion's Mane (Hericium erinaceus) Mycelium and Fruitbody Extract, Organic Chaga (Inonotus obliquus) Mycelium Extract, Organic Cordyceps (Cordyceps militaris) Mycelium Extract, Organic Reishi (Ganoderma lucidum s.l.), Organic Turkey Tail (Trametes versicolor) Other Ingredients: Sugar, Light Corn Syrup, Vanilla, Salt, Purified Water, Pectin, Coconut Oil, Natural Flavors, Citric Acid, Purple Food Color (Water, Propylene Glycol, FD&C Red 40, FD&C Blue 1, FD&C Red 3)

Apetropics Smart Drops
Simmilar to the Genius Chews the Smart Drops tincture is formulated with just the Proprietary Adaptogen Blend (500mg per serving) with no CBD/THC.

Full Ingredient list: Organic Lion's Mane Extract 10:1 (Hericium Erinaceus), Organic Cordyceps Extract 10:1 (Cordyceps militaris), Turkey Tail Extract 10:1 (Trametes versicolor), Organic Reishi Extract 10:1 (Ganoderma lucidum), Organic Chaga Extract 10:1 (Inonotus obliquus). MCT Oil, Stevia, Natural Flavors. Contains Coconut.


The company also states that their ingredients are:


Third-party lab tested
Free of Chemicals, heavy metals, and toxins
Eco Friendly
non-GMO, gluten-free, and vegan
Made with Organic mushrooms


How Well Does Apetropics Work?
The company relies on two key active ingredients to deliver their claimed effects, CBD and Adaptogenic mushrooms.
With CBD they offer both broad and full spectrum formulations.
Broad spectrum contains many of the cannabinoids found in the plant with the exception of THC. Full spectrum contains all the cannabinoids including trace amounts of non-psychoactive THC.
Apetropics claim that the CBD in their Apetropics One Chews and One Drops can help


Relieve joint aches and pains
Headaches
Sore muscles
Ease anxiety


There is research that supports the foundation for a lot of these claims.
One study concluded that there is evidence for CBD as a treatment for Generalized Anxiety Disorder, Seasonal Affective Disorder, OCD, and even PTSD.
In a test simulating a public speaking event, the study concluded that CBD showed a comparable efficacy to ipsapirone or diazepam.
Still the authors of the study conclude that, while there is a lot of potential for CBD as a treatment, more research is needed.
For pain reduction there are many preliminary studies suggesting that CBD and Cannabis may be treatment options.
However, more work is needed on developing dosage and proper treatment plans, as well as improving research designs.
Adaptogenic Mushrooms


This group of mushrooms are thought to have healing properties such as reducing inflammation, alleviating stress, and improving immune function.
The most common of these include:


Reishi
Cordyceps
Lion's mane
Chaga
Turkey tail


Adaptogenic mushrooms can be found in a variety of coffee substitute drinks, shakes, or powders.
There is some research showing the potential benefits of these types of mushroom on improving inflammation and the gut biome.
They have also been shown to help mitigate the effects of stress and help relieve fatigue.
Overall though, much of the research on adaptogenic mushrooms is limited to lab work and animal trials.
Even though adaptogenic mushrooms have a long history of use in traditional eastern medicine more research is needed.
FAQ

Where to Buy?
You can order Apetropics directly from their site. Several products are available from Amazon, specifically the Genius Chews and Genius Drops.
Apetropics Side Effects?
Adaptogenic mushrooms can cause some negative reactions in certain people, including:


Allergic reactions
Digestive discomfort
Negative interactions with certain medicines, specifically blood thinners and immunosuppressants


If you are on any medications, pregnant, or have serious health risks always consult with your doctor before starting new supplements.
Is Apetropics FDA Approved?
While there are guidelines for supplement companies to follow, the FDA does not approve supplements since they are not meant to treat, diagnose, mitigate, prevent, or cure diseases.


Customer Reviews & Complaints
Customer reviews for Apetropics as a seller, as well as for their products are generally mixed to negative.
Apetropics has a C+ rating from the BBB and an even worse customer rating of just 1.59/5 stars from 29 customer reviews (Nov 22, 2023).
The company has also accumulated 8 customer complaints in the past year.
Positive Apetropics reviews commonly mentioned:


Product Satisfaction: A minority of reviews praised the products for taste, pain relief, and maintaining clarity of mind, highlighting that the products worked well them.


Responsive to Complaints: In several complaints, the company responded with apologies and efforts to rectify issues, such as refunds or subscription cancellations​​.
Negative Apetropics reviews commonly mentioned:


Health Concerns and Ineffectiveness: Some customers experienced negative health reactions, like a racing heartbeat and nausea, or found the products ineffective​​.

Some other customers complained about ingredients like high fructose corn syrup and propylene glycol in the products​​.


Misleading Product Information: Some customers felt misled about the product type (e.g., expecting tablets but receiving liquid drops) and were dissatisfied with this discrepancy​​.


Unwanted Charges: Many customers complained about being charged for products they did not order or having difficulty canceling subscriptions, leading some to label the company as a scam​​​​.


Delivery Issues: There were complaints about products not being delivered, invalid tracking numbers, and difficulties in getting issues resolved​​.


Difficulty Contacting Customer Service: A common complaint was the inability to reach customer service, either through phone or email, to resolve issues or cancel subscriptions​​.
On Amazon Apetropics Genius Chews have mixed reviews, with a rating of
See Genius Chews reviews on Amazon
Smart Drops Reviews
Apetropics Smart Drops are the company's most popular product.
They receive mixed reviews from customers on Amazon, where they have a rating of 3.2 / 5 from over 300 customer reviews.
See Smart Drops reviews on Amazon
Positive Smart Drop reviews commonly mentioned:


Effectiveness: Some customers reported increased focus, clarity, and energy levels, while some other customers noted improvements in mental clarity and alertness.


Taste: A few users found the taste of the drops pleasant.


Convenience: The ease of use and mixing with other drinks like coffee was appreciated by some customers.
Negative Smart Drop reviews commonly mentioned:


Ineffectiveness: The most common complaint was a lack of noticeable effects, with many users reporting no change in energy or focus.


Side-Effects: Some customers experienced negative physical reactions, such as headaches, dizziness, and gastrointestinal issues.


Packaging Issues: Problems with opening the bottle and incomplete product quantity.


Cost Concerns: Many users felt the product was not worth the money spent, with low perceived value for the cost.
However, Fakespot, a service that specializes in analyzing the reliability of Amazon customer reviews gives Amazon's Apetropics Smart Drops customer reviews a reliability grade of 'C', indicating that a moderate likelihood of deception in the reviews.
Fakespot downgrades Smart Drop reviews to 1.5 / 5 stars and even issues a caution regarding Apetropics as a seller.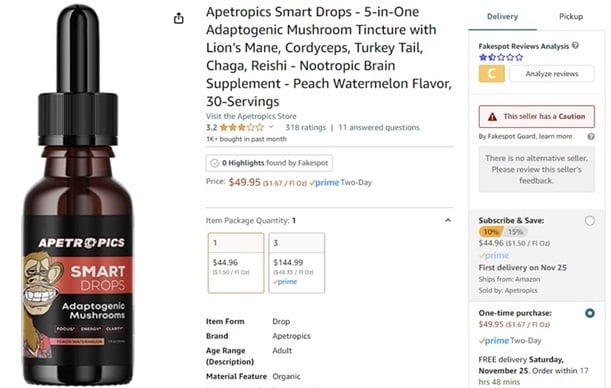 Apetropics Smart Drops reviews on Amazon, revised down by Fakespot
It's also important to note that most of the competing products on Amazon get even worse scores from Fakespot.
Customer Service
Apetropics.com lists their contact information as:


Phone: 877-227-8944
Email: [email protected]


Apetropics states that their products are backed by a 120 day satisfaction guarantee which allows customer to send back the product for a return or exchange.
To initiate a refund you must get an RMA number from customer service then ship back empty or unused portions of your order to:


4935 Mercury St
Unit J-1
San Diego, CA 92111
Competitors and Alternatives
There are myriad alternatives for both types of products offered by Apetropics.
If you are curious about adaptogenic mushrooms you might want to start off with a supplement that focuses solely on that to see how your body responds.
Four Sigmatic Organic Mushroom Coffee
If you prefer a beverage version of adaptogenic mushrooms Four Sigmatic is a great company to check out.
Their easy to prepare organic instant coffee mix is a great blend of the healing mushrooms Lion's Mane, Chaga and Rhodiola.
It is also an 'Amazon Choice' product and earns great reviews from customers.
Check Four Sigmatic price on Amazon
The Bottom Line
Ultimately we have mixed opinions on this brand. There are some things they do that are commendable and certain areas where they fall short.
Pros:
Lab tested products
Provide certificate of analysis
List all ingredients
Certified by 'Good Manufacturing Practices'

Cons:
Use misleading advertising
Mixed to negative customer reviews
Certain products contain food coloring additives and added sweeteners like high fructose corn syrup.

Overall, the reviews for Apetropics show a predominantly negative response, with a significant number of customers expressing disappointment in their products' efficacy and value.
The company has attempted to address some complaints by offering refunds or subscription cancellations, but issues with unauthorized charges, product effectiveness, and customer service remain significant concerns for many customers.
If you have any experience with Apetropics products, please leave your reviews below.
You may also be interested in
Apetropics Customer Reviews

Connie A
Unable to cancel or return. They won't even post this review.

Karen A
These guys have reserved their spot next to the Nigerian prince who only needs you to cash his check, Complete and total scam. Don't waste your money...and if you did, don't stop until you get your refund. Hold these scammers accountable.

V.C.
High fructose corn syrup, propylene glycol are ingredients!
I just woke up about 15 minutes ago, to find a text on my phone from Apetropics sent 35 minutes prior, saying that I have opted-in for text messages from them. I DID NO SUCH THING. I just woke up, okay!!
I found this site while researching this audacious company and am now going to block them! Sleep is precious to me and it is always being interrupted by scam calls and texts; good thing I turned the volume down.
Another thing: high fructose corn syrup and propylene glycol are on the ingredients list; that should tell you everything you need to know about this company. The NIH website says Propylene glycol is also used to make polyester compounds, and as a base for deicing solutions.
Propylene glycol is used by the chemical, food, and pharmaceutical industries as an antifreeze when leakage might lead to contact with food. It is a solvent for food colors and flavors, and in the paint and plastics industries.
Propylene glycol is also used to create artificial smoke or fog used in fire-fighting training and in theatrical productions. Are you ok with putting that in your body? I'm not.

BETTY W
They have a high pressure salesman that talked me into trying it instead of one I had been using. Against my better judgement, I ordered some.
I decided to look at reviews and found they were mostly warnings not to buy the Apetropics CBD. So I cancelled my order. I looked at my credit card account I used and saw that there was another bogus charge for exactly the same amount to some company I had not heard of. I believe the guy gave my cc number to someone and they made a false charge. Thankfully, I had both charges removed and I reported Apetropics
So be forewarned This is not an honest company to deal with

Georgia R
Tastes good, pain relief great, clear headed
Only CBD products I can use. Pricey but so so so worth it. Love the results. I use 3 of their cbd's love love love them!

RadArtChic
Waste, Don't fall for it!!
Total scam. I purchased the "Smart Drops", total junk. Called customer service to get return address, gave me a hard time, threw every offer at me but a full refund. I had to literally read the policy to them. Ridiculous. Never again...