AmRelieve SootheSocks Reviews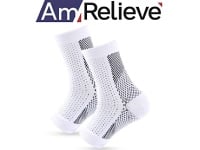 SootheSocks Review: Worth Buying?
SootheSocks from AmRelieve are a health product intended to treat a variety of common sources of foot pain.
Below we take a closer look at AmRelieve SootheSocks to see if they're the best option for those suffering from foot pain.
How Do SootheSocks Work?
AmRelieve claim that their unique compression zone technology can provide users with the right amount of pressure in the correct spots, instantly easing pain and providing relief.
There are many retailers focusing on the compression apparel market, making it difficult to choose which product offers the best quality and value.
These garments can range from low cost, poorly made knock-offs, to high end medical grade products.
SootheSocks are intended to be worn like a normal pair of socks for the duration of the day to experience these benefits.
According to AmRelieve the socks are:


Breathable
Lightweight
Moisture Wicking
Odor Repellent
Have a No-Slip Cuff


The company states that their compression socks work by applying graduating pressure from the bottom of the foot up, allowing blood to flow upwards, reducing swelling and promoting healthy circulation.
Soothe Socks are designed to have 5 compression zones that work to stabilize the foot, stave off injury, and provide pain relief in the arches, heels, ankles, balls of the feet, and calves.
Furthermore, AmRelieve state that relieving the pain in your feet and improving circulation can have indirect benefits such as relieving pain from your hips and knees that have been overcompensating to deal with foot pain.
Addressing poor foot circulation can also prevent injury, speed up recovery times, improve mobility, and even help with poor posture.
The company states that SootheSocks can work for a range of people, such as athletes, those working long hours on their feet, and seniors.
Compression Socks & Foot Pain
The advertising for Soothe Socks claims that their foot sleeve can help with pain caused by a variety of ailments such as:


"Plantar fasciitis, achilles tendonitis, feet that fall asleep, flat feet, throbbing and burning nerve foot pain, arthritis, heel strike pain, weak and lazy legs, edema, arch pain, foot injury, heel spurs, and foot injuries"


Plantar fasciitis is one of the most common foot issues and occurs when the thick band of tissue that connects the heel bone to the toes becomes inflamed.
More research is being done on the exact cause of this but there are a variety of factors that can contribute to the condition, such as obesity, biomechanics, and environmental factors.
At this time, studies on treatment options don't specifically include compression socks, but do mention a variety of lifestyle and footwear changes that can help.
In addition to Anti-inflammatory agents, stretching, orthotics, corticosteroid injection, night splints and extracorporeal shock wave therapy were commonly prescribed treatments.
There are, however, anecdotal accounts of compression socks helping improve circulation and reducing inflammation, and many health blogs promote their use.
AmRelieve also states that SootheSocks may be beneficial for neuropathy, a common condition that causes pain, muscle weakness, numbness, and tingling due to damage to the nerves of the affected area.
Some risk factors for neuropathy include high blood pressure, high cholesterol, obesity, diabetes, repetitive motions, and heavy alcohol use.
AmRelieve alludes to SootheSocks being able to relieve pain associated with neuropathy, however we did not find any medical literature that specifically listed compression socks as a treatment for neuropathy.
Non-medical treatments did include taking care of feet by keeping them dry, which SootheSocks may be able to help with, along with possibly increasing blood flow in your feet.
It's best to speak to a medical care provider before self-diagnosing or treating any condition with over the counter products.
Benefits of Compression Socks
Studies have established benefits to using this type of foot aid which include:


Are SootheSocks Safe?
In some cases your physician may advise against the use of compression socks.
For instance, it is not recommended to wear compression socks overnight as they may inhibit blood flow while you're laying down.
Furthermore, compression sock strength is measured in units of pressure (mm Hg) and depending on your specific conditions you may be better off with a lower strength compression sock.
Some diabetes patients suffer from both poor circulation and edema, in which case a mild strength compression sock of 18-25mmHg may be recommended.
One study showed that mild compression can still decrease swelling without compromising vascularity.
For reference, SootheSocks are rated 20-30mmHG compression which puts them in the class of firm compression.
AmRelieve also state that people with peripheral arterial disease or congestive heart failure should check with their physician before using Soothe Socks.
SootheSocks Customer Reviews & Complaints
SootheSocks are still a fairly new product, with not much online customer feedback aside from what AmRelieve has posted on their own website.
There is a listing for SootheSocks on Amazon, but the seller is not listed as AmRelieve so it is unclear if they are the same product or a knockoff company.
That listing has a rating of only 3.6 / 5 stars with many customer complaints regarding the product.
However, we do have reviews of AmRelieve's other product, the Ultra Knee Elite knee brace, for which customers have left many complaints with regard to fit, effectiveness, and the company's customer service.
This review will be updated as more reviews trickle in.
Customer Service
SootheSocks come with a 90 day money back guarantee.
If you're unhappy with their performance or have any other issues you can contact the company to initiate a refund.
You can reach AmRelieve by email at [email protected], by phone at (302) 746-2472, or through the online chat option on their website.


Cost and Price Plans
At AmRelieve.com one pair of SootheSocks costs $29.00, with discounts available when you order more than one pair.
For instance, one AmRelieve deal lets you buy 7 pairs and get 6 free, bringing the price per pair down to $13.32.
AmRelieve also offer a lifetime protection on your order for $9.95, which states that they will replace your product at any time ,due to any issue, for life.
Competitors and Alternatives
There are many options for compression socks, with everything from As Seen on TV gimmicks to professional sports apparel companies offering products.
With so many choices it may be best to first narrow down what style of sock and compression strength level you're looking for.
You can choose from closed or open toe socks, ankle length, crew length, or over the calf length, and strength levels that go all the way up to 30-40 mmHg.
Some popular brands of compression socks include:


SockWell - A very well reviewed brand whose compression socks are made from a 32% Merino Wool, 32% Nylon, 31% Rayon, and a 5% Spandex blend, and feature graduated compression.

SockWell make Men's and Women's style socks in various sizes.



OrthoSleeve - Advertise a similar style sock to the SootheSock, which they state can also aid with foot issues related to Diabetes, Neuropathy, and Edema.

Their Wellness Socks have a 4.4/5 rating from 6,000+ reviews on Amazon.



Langov Nano Socks - Another brand that make a toeless ankle support sock which is geared towards those with Plantar fasciitis, heel & arch pain, or Achilles tendonitis.
Are SootheSocks Worth Buying?
At this time it would be difficult to recommend AmRelieve SootheSocks.
Currently there's not enough positive customer feedback for SootheSocks, and the company has not impressed with their other popular product.
AmRelieve compression socks may be able to help with foot pain, circulation, and swelling, and the money back guarantee is reassuring as well.
However, we'd still hold off on purchasing until there are more customer reviews from sources outside their own website.
If you have any experience with AmRelieve SootheSocks, please leave your reviews below.
You may also be interested in
AmRelieve SootheSocks Customer Reviews