AirPhysio Reviews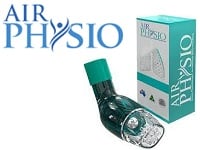 AirPhysio Review: Legit Product?
The AirPhysio is a breathing aid made of medical-grade materials that's intended to help users relieve symptoms related to respiratory conditions such as asthma and bronchitis.
Founded in 2016 in Australia, AirPhysio (short from Airway Physiotherapy) works to expand the user's lungs and strengthen their ability to fight mucus secretions.
How Does AirPhysio Work?
The AirPhysio acts like an inhaler but with the opposite motion. Instead of inhaling in, you exhale out forcefully to expel what is in your lungs and inflate the cavity.
As people with lung issues age, their lung output decreases. AirPhysio is claimed to help create resistance by mucus clearing lung expansion.
When you breathe out, a steel ball inside the device will rattle, letting you know that you are doing it correctly.
The idea is that using the AirPhysio several times a day allows your lungs to build up stamina against the mucus that frequently settles and causes issues in breathing.
The company's advertising states that the device does not use a filter and is helpful for the following conditions:


Asthma
Atelectasis
Bronchiectasis
Chronic Bronchitis
Chronic Obstructive Pulmonary Disease (COPD)
Emphysema
Cystic Fibrosis
Other conditions that produce retained secretions
Customer Reviews & Complaints
AirPhysio is based out of Australia and does not have a Better Business Bureau (BBB) profile.
While some customers feel that the device is a scam, many others are pleased with the progress they have made with the device.
While it is advertised as lung therapy to get the vital organ working optimally, some have not seen promising results after using it for an extended period.
FAQ
Does AirPhysio Work?
The device has worked for some customers, as there are online reviews that speak positively about the product.


Can more than one person use it?
While AirPhysio can be used for people over four years old, it is recommended that each user have their own device to not spread germs and illnesses.


Is AirPhysio safe to use?
AirPhysio is not made with any chemicals or medication. The device is a breathing exercise product to be used for therapeutic reasons.
There are no side effects, and it should be safe to use. As with all medical products, it is recommended to speak to your doctor before using.
Customer Service
AirPhysio offers several contact methods to get in touch with customer service with any questions or issues.
Email: [email protected]
Phone Number: + 61 1300 723 110
Physical Address:
Unit 3, 6-8 Amber Road
Tweed Heads South NSW 2486
Additionally, AirPhysio has an online contact form for customers to utilize.

Where To Buy?
AirPhysio devices are available for purchase on their company website as well as through Life Wellness and Walmart.

Cost and Price Plans
AirPhysio devices sell in packages of varying amounts.
For those who desire to have separate devices for different areas (car, purse, work, etc.), buying in larger quantities is best and offers a savings discount.


One AirPhysio - $59.99 plus shipping and handling
Three AirPhysio - $119.98 with free shipping
Five AirPhysio - $179.97 with free shipping


AirPhysio offers a 90-day money-back guarantee and a one-year warranty.
Therefore, if you aren't finding success with the device or it breaks, you can return to the company for a refund.
Competitors and Alternatives
In addition to AirPhysio, there are other similar options available.


AirPhysio vs. The Breather - The Breather works in the same way as AirPhysio. However, The Breather offers different inhalation levels on the device.


AirPhysio vs. POWERbreathe - The main difference between the two products is that the latter has a rubber mouthpiece that helps you hold it in place while performing the breathing exercises.


AirPhysio vs. Quest Performance - Quest Performance is a peak flow reader, similar to what is used with doctors and respiratory therapists.
AirPhysio - Legit or Scam?
Many people in the world struggle with asthma or other lung-related illnesses.
Many of these individuals look for a way to increase their lung capacity for better health.
While many respiratory therapists have devices and medications to help, these items are not always readily available to consumers due to needing appointments, referrals, and to pay co-pays and deductibles.
AirPhysio offers a device that is similar to what is found in the offices of some doctors and respiratory therapists.
However, it's hard to know if it adequately stands up to those used by professionals without transparent medical reviews.
While it may seem easier to purchase the AirPhysio instead of going through a medical care provider, you are likely to have a better outcome if you get a certified medical product specific to your needs.
Although many people have shown appreciation for the AirPhysio, the high price tag and lack of medical reviews leave us hesitant to recommend it.
If you have any experience with the AirPhysio, please leave your reviews below.
You may also be interested in
AirPhysio Customer Reviews

SMK
I have many allergies and chronic asthma. My ability to walk up and down stairs (and hills) has diminishes significantly over the last few years. Since I've started using this about three weeks ago, it helped me get through a cold without having to use my albuterol inhaler by getting the mucus from my lungs. I am also able to climb a long set of stairs that I used to have to stop in the middle to catch my breath. And I have been using it only once a day instead of the recommended three. Use it and it improves your lungs.

Dorene Y
Works Miracles If Used Correctly
I bought this device because I can't breathe well, and the docs can't find a sure reason. In the meantime, I need to breathe! This works miracles, BUT it does not work unless you use it correctly. Once you get the vibration right, it is majorly effective. I won't be without one again.

Charles T
Pucker up and blow against the base of your thumb forcing a back your air into your lungs. See if this technique works. If it does, you saved yourself a C-Note. It worked initially for me years ago, but then fizzed out in effectiveness as my lungs got used to the increased pressure.

Elaine
I have tried this AirPhysio for 1 1/2 months and it does not do what it is advertised to do. I had my doubts and should not have ordered this. What a disappointment!

Donna
Don't purchase this item if you expect to easily get a refund. They make you jump through hoops to get a refund. Having returned the AirPhysio, I am calling my credit card company to have the charge reversed if I don't receive a refund this week.

Bonnie S
Haven't received my order.
Haven't received my order (of three yet) starting to worry. I am also concerned that there are no reviews. Something seems to be fishy….