Advance America Cash Advance
Advance America Cash Advance Reviews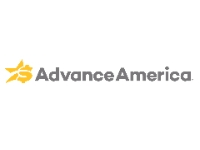 Advance America was established in 1997 and is currently one of the nation's largest payday loan companies, offering full service operations both at local locations and online.
The company offer several different types of loan products and it's important to understand the terms, limitations, and consequences of each one.
Below we'll take a closer look at the cash advance options this company offers and analyze their customer feedback and reviews.
How Does It Work?
To its credit Advance America does provide their customers with almost immediate access to money.

Depending on the state you live in and if there's a physical location nearby, you can obtain a payday loan either same day or within one business day.
Currently Advance America operates in the following states:


Alabama
California
Colorado
Delaware
Florida
Idaho
Indiana
Iowa

Kansas
Kentucky
Louisiana
Michigan
Mississippi
Missouri
Nevada
Ohio

Oklahoma
Rhode Island
South Carolina
Tennessee
Texas
Utah
Wisconsin
Wyoming

If applying in person you will need your
Social Security number
Active bank account information
Proof of income
Government-issued ID
Online applicants will additionally require a valid email address.
Advance America Loans and Rates
Payday Loans - Designated as small short term bridge loans until your next paycheck arrives.
Depending on your income and the state that you live in, this can be up to several hundred dollars. For instance, in California you can borrow up to $255.

These loans, also called cash advances, are meant to be paid back within 2-4 weeks.

The benefits of these loans are that they can tide you over in an emergency as they have an easy application, don't require good credit, and have quick approval.

The downside is that the rate at which you borrow can be extremely high.
Installment Loans - These are meant for larger purchases/expenses that won't be paid off with the next paycheck.

This is akin to a personal loan, which you can payback in smaller amounts over a longer time frame - ranging from 3 to 24 months. Terms and rates will depend on your state and circumstance.


Title Loans - These types of loans allow you to borrow against an asset, in this case being a car, truck, RV or motorcycle.
Rates and terms will again vary on your location, appraised value of assets, and personal factors.

For example in California you can borrow from $2,510 to $25,000 from rates starting at 36%APR. This option only applies if your assets are fully paid off and in your name.

Make sure to carefully read your loan agreement with these loans, while you may be getting a lower rate your vehicle is at risk of repossession if you fail to meet Advance America's terms.
Flex Line of Credit - This is a good option to pursue as a safety net for future use. If approved a credit line is yours to use similar to a credit card. You only pay when you use it and it saves you the time of having to reapply for another loan.

You can obtain payday loans from Advance America at their in house locations as quickly as ten minutes after your application has been approved, or from their online website, in which case the funds will be directly deposited into your bank account the next day.
Is Advance America Legitimate?
In an effort to combat the negative stereotypes associated with payday loans, Advance America claims to be committed to following all Federal and individual state laws associated with giving payday loans.
They are a member of the Community Financial Services Association of America (CFSA), which is the only national organization dedicated to promoting responsible regulation of the payday advance industry.
As a member of CFSA, Advance America claims that they make sure all their terms, conditions, fees, and payback schedules are as clear and easy to understand as possible, so that their clients have the best chance at successfully paying back their short term loans.
Although Advance America makes such these assurances, it's still up to borrowers to ensure they completely understand the terms and conditions of the agreement before they accept a loan.
Warnings About Payday Loans
Payday loans are extremely controversial. Because payday loans are targeted at people who need cash immediately and have may no other means of receiving it, these companies are able to charge high interest rates, with the nationwide average being as high as 390% APR.
Often these high interest rates result in people's inability to be able to pay back these short term loans on time, which results in a series of fees making it even more difficult for those struggling financially to keep up with it.
Because of this problematic cycle, individual states have created rules and regulations regarding the approval of payday loans and limiting their fees.
Some states have outlawed the practice, while others have few regulations that limit payday lenders.
Customer Service
If you have any questions or issues you can reach customer support at their phone number (844) 562-6480. You can also directly message the company on Facebook or through their online chat feature on the website.
If you are doing business with a local Advance America chain then it might be best to reach out to them directly.
Advance America Customer Reviews & Complaints
The company has mixed online reviews with some customers reporting a satisfactory experience and others recounting horror stories from dealing with this service.
Some customers reported issues with Advance America withdrawing money from their accounts the day before they received their paycheck, which set them up for overdraft fees.
Others reported issues with the company not working with them when they ran into financial troubles after borrowing money, reporting that instead of working with them Advance America sent accounts to collections and repossessed vehicles.
There are also a large number of complaints that stem from online scams unassociated with Advance America.
Online scammers use their name with promises of loans. They then try to obtain a small deposit from you to initiate the loan. Beware of anyone that contacts you requesting for you to deposit money or share your banking login information.
Competitors and Alternatives
Some possible alternatives to consider include:
Payday Alternative Loan from a local Credit Union will usually offer better terms and more payoff time.
Check rates from companies offering bad credit personal loans
Borrow from Friends or family
See if you can apply for a low interest credit card
Workout a payment plan with your creditor
Paycheck advance apps such as Earnin, which let you borrow against your check without fees.
Try to pick up quick side hustles like driving for a ride sharing app or manual labor work.
Sell possessions
Turn to local charities or community organizations
Some of these options may not be practical in a true emergency situation but could be worth pursuing as preventive measures for future issues.
Is Advance America Worth It?
Payday loan companies should be relied upon only in extreme cases and when you are absolutely sure that you have funds incoming in time to repay the loan.
There are many dangers in incurring more debt than what you started with by using these kinds of loans.
If you have any experience with Advance America Cash Advance, please leave your reviews below.
You may also be interested in
Advance America Cash Advance Customer Reviews