Aculief Reviews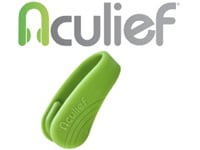 Aculief is a wearable, patented acupressure device that's claimed to provide relief for migraines and other ailments like arthritis and inflammation.
It works by applying pressure to the pressure point that is located between the forefinger and thumb.
The company states this device is doctor-approved and uses a technique that has been used for thousands of years to provide relief from tension.
How Does it Work?
The seller of Aculief states the device relieves eye pain, toothaches, bone pain, and even jaw pain by activating the body's endorphins.
The company states the device can eliminate the need for over-the-counter drugs by offering a natural, quick pain relief.
Aculief can be worn for as little as five minutes or for as long as several hours and can fit just about any hand size.
The directions are easy to follow. Once you place the device on your hand, the seller states it is supposed to start working in mere seconds.
The device is waterproof and designed for an active lifestyle. It also comes in multiple colors so that you can adapt it to your own style.
The company states there are no side effects except for pregnant women, in whom it has been known to induce contractions.
Cost and Price Plans
You have several purchasing options when you buy the Aculief. One device is sold at a retail price of $24.99.
You can also buy two, get one free for a savings of $24.99 (the total purchase price is $49.98). This option comes with free USA shipping.
The final purchasing option is to buy three and get two free. These cost $14.99 each for a total of $74.97 - and a savings of $49.98. This option also comes with free domestic shipping.
The product is backed by a 60-day, 100% money-back guarantee.
Customer Reviews & Complaints
There are plenty of positive customer reviews for Aculief on their website - but unfortunately, that's one of only two places where you are going to find them.
Customers claim that, "if you are like me and suffer from chronic pain and headaches, you should give this product a try" and that "it feels solid and built for years of use."
On Amazon, some customers complain that the stiff plastic causes pain and numbness in the hand. Others report that it works well for headaches but only if you use it as soon as you feel a headache coming on.
It is a one-size-fits-all product, but unfortunately, some customers claim that they have a hard time keeping the device on their hands.
Customer Service
Aculief is manufactured by GiddyUp, a producer of a variety of products. You can contact support by emailing [email protected].
There is no phone number listed on the website, nor is there a mailing address for customers.
Where to Buy?
The item can be purchased directly from the manufacturer as well as on Amazon.
Competitors and Alternatives
Aculief isn't the only product that claims to relieve headaches and other similar pains. Everywhere you look, it seems as though the benefits of acupressure are being touted for superior pain relief.
One option is the AcuSpur Acupressure Headband. Designed to be used as a wrap or as a headband, this product claims to reduce muscle tension and improve relaxation simply by wearing it for ten to thirty minutes each day.
This product has good reviews and is about half the price of the Aculief - but it won't work as well for other ailments, like carpal tunnel syndrome.
Another product to consider is the ZenGuru Acupressure Neck Pillow. Again, this one is not going to work as well for pain outside of the head and neck region.
However, it has some of the best reviews by customers and can also help improve sleep quality and to relieve stress and pain.
Is Aculief Worth It?
That depends. Aculief has decent reviews on Amazon as well as on the company's website.
However, customer service is not very responsive, so if you have any kind of issue with the device, you are going to have some issues getting in touch.
That being said, Aculief seems to work well for customers seeking a drug-free solution to their aches and pains.
The science for the device is all there, too - the inventors relied on research by Johns Hopkins University to formulate this invention.
So if you're willing to make the investment, it could work well for you, too. And since there are virtually no side effects, the only risk in trying this product is in losing a little bit of money.
If you have any experience with Aculief or their products, please leave your reviews below.
You may also be interested in
Aculief Customer Reviews