ActivatedYou Morning Complete
ActivatedYou Morning Complete Reviews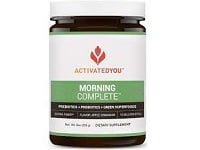 ActivatedYou Morning Complete Customer Reviews

Andrea
I am one month in. I definitely notice a change in my energy level. I struggle with a lot of digestive issues, so I am hoping for greater results, but have seen some improvement. The taste is fine, considering the greens included. I will definitely try another month.

maureen m
I am hooked on this product. I've tried other similar products and lost interest in a couple of weeks. On this, I feel worlds better. As a scientist and cancer researcher, I can tell you that most products like this have the probiotics (the bacteria) but not the prebiotics (the nourishment that allows for diverse bacteria to proliferate). So the combination of prebiotics with probiotics is what attracted me to this product, and it is exactly what we need to nourish and diversify our microbiome. OK OK, so it doesn't taste like a chocolate milk shake but it's frankly not that bad at all...I make it in 8 oz of water and down it in one gulp, and I feel great the rest of the day. Frankly the price is not that bad, particularly for something that works so well...I don't know about you, but my health is worth every penny.

Ray B
Morning After: Solid Product!
Other than the gaudy price, this is a fine product
that I recommend.

Marcus
Morning Complete is Excellent forwhole body wellness five stars

Belle
Energy I haven't felt for a long time!
I bought Morning Complete with the Black Friday discount offer to try and was amazed at the increase to my energy levels within one week. The first couple of days I did experience some discomfort but I put this down to my body needing to adjust to the product and choosing to stop ingesting unhealthy foods and alcohol! My belly lost the bloated look quicker than I expected (and love!). Due to the nature of my employment I find the price and subscription offer out of my price range to continue. If you can afford this product I do highly recommend. It certainly delivers what it promises!

Darras D
This was the vilest stuff I have ever put in my body. First dose Thursday, another Friday. Got dog sick GI problems Saturday, both ends. Wife tried it Friday. She started vomiting Sunday. Don't do it. It's nasty.