ActivatedYou Morning Complete
ActivatedYou Morning Complete Reviews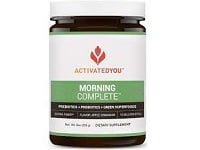 ActivatedYou Morning Complete Customer Reviews

Marcus
Morning Complete is Excellent forwhole body wellness five stars

Belle
Energy I haven't felt for a long time!
I bought Morning Complete with the Black Friday discount offer to try and was amazed at the increase to my energy levels within one week. The first couple of days I did experience some discomfort but I put this down to my body needing to adjust to the product and choosing to stop ingesting unhealthy foods and alcohol! My belly lost the bloated look quicker than I expected (and love!). Due to the nature of my employment I find the price and subscription offer out of my price range to continue. If you can afford this product I do highly recommend. It certainly delivers what it promises!

Darras D
This was the vilest stuff I have ever put in my body. First dose Thursday, another Friday. Got dog sick GI problems Saturday, both ends. Wife tried it Friday. She started vomiting Sunday. Don't do it. It's nasty.