ActivatedYou Essential Skin Food
ActivatedYou Essential Skin Food Reviews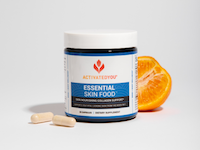 Essential Skin Food Review: A Detailed Look
Essential Skin Food is a beauty supplement from ActivatedYou that's claimed to help fight the signs of aging and improve skin appearance.
ActivatedYou is a partnership between actor Maggie Q and Dr. Frank Lippman, a specialist in integrative medicine.
Maggie claims to have individually benefited from the supplements released by ActivatedYou and is the spokesperson for the brand.
Below we take a closer look at this supplement, going over the current research on its ingredients, analyzing real customer reviews, and determining if it can really live up to its claims.
How Does Essential Skin Food Work?
Essential Skin Food was created was designed with the idea to improve skin from the inside out.
In the promotional video Maggie Q explains the pitfalls and limitations of popular skin care treatments like topicals and collagen supplements.
According to the Cleveland Clinic, collagen is a critical protein involved in the production of skin, muscles, tendons, bones, ligaments and other tissues.
It also plays vital roles in the body such as replacing dead skin cells and providing the structure and elasticity to skin.
As we age collagen production decreases and simultaneously begins to break down at a faster rate.
This results in:


Wrinkled skin
Sagging skin
Muscle shrinkage
Stiff joints
Less flexibility
Joint pain


This is why many anti-aging and beauty products focus on collagen as a key ingredient.
However, some experts agree with ActivatedYou, stating that while research is promising it's still limited and needs further large scale studies to determine if ingesting collagen provides skincare benefits.
An article from Harvard Medical School concluded that, "Thus far, no human studies have clearly proven that collagen you take orally will end up in your skin, hair, or nails."
This is why Essential Skin Food was designed to support your own body's ability to create collagen by providing you with the natural building blocks of this protein.
Ingredients
Triple Amino Acid Complex - Amino acids are the building blocks of protein, and are critical to collagen production. [3]

This blend includes:

Arginine
This semi-essential Amino acid has many vital functions. When it comes to skincare it has been shown to have antioxidant properties that may keep free radicals from damaging your skin. [4]
One study found an increase in collagen synthesis in users who were given a mixture of arginine, glutamine, and HMB. [5]
Arginine is also often used in topical formulations as it may aid in skin hydration. [6]

Lysine
Research has found that this essential amino acid is important in collagen production. [7]

L-Proline
This nonessential amino acid has been associated with skin repair and wound healing by supporting collagen synthesis, or the formation of new collagen. [8]


Dermaval™
This proprietary plant based complex was developed by Futurecuticals, who claim it is clinically proven to "help the body protect against collagen and elastin degradation."
It features a key blend of phytochemicals, including quercetin, punicalagin, anthocyanin, and chlorogenic acid. And vitamin C from Acerola, Mangosteen and Camu Camu. [9]

Vitamin C
Plays a critical role in skin health and collagen production. In addition to amino acids the body also requires the minerals copper, zinc, and vitamin c to produce collagen. [10]
Further, studies have shown that a diet high in Vitamin C was associated with better skin appearance, with notable decreases in skin wrinkling. [11]


Cosmythic™
This proprietary French maritime pine bark extract is said to, "act positively on the essential constituents of the extra-cellular matrix, collagen and elastin."
The company conducted a study that claims taking 100 mg of Cosmythic® for 28 days improved skin firmness and elasticity vs a placebo.
In addition there is a lot of research on maritime pine and its uses in herbal medicines and skin treatments. [12] [13] [14]
Overall there is a good amount of scientific support for the ingredients found in Essential Skin Food, however that is not the same as saying that there's evidence that this product works.
Customer Service
If you have any questions about the product or need assistance you can reach a representative at (800) 720-8403 or submit a message via their website at https://activatedyou.com/contact/.
The company claims to have a 100% money-back guarantee.
If you're unhappy for any reason you have 90 days to reach out and initiate a refund.
Customer Reviews & Complaints
Essential Skin Food has mostly positive online reviews with customers claiming to have seen some results from using the product.


Customers with positive experiences mentioned:


Seeing a new glow to their skin
Looking more vibrant
Experiencing more energy
Very easy to take
Less lines
Customers with negative experiences mentioned:


Not seeing the promised results
Felt the product was too expensive


Overall ActivatedYou has positive reviews and customer ratings online. On one popular consumer review site they have a 4.4/5 score from over 1,000 reviews.
On Reviewopedia.com reviews of Morning Complete, their flagship product, are also positive, with a score of 4 / 5 from 500+ customer reviews.
The company also has an A+ rating with the BBB and a user score of 4.1/5 from over 600 reviews.
There are some complaints listed on that platform, the majority of which have to do with billing issues.
Some customers unwittingly signed up for the subscription option when ordering. If you do not want the extra savings available from using their auto-ship service make sure you select "One-Time Purchase."
Competitors and Alternatives
Another good product with a similar premise is BellaBiotics from Dr. Kellyann.
This supplement also attempts to heal the skin and gut from inside and even shares one of the key ingredients of Essential Skin Food.
BellaBiotics uses clinical-grade probiotics for their digestive and skin health support. Along with Agatri Korean Mint® - an antioxidant shown to have skin healing properties.
It also includes Dermaval® and a boost of Vitamin A, D, and E.
Dr. Kellyann states that BellaBiotics supports skin elasticity, protects against wrinkles and UV damage, and boosts collagen and elastin production.
This is a good option if you want to address skin and digestive health at the same time. Learn More.
A good topical alternative is EltaMD PM Therapy Facial Moisturizer Lotion.
This formula makes use of Moisturizers like Hyaluronic Acid and a blend of Peptides and Ceramides but without the Retinol. It is oil-free, fragrance-free, non comedogenic and safe for sensitive skin.
It has an 'Amazon Choice' product and has an impressive rating of 4.7/5 on Amazon from 4,900+ reviews. Check Price
The Bottom Line
Essential Skin Food has developed a formula that combines 2 proprietary supplements along with amino acids and other critical ingredients used in collagen production.
However despite the promising research that does not guarantee that your body will use these ingredients to improve your skin's appearance.
The good news is that ActivatedYou does provide a lengthy return period that gives users the chance to see how they respond to this supplement risk free.
Note: If you have underlying health conditions or are on medications check with your doctor before starting a supplement regimen to avoid any possible interactions or side effects.
Finally, experts do agree that some of the best things that you can do for your skin include:


Eat a well-balanced healthy diet
Limit sugar and refined carbohydrate intake
Don't smoke and avoid second-hand smoke
Stay hydrated
Exercise
Getting enough sleep
Wear sunscreen every day and limit unprotected sun exposure
Limit exposure to UV light


If you have tried Essential Skin Food, please leave your reviews below.
You may also be interested in
ActivatedYou Essential Skin Food Customer Reviews