Maxfit G3 SmartWatch Reviews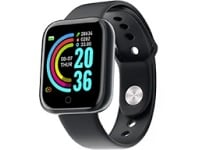 The smartwatch market is showing no signs of slowing down, with almost every major tech company releasing a version.
Whether it's phone companies creating a device to pair with their smartphones or fitness-focused brands releasing the latest in exercise tracking, there's something for everyone.
However, one trend that seems to have persisted is the proliferation of off brand smartwatches, such as the Maxfit G3.
These companies are trying to break into the low end of this market, offering budget watches that claim to offer an abundance of features for a discount watch price.&nbsp
&nbsp
But is the Maxfit G3 legit? We'll break it all down in this review.
How Does the Maxfit G3 Work?
The promotions for the Maxfit G3 make many incredible claims regarding its countless features. The creators state that it has the capabilities of a fitness tracker, health monitor, and smart device in one.
They claim that it can:
make phone calls
count steps
monitor sleep
relay message alerts
measure blood pressure, heart rate, blood oxygen, and BPM
take photos
pair with iPhone and Android
be submerged in one meter of water up to 30 minutes
That's quite the impressive list that would contend with top of the market offerings from the likes of Apple and Samsung. The creators claim they can do all this at an entry level price point because the Maxfit G3 is a direct to consumer brand.
This means they can eliminate many of the traditional costs that bigger companies incur.
While you can use the Maxfit G3 without having your phone on, the features are controlled through the smartphone app.
You will have to carefully read the instruction manual to learn how to use all the functions and the USB quick release wireless charging connector.
Cost And Price Plans
Currently the Maxfit G3 retails for $59.95. You will also gain marginal discounts if you purchase more than one device.
Customer Service
If you need assistance you can contact a representative at their phone number 1-844-329-1300 or by email at [email protected]
They claim to offer a 30 day window for returns, their policy states that you will need to contact them to obtain an RMA number to initiate the return. You will then have to ship the smartwatch at your own expense to the following address:
FDC RETURNS, P.O. Box 61553 Savannah, GA 31420
There is also a restocking fee for opened or damaged goods up to 25% of the original purchase price.
The company's terms and conditions also mention enrollment into a video subscription service for a monthly charge of $8.95. So be very cautious when making your purchase to ensure you don't sign up for something extra.
Competitors and Alternatives
There's no shortage of smartwatches on the market, starting with the big names previously mentioned to staples like the Fitbit and Garmin watches. Before deciding on a product, it is advisable to narrow down what you want out of the watch first.
After you've made your list of priorities, go with a product that addresses your main needs best. For instance, a lot of the watches are geared towards sports performance. So, if that's what you're after, go with an athletic brand that specializes in biometrics.
The Bottom Line
At this time, it's hard to recommend this product as there are too many red flags. You probably came across an ad for this watch on a popular news site.
What you haven't seen is that these ads have been around for years with little changing except the product name.
On our own site we have reviews of the Oshen Watch, MaxWatch, and Koretrack Smart watch.
All have nearly identical sales pages and all have a plethora of customer complaints. It appears these companies purchase their watches overseas and continually rebrand to stay ahead of the bad reviews.
While some customers have had decent experiences with these types of products, the majority complain about the products simply not working, having battery issues, difficulty pairing, or just never arriving after the order was placed.
It doesn't help that there isn't much information about Maxfit G3 online, aside from the positive reviews on their own website.
We know it's hard to pass up a good deal, but in this case it might just be worth it to buy a name brand and, despite paying more, have the peace of mind that goes along with it.
If you have experience with the Maxfit G3 SmartWatch, please leave your reviews below.
You may also be interested in
Maxfit G3 SmartWatch Customer Reviews

NH
It is a scam. Watch is a piece of garbage
I purchased the Max fit G3 and received it on 11/23/2021. When I open the box, I realized there wasn't a charger. I called customer service and they told me that I can plug it into my computer or into the USB for it to charge. 3 hours later the watch still didn't charge.
I called customer service and I and was told to send a video of how I'm charging the watch. I sent 2 videos via email and was told that they never received it. At this point, I requested a refund. I was told that I would have to pay to return the device.
Now, they sent me a defective watch. I paid to have the watch delivered and now I have to pay to return this defective cheap piece of crap. I asked to speak to a supervisor and was told that the supervisor is in a meeting and that someone will get back to me.
I don't expect that to happen. They acknowledge that the watch is defective,, and still I have to pay to return it. Do not buy from this company. It is a scam. The watch is a piece of garbage. You get what you pay for. 0 stars

Ukifa H
Sometimes you get what you pay for.
I've had my watch since March 2021, works fine. It synced with my brand new phone, no problem downloading the apps it needed and the functions all work fine. The little nub on the band broke and can't find a better replacement yet. Still using with small Velcro dots, not great but still can use.

BOBBIE I
Nothing is ethical with this company
Phone number on their website is 844 329 1300. this the wrong number, as I called and it is a VW dealer in Canada. Good luck with my getting a code to send back 3 unordered watches...

Lorilyn
This watch will not even take a charge, will not turn on, will not pair. It is junk! Of course there is no customer service on the weekend, which is when I received it. I usually always check reviews first but must have only checked on their website. I am seeing a lot of negative stories since purchasing I will update if satisfied with a customer service response.

John
Mine won't even charge, it was a complete rip off. I give it 0 stars.

Patti
Over charged on the order....Immediately xxled the order.
Just tried to purchase this watch at the $59.00 price--invoice to credit card came through as 178.04. Immediately called my bank to dispute the charge. Printed out information and copy of the letter canceling the purchase. Can't order without phone number... So they have all information to perform a scam....

Timm
Scam Alert--- do not buy !!!
Total scam and customer service is terrible when you try to return.
I ordered this for my husband. It would not connect to our phones. We tried all instructions given. Still would not connect. I called and was sent video, you guessed it wouldn't connect. I called for 2 weeks finally got text. Wanted me to sell it to family member...really...
Finally got address to send it back with a special number...had to return it on my dime and they had to receive in 2 weeks. Come on it's the mail. Could only send it USPS...I finally got my return cost me $84.01 and my return was only $65.54....huh THIS IS A SCAM...
Terrible product/ Terrible customer service
I got Maxfit 3 watch for my husband. It would not connect to his phone. We tried, our son-in-law (who connected 3 apple smartwatches) couldn't get it to connect. I message them. I got step by step instruction which can with watch. I had IT guy I know to get it to connect without any luck.
I sent another message. Was told to watch video. Still won't connect. I sent message I wanted to return it for refund. I was told to see if another family member would want it. Or try to sell it online. No I wanted to return it and wanted my money back.
After 10 message back and forth. I had to call my charge card and get them involved. So I finally got address to send it back with a number they gave me to put on package.
They only accept packages from USPS. I mailed it next morning...now I have to wait until they decide they have it. I had UPS store verify watch turned on before they packed it...can't wait to see how much more drama I have to endure...I wont buy this watch for anyone....company slow in response and even slower in action ☹

Jay C
What the heck most people spend more at one meal at fast food stop.
I am an 80 yr male who buys cheap tech. I wanted to learn a little about smart watches so bought the Maxfit G3. I have sent email to their support and email is not accepted. My gmail sent repeat sends for three days and still no response. Bad sign. I would suggest that it would appeal to pre-school child maybe up to 2nd grade. They would use it about like they use momma's flip phone with no battery.
The only thing I can vouch for is that the clock seems to keep time. I wanted to have chronometer stop watch but I can't find a stopwatch function(I don't believe it is there.) The app FitPro has a motion section which has a gps tracker which probably wouldn't get you home. I tested it outside and walked one block and the tracker has me crossing the street once. I have used it inside and it does record and track is inside the building.
Blood pressure does give numbers mine has never been so good. Pulse is recorded but I haven't had my nurse wife check it out. I have no idea whether the Saturated Oxygen per cent is close because I really don't believe those that people buy to stick on your finger for the same price as the MaxFit G3.
My conclusion is that it is best thought of as a toy for children to act like daddy and mommy and it doesn't cost $400.

Connie W
Do not buy the Maxfit G3!! It is not what they say. I've been trying to get a hold of someone for a refund but looks like I got scammed.

Randall H
G3 Maxfit is GARBAGE and company is crooked!!
I have tried to use the G3 Max Fit for about 2 months. It is past their 30 day warranty and will not allow a return or supply a replacement part for the cheap plastic button that is used to latch the straps together on my wrist. The nub on the button attachment broke off to reveal it is not a metal part, but a flimsy plastic part. This means I cannot wear the watch or get any functionality from it.
The limited value from the watch was the step counter which agreed with a step tracker on cell phone. Pulse and O2 data also seemed reasonable, but a little better than figures I got from standalone pulse oximeter.
The sleep data did not consistently get captured. It would work for a few days and then not get captured. The BP measurements are most likely fake. Systolic measures 30 points below a BP cuff. In fact numbers are almost always the same even when I press measure when watch is not on my wrist.
The instructions that come with the product are so small a font that the only way you can read them is with a magnifying glass.
So DO NOT BUY!!!!!

Lawrence S
It does not work properly and you cannot return it or call for support her email for support it is a scam