Zoro.com Reviews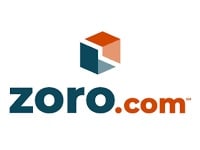 Zoro is an online hardware and business supplies store that specializes in supplying small businesses.
How Does Zoro Work?
According to their website, since 2011 Zoro.com has worked hard to provide their customers with a huge selection of more than one million industrial supply products, all of which are priced very competitively.
In addition, in order to best serve their customers, the company states they provide fast delivery options and dedicated Customer Service professionals.
Zoro sells a variety of useful products for industrial supply needs, which customers can search through either by using the website's search feature or by looking through their product catalog.
The website also states that they encourage their customers to provide them with feedback whenever possible, so their company can always be identifying what works for their customers and what doesn't.
Reputation
Zoro appears to have mixed customer reviews, with many of the complaints customers have reported being about this company's customer service.
It seems that even though Zoro attempts to make claims about their high quality customer service, some customers said they were unable to get satisfactory assistance from this company when they had a problem with their order.
Customer Service
Customers who would like to contact their Customer Service team with questions, concerns, or complaints can do so by phone at 855-289-9676 or by submitting them to their website through their 'Contact Us' link.
Refund Policy
This company has a very simple Refund Policy, only saying that any customer who is disappointed with their purchase or believe that their purchase is different than expected are welcome to either return or exchange their purchase within 30 days of the original shipping date, as recorded on your invoice.
The website does states that occasionally certain items may be non-refundable.
If customers order a non-refundable product, we Zoro will contact them prior to fulfilling their order and advise them of the refund restrictions on the item, as well as allowing the customer to cancel the order.
All returns will need to be returned in their original packaging, along with a Return Authorization Number which customers can get by contacting the customer service team by phone.
Zoro also ask that customers include a copy of the original order confirmation or packing slip with your RA paperwork as proof of purchase.

Any returns which are received without the necessary RA number will be assessed a 15% restocking fee that will be deducted from any credit.
If you have any experience with Zoro.com or their products, please leave your reviews below.
Zoro.com Customer Reviews