Yumi Baby Food Reviews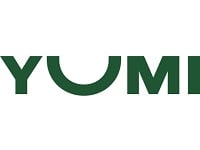 Yumi Baby Food, found online at HelloYumi.com, says they want to provide superfood for babies with their line of organic, fresh, and home delivered baby food.
How Does It Work?
According to their website, babies require a healthier and more thoughtfully balanced diet than grown-ups because nutrition affects them a lot more than it affects adults.
Because of this, the makers of Yumi Baby Food worked with a team of pediatricians, nutritionists, and chefs to create their baby food line.
Because variety is important when it comes to food, Yumi provides more than 50 different flavor combinations for their customers in either single-ingredient purees or multi-ingredient blends. They also promise that they are always adding more flavors.
All their food is organic, plant-based, and low in sugar, as well as "big-allergen-free" which they define as being nut-free (except coconuts), gluten-free, soy-free, and dairy-free.
Every ingredient is also chosen with a purpose, and all meals have been designed by pediatricians and nutritionists to ensure that all meals provide the right mix of nutrient-rich ingredients to support your baby's body and mind.
Finally, this company also says that their deliveries will be color coded to help parents easily see how fresh the food is, and all unused perishable food is donated to Impact LA, a local non-profit that helps feed those in need.
Cost/Price Plans
This company offers their customers a variety of different subscription based plans at this time. Their current plans are priced at $35 per week for 6 singles, $50 per week for 6 blends, $65 per week for 10 blends, and $85 per week for 14 blends.
Their website says that they are currently providing a promotional offer where brand new customers will be given a discount when they sign up for a monthly plan, but it is unclear how long this promotion will last.
Refund Policy
This company says that any customer who is not satisfied with a product for any reason is instructed to contact their Customer Service team by email no later than 24 hours following the delivery.
All refunds and full or partial credits will be awarded at the sole discretion of Yumi, but customers should know that this company may require that the product is returned to them or that you provide them with photographic images of or other documentation of the basis of your dissatisfaction with the product before they will process a credit or refund.
Customer Service Contact Info
Customers who would like to contact Customer Service with any questions, concerns, or complaints can do so by phone at 415-TRY-YUMI, by email at [email protected], or by submitting them directly to their website through the Contact Us link.
Reputation
Unfortunately there simply are not that many customer reviews of this product or this service at this time. The majority of reviews available for Yumi right now seem to be from business websites and blogs that are discussing their funding, business model, and appeal to customers.
The truth is that Yumi Baby Food is one of many different natural, organic baby food delivery services and they tend to be one of the more expensive options available, so customers will likely want to try these foods short term before committing to longer subscription lengths.
Competitors and Alternatives?
The organic, all natural baby food movement is actually pretty widespread at this point, and there are a variety of different options available in different stores and retailers, as well as products designed to help parents make their own organic food at home.
If you have any experience with Yumi Baby Food or their products, please leave your reviews below.
You may also be interested in
Yumi Baby Food Customer Reviews