Watch Warehouse Reviews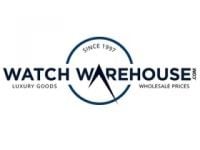 Watch Warehouse is an online retailer that specializes in watches, jewelry, collector pens, and other luxury accessories.
How Does Watch Warehouse Work?
According to their website, WatchWarehouse.com began as a collection of brick and mortar retail stores but decided to make the move to becoming an online retailer in the late 1990s so they could expand their market reach.
Their site goes on to say they provide a selection of 100% authentic, brand new, brand name watches that will be provided to their customers with the relevant serial or case number intact, but they have also branched out to include the sales of other accessories over the years.
Customers are welcome to look through their current inventory of products by category, including Brands, Men's Watches, Women's Watches, Fine Pens, Eyewear, Accessories, and more.
Reputation
Watch Warehouse has mixed reviews from customers at this time.
The positive reviews for this company are all very similar – an easy ordering process and a good quality product they were really satisfied with.
The negative reviews are similar as well, which may cause concern for new and prospective customers, because the most common complaint voiced in reviews was dissatisfaction with the quality of Customer Service.
Customers noted that when there was a problem with their order, they felt that Customer Service was very difficult to work with and hardly offered them any assistance at all.
Customer Service
Customers who would like to contact their Customer Service team with questions, concerns, or complaints can do so by phone at 855-559-2824 and by submitting them directly to their website through their Contact Us link.
Refund Policy
This website states that WatchWarehouse.com is committed to your satisfaction, and that if you are unhappy with what you receive you are welcome to return them for a refund or exchange, as long as an exchange is still available.
All returned items must still be in brand new, unworn, and unused condition. All tags, stickers, boxes, and user manuals must be included in the returned package, and if any free gifts were included with your purchase, they must be returned as well. Any damage that is detected on the product will make it ineligible for being returned or exchanged.
In order to make sure you are eligible for a refund, you should go to their website and make sure that you have followed all of their long list of requirements, beginning with contacting Customer Service for an RMA number.
If you have any experience with Watch Warehouse or their products, please leave your reviews below.
Watch Warehouse Customer Reviews

Clyde F
I think the watches are fake.
They will not honor their warranty, when you return your watch because if it stops working you will never hear from them and they never answer their phone unless they can see somewhere that you want to make a purchase.