Watch Station Reviews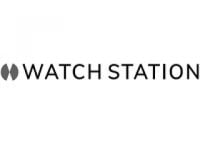 Watch Station Customer Reviews

Kathleen A
Watch station does not respond. Bought a watch and returned it. They cannot find it and are not sending my money back.
Call every day. Employees are nasty is an understatement.

Ahmed M
I bought Armani Exchange 2121 and it is 100% fake. Beware people.

Tasneem
Usless and incompetent customer service. I went there to exchange a watch as it was a gift but didn't like any watch in the shop at that time, so I was told to exchange with gift cards as it was the best option as the gift card could be used online.
However when I looked for the watch online, there was no option to use the giftcard to purchase anything. I called customer service several times but got no response from them, then after repeatedly calling watchstation branch they said I could use gift cards only in the store. I told I wanted a refund as I was misguided from the staff and it was not my mistake.
They confirmed to me via email that I would get a refund and further compensation for my troubles but I would have to go to the outlet.
I live near Gatwick and all outlets are quite far from my place still I agreed to go there, but when I went there initially they refused to give refund for giftcard but when I showed them written email they refunded giftcard amount but didn't gave any compensation and said it was not their mistake and as also they didn't promise any such thing. They were adamant that the email was received from another branch which I didn't even contact and I could only get my compensation from that branch even though no purchase was made from the that I received the email through.
The manager of the branch was also extremely rude and refused to help me in any sort of way and was fixed in her ways in denying any mistake and not acknowledging how their constant mismanagement was the reason so much of my time was wasted.
Please do not waste your time here! You can find much better retail outlets who actually know how to treat their customers.

Jackson A
I've ordered watches from them a handful of times. The last time i tried to order something they wanted me to call customer care to complete it. I was told because my billing info didn't match what the bank had for the card. That made sense because i recently moved and didn't update my info with the bank. They were very helpful when I got them on the phone. Only thing was the wait time was crazy! like 30 minutes. I did call twice because the first time I had things to do. I ended up looking to see if they had any local stores and there was one 20 minutes from my house. The employees were very helpful and it was a great environment. I would rather go to the store than shop online now.
dont not buy from watchstation online website.
don't not buy from watchstation online website. refunds take over 6 weeks to process. scammers they hold your money to make interest on it ! they sell fake watches imitations. you being warn do not buy here.
horrible customer service
i places and order and right after payment it tells me to contact customer support. they took over 40minutes to answer. now my card was charge but they say is a hold. now i got no money , no watch and valentines is in 2 days. save your self sometime and buy from amazon.

Ann s
Defective watch.I paid the return shipment!
I've wasted time shopping on their site. I placed my order and received an email order confirmation. After a week, it took them a WEEK, they sent me another email saying my order was canceled due to lack of inventory/out of stock. So I checked their site to look for a replacement item. What so disappointing is that my exact item was still available to order in their site. I called costumer service to see why my order was canceled because it's still available online. Unfortunately, it's really out of stock and their site is fooling. Anyway, I was avail to do a replacement order via phone and it was all set. My replacement order was confirmed and shipped.
But The worst of this crap was when I received my order. They sent me defective item. The watch was not working. The costumer service helped me try to make it work but it was dumb broken! Had to return it with so much pain because the instruction of the first costumer service was stupid. They sent me wrong return label, instructed me to drop the package at the wrong shipment company and I end up paying the return shipment. Please be warn, don't waste your time and money.

John L
3 watches that didn't work in a row!
I bought a watch for my daughter online recently (Nov. 2016) for Christmas. When I received it the second hand refused to budge. Called Watch Station help and they concurred that the watch was defective and to return it. I did . The second watch had the same problem. (dead battery???) Watch station help couldn't get it going either. I returned it with the promise that they would check it to see that it worked before shipping. The 3rd watch din not work either whereupon I demanded my money back. I returned the watch with the promise that they would refund my money the next day. One week later and they have the UPS return validation and I still have not received my money back.

Ms. H
I received a email for an additional 40% off evening that I had two strokes I called to place order do to me shaking didn't want to input my card information I needed assistance so I called was on hold for a period remind you I had the items in my cart., by the time the gentlemen gets on the line to assist my items were sold out I feel that's so unfair why have a number to call if you don't have enough stock the product was mk2392 priced at $134.00 with a additional 40% off using promo code green40-.,so I wasn't able to get the item nor when the product comes back in restock in mid January they didn't even offer anything.,- to me customer service isn't a department it's a person-.,but I will say this all the other items I ordered the week prior they're liget would I recommend maybe maybe not