WalletGenius Reviews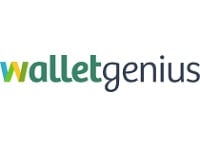 WalletGenius is a personal finance website that offers financial advice in the form of written articles and blog posts regarding all things financial.
The company states it's content thoroughly researched and fact-checked and reviewed by a financial expert or experienced finance writer.
How Does it Work?
They employ an arsenal of financial advisors, freelancers, editors, and finance experts to carefully craft truthful and helpful literature for people needing advice or help in the subject.
Wallet Genius provides information in the following categories:
Banking
Insurance
Investments
Mortgages
Loans
Credit
Taxes
Budgeting
They have testimonials from CNN, Bloomberg, How Stuff Works, and Business Insider. The primary goal of the company is to provide accurate and reliable information for its readers.
Cost and Price Plans
Wallet Genius is a free website with no cost to access the copious information that they provide. In looking at their website, they do not have paid advertisements on display. This fact means that they are not getting any financial kickback for advertising products or services.
Additionally, they do not have articles devoted to one brand or company. Typically when you see this type of writing, the post is sponsored by that company and is written to drive customers to them for sales or account sign-ups.
Finally, although Wallet Genius does include links to various financial institutions and lenders throughout their article, they do not push one over another.
They also don't appear to be affiliate marketers with any of the companies. Being an affiliate to a company means that you get paid any time someone clicks a link that you provided and acquires the product.
With all of this, it is unlikely that Wallet Genius is profiting off of the information they provide you. This free service is merely a resource to help others.
How Is The Customer Service?
Wallet Genius offers several forms of contact for customers on their company website. They also provide social media handles for their writers and advisors.
Email: [email protected]
Website Message Form
Facebook
When viewing the company's "About Us" page, you will see the consultants and writers of Wallet Genius. Along with their names and a brief background about their experience, you will see icons that link to their personal social media accounts.
These handles allow you to view the additional information that they put out and reach out if you have any questions.
It's essential to note that not all of them may respond, as it is outside the Wallet Genius website. If you want to ensure an answer, it is best to reach out to the actual website.
Due to Wallet Genius not offering products for sale, they do not have reviews that specifically talk about their customer service.
Customer Reviews & Complaints
Wallet Genius does not have many online reviews about their offerings, being that they provide information on financial practices and services and not a physical product.
Because of that, they do not have any reviews on Facebook. They are also not listed on the BBB, and they do not have any threads devoted to them on Reddit.
However, they do have accolades from CNN, Bloomberg, Business Insider, and HowStuffWorks. Several online databases rank them as low risk for being a scam.
It is worthy to note that you have to enter your phone number to get the results if you utilize the auto insurance search feature.
The fine print states that by doing so, you are subjecting yourself to telemarketer calls. These do not come from Wallet Genius but from the car insurance company itself.
Where To Buy?
Wallet Genius is a free resource available online to all. Their company website is Walletgenius.com.
Competitors and Alternatives
Several organizations are similar to Wallet Genius in their business framework and type of items that they inform on, including the following companies:
Wallet Genius vs. Nerd Wallet - Nerd Wallet offers similar information but allows you to create an account to get insights tailored to your specific situation.
Wallet Genius vs. Mint - Mint offers informative articles and resources but is primarily an app for budgeting assistance. Mint is also run by the company Intuit, which owns TurboTax and Quickbooks.
Wallet Genius vs. Credit Karma - Credit Karma allows you to check your credit score for free, analyzes your debt to income status, and provides recommendations.
Credit Karma does have affiliations with financial institutions. Therefore they get compensation when you acquire services or goods through their links.
The Bottom Line
Navigating the financial world can be overwhelming and stressful. This fact is especially true when you're just starting out. Knowing all the nuances that finances have is a never-ending learning adventure.
Taking steps to learn about finances to make sound decisions for your future is vital. Even more critical is getting that information from independent sources without any affiliation.
With Wallet Genius, you are getting sound financial advice without affiliation. The company prides themselves on fact-checking and bringing in industry experts to give people the information they want and deserve.
For these reasons, we find that Wallet Genius is legit and definitely worth a read.
If you have any experience with Wallet Genius or their services, please leave your reviews below.
You may also be interested in
WalletGenius Customer Reviews

Lucille J
Is it a scam to rent senior housing?
They keep advertising places for seniors from $300 to $500 per month? Is this another scam? The places look very comfortable and I am interested in renting one?

James
They constantly advertise there are high interest rates available but it's just clickbait ads and the true rates are far, far lower.

Tom P
Unfortunately looks to be a SCAM
Asked Wallet WHO or Where there is cable and internet is available in Dartmouth, Nova Scotia, about one week ago with absolutely no response. Suggest a name change to WalletDUD - Thank You.