VinCheckPro Reviews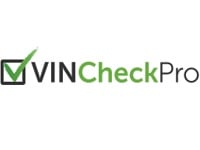 VinCheckPro is a company which states their goal is to provide customers with a vehicle history report that will give them everything they need to make an informed vehicle purchase.
How Does VinCheckPro Work?
According to their website, one of the most important things that you can do to buy a car with confidence is to know that you have the most important facts and information about the car you are considering buying.
And while most people believe that it's enough to simply research the car Make and Model, the truth is that you will get a better understanding of the real quality of your car if you have that car's specific vehicle history report.
In order to get a specific vehicle history report you must be able to provide them with the VIN number of the car you are considering buying; this the unique 17 digit serial number used to identify a car, truck, or motorcycle.
With this VIN number, it will be possible for customers to find a wealth of information on the car they are considering purchasing, including
Safety Ratings
Recalls & Defects
60+ Vehicle Problems
Accident History
Total Loss Records
Junk & Salvage
Structural Damages
Taxi/Lease/Police Use
Vehicle Specifications
Odometer Reading
Environmental Score.
This company receives their information from the National Motor Vehicle Title Information System (NMVTIS), which is the federal title information database operated by the US Department of Justice.
It's important that customers know that at this time vehicle titles registered in MI, KS, DC, MS, OR, RI, VT and HI may have limited availability.
Cost & Price Plans
Unfortunately this website does not openly publish their pricing and membership information at this time.
Some reviewers quote their prices as around $6.95 for a single report, while others have quoted $5.00, and others have said they paid $15.95 for a package of reports.
The important to understand, however, is that premium fees are recurring and will automatically renew upon expiration at the same price and terms.
All memberships are charged monthly, so if you do not want recurring charges you'll either need to purchase a one-time report or make sure that you cancel your membership before the begin of the next billing cycle.
Refund Policy
This company does not necessarily have a full Refund Policy to offer their customers, but their website does say customers might be eligible for a refund if the data they received in their report is proven inaccurate by a state title document copy.
They don't have a process in place explaining exactly what customers should do when requesting a refund, so customers who believe that a refund is justified should contact their Customer Service team for more information.
Customer Service Contact Info
Customers who would like to contact their Customer Service team with questions, concerns, or complaints can do so by phone at 855-595-0889 or by submitting them directly to their website through their Contact Us link.
Reputation
Actually this company does suffer from some fairly serious complaints, with more than one customer complaining that there was significant and important information missing from their report, such as Accident History, Junk & Salvage, and Total Loss Records, which would have seriously impacted their decision to buy a specific car and resulted in expensive problems down the road.
Some of the more detailed complaints said that after they realized there was an issue with the car, they ordered vehicle history reports from competitor websites and saw that other reports did include this missing information, which makes the missing information claims more serious.
It seems at this time that, though there can be fairly large price differences between some of the vehicle history services, customers might be best served by investing in a company that offers more extensive reports with more beneficial guarantees, even if they are more expensive.
Competitors and Alternatives?
There are many different companies that offer people access to a variety of different types of vehicle history reports, including AutoCheck.com and many others.
If you have any experience with VinCheckPro or their services, please leave your reviews below.
You may also be interested in
VinCheckPro Customer Reviews

james s
its a scam, you get nothing BBB cannot enforce it says in Israel
the website vincheckpro.com
does not deliver what it advertises
paid my amount to check a vin was not able to even check one car bbb says they cannot enforce because they might be in israel.
bbb has bad reviews but somohow google has them on top and they most likely sponsor web sites to promote as good. I paid did not get one vincheck and it wanted to charge again.
scam, website with no address emails that do not get answered how are you going to get your money back BBB cannot do anything

Andy R
Saw a Truck I was interested in and it said it had been in an accident. Paid for the complete report from VinCheckPro and they report no accidents.

George R
Same Autotrader scam as described earlier.

Julie D
It's a scam and people selling cars are the mark. I was contacted by someone posing as a buyer through Auto Trader. What's particularly cunning about this one is they actually have a full grasp of the English language although they work in the middle of the night. They seem interested and ask questions. After some back and forth they state they would like to come see the car with their mechanic, are ready to buy with cash in hand, and ask for a vehicle report suggesting you purchase through vincheckpro. Then they disappear. How sad is it a business has to rely on such measures to trick people into using their service. Luckily I didn't fall for it. I already had a report through a legit service. And I smelled fish. So I submitted my legit report for a car clean as a whistle as a test. Sure enough, never heard back. Key tip offs are no phone number given, responses arrive in the middle of the night, they refer to the car as "vehicle" and never use the actual make or model, and finally they ask for a report from vincheckpro. Ridiculous! There seems to be no end to the lengths scum go to swindle people

Kathleen S
You will pay $10 for what you can see for free on the internet.

Ken
I was looking for a cheap alternative to CarFax. This wasn't it. After paying for 5 car reports and requesting a report on a vin number, I got only summary info stating no records of damage etc and 3 records of odometer readings for a 9-year old mini-van. The two newest readings were 2013 and 2015 and were identical 58K miles. Either the van was parked for 2 years or the reports were invalid. When I clicked on other specifics received a popup saying I needed to upgrade to get the info. Worthless report, hard to navigate through it.

Tadd
I found vincheckpro.com online while researching a VIN # of a vehicle I was interested in. I clicked on their site because they advertise free reports. After inputting the VIN # I got a description of the car...guess that's the free report. I needed more information of accident history because the seller of this car indicated a rebuilt title, but no paperwork to prove the repairs. So I paid for the full report and the cars report was total clean. NO accidents, NO previous salvage title & NO problems in general.
After scratching my head at this report I paid for a Carfax and instantly saw what I was expecting....Warnings and History.
Good Luck if you trust vincheckpro.com

Zachary L
absolutely the best service out there, far more than carfax and autocheck

Donna J
review for vincheckpro.com
I give you 5 starts on a great service and helpful costumer service which responds very quickly. The report was delivered instantly and consist with all the information I needed to decide if I'm going to buy a car I saw on cars.com. Thank you guys, you're service is awesome and really is free!

Peter B
Usually I don't do it, but this time I decided to write this review on vincheckpro.com because through their report I found a recall record that might be a potential risk if I was buying a used car for sale I found on the web. Thanks for such a detailed report and low cost.