Universal Technical Institute
Universal Technical Institute Reviews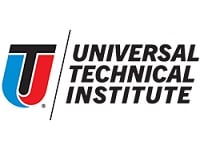 Universal Technical Institute is a trade school that has 13 campuses across the country, with a focus on automotive and marine mechanic training, as well as autobody repair and CNC machining and welding.
Earning factory technician certification points and entry level certifications is easily obtainable at any of their campuses throughout the U.S. The school is recognized nationwide and accredited by the Accrediting Commission of Career Schools and Colleges.
One of the greatest aspects for students attending Universal Technical Institute is the method of teaching practices they use to reach students with different learning styles.
The instructors take time to reach out to all of the students and give them the attention they need throughout the training courses. The extra steps they take toward providing a rewarding educational experience has led to a higher graduation rate compared to other similar schools.
The tuition cost for each student is unique and depends on the campus, the program, the coursework, and many other variables.
There are many scholarships, grants, federal financial assistance and other financial aid programs to make tuition affordable for all students. Universal Technical Institute also has counseling and support services to help students along the way.
Universal Technical Institute not also focuses on the education but they also focus on job placement programs. One of the programs they offer assists students to find part-time employment while they are in school.
They do this for students who need help subsidizing their living costs while attending school. They also have internships available through a network of employers who provide such opportunities for their students.
They also have a great number of resources to assist graduates find full time employment once they are ready to step out into the workforce and they have a slew of employers lined up to hire their graduates. Some of the additional job placement assistance they provide includes interview preparation, career development classes and professional resume development.
Universal Technical Institute seems to have a well-rounded educational program for students and have their priorities in line with what the educational system is all about.
By focusing on students' retention and understanding of information and giving them resources to obtain a rewarding career following graduation, they have accomplished something all schools should emulate.
If you have any experience with the Universal Technical Institute or their services, please leave your reviews below.
Universal Technical Institute Customer Reviews

Missy
I gave them 2 stars because my sons did learn some skills, however, this school overcharged my sons because they got a certificate NOT a degree. They never got hands on experience because of the so called know it all's in class who would debate over who knew what. I do not want to pay for these loans they have or the one me and my husband have to pay. It was a shame that they did not come out with a better attitude than the one they went in with.

Mel
My son is attending UTI/ Austin. Pretty promising when talking to a recruiter and how they encourage students to work to help support themselves, until a few months later the student goes from working 20/ hrs a paycheck, to 7 hours a paycheck to getting let go because the dealership couldn't give him enough hours to stay on payroll. And this was the job who hired him at a job event at UTI/ Austin when he started school. And why place college students who need housing, in apartments with regular families who have kids? $31,000 for 11 months and that's just tuition.

Billy B
Accelerated learning with Accelerated Debt
I completed 26, 3 week classes in 18 months. I kept a 99% attendance rate, kept a 4.0 gpa and was chosen as the graduating class speaker. Here is my advice. Accelerated learning is not good learning. The pathway of classes did not build on previous subjects.
The classes move so fast and subjects change so fast that being able to retain this information is near impossible. The school has a bad reputation and for a good reason. When it was time for me to start my career as a mechanic I couldn't get a job.
The job placement team don't care and don't help you find any kind of job unless its minimum wage, which is what the school found for me! Every interview ended with, UTI students just don't know enough. I decided to not put UTI on my application. On the application where it asks for experience I put I work and maintain my own vehicles.
After not getting over 5 jobs as a mechanic, the first time I didn't include my training at this school, I got a $20 an hour career to start. If you really want to be a mechanic, get a $500 car and take it apart and put it back together. You will learn more from that experience then UTI. Do a brake job, pull the engine, watch videos on youtube.
UTI is a scam because the training is a joke, UTI is a scam because the training is a joke!!!!!!

J. B
UTI = Money Grubber - Look to Comm. Colleges & Private Sector
U.T.I. is a money grubbing scam. In it solely or the money; over charging as much money as they can while delivering the least amount of instruction that they can possibly get away with. Beware of their haunting bill collectors.
Better to check into a much more affordable education at a community college.
If you are ambitious enough and willing to work and earn, you could be served well by working at a private shop that is willing to teach you the trade.
Major manufacturers and suppliers also offer training programs and schooling that could dove-tail with an entry level job.
Always strive for certificates.
Avoid U.T.I.

Charles D
I moved to tx to attend the Houston campus in 07. The assistance in housing was a complete joke they sent me to an apartment complex that was riddled with crime. My car was broken into and I was late to class due to dealing with the police.
When I did get to class I was given a downgrade even after explaining the reason and providing a police report. The instructors are so full of crap their eyes are brown and are quick to down grade you for the smallest things. I hope this school goes bankrupt.
I graduated in 08 with honors and to this day have not had anybody contact me from the "Job" placement department. This school is not worth the money or the head ache. If I had it to do all over again I would go to the local tech school

mppc
I attended UTI (Sacramento and Rancho Cucamonga) in 09-11. AUTO, Ford FACT, SMOG, and Mercedes-Benz STARt (Ha! Ha!Ha! What a joke that was. I'm surprised that Mercedes is willing to have their name attached to this scam.) 3.8 GPA. Total waste of time and money. 36K$ in student loans and no job. You do the math.

Leo
Yeah I was gonna go there but everyone on the internet keeps leaving bad reviews. :( and to think it was gonna be a great opportunity.

Pissed o
I am a small shop owner that has hired 6 graduates from uti. Every "mechanic" that I have hired that has graduated from uti are idiots. I don't trust them to change oil by themselves and they expect $25/hr. Let me give you some advice; work for someone that is willing to train you and get certified.
Don't waste $35,000 to be lied to and learn nothing. Please, please, please, don't go here. It is a waste of time and money. And if other shop owners have had the experience I have had with grads from here, good luck getting a job.

Matt
I got scammed into going to this school they said they were the best of the best and any regular tech school you would have to take a lot of generals and they said they were the only ones with dealership programs which is a lie and the housing with this school is BS.