UnbeatableSale.com Reviews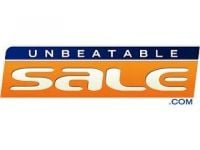 UnbeatableSale.com is the online home of Unbeatable Sale, an online retailer that says their entire mission is to provide their customers with all the products they could need at the best possible prices.
How Does It Work?
Since this company was established in 2004, they say that they have "continually conducted market research" in order to make sure that they are always surpassing their customers' expectations for the merchandise they offer.
The team at UnbeatableSale.com is also regularly reviewing their inventory to make sure that is meeting both customer demands and expectations, as well as promising that customer care and service is always one of their biggest priorities.
Customers are welcome to look through their inventory by category, including Baby, Electronics, Furniture, Gadgets & Gifts, Health, Housewares, Kitchen, Sports & Recreation, Patio & Garden, Personal Care, Special Offers, Toys & Games, and more.
Cost/Price Plans
Since this company sells such a wide variety of products, there is no single or static price range for what customers will find on this website, especially when sales or promotions are taken into consideration.
This company does, however, offer their customers a Price Match Guarantee, which they have put in place to make sure that their customers are paying "the absolute minimum price." They believe that it is unlikely you will find a better price outside of their website, but if you do, they will match it.
Like all Price Match policies, Vogue Wigs is very specific about what products will qualify. First, product must be an exact match to the one carried on Unbeatablesale.com, be in-stock and available for purchase at the other website.
This policy can also not be applied to items that are being sold on Sale or Clearance, it cannot be combined with a coupon or other available discount, and it cannot be applied to an item you find at an auction website.
Refund Policy
According to their website, the Return Policy they offer their customers is one of the most highly rated policies available from an online retailer today. This policy is a Money Back Guarantee on all products returned within 30 days, excluding furniture (unless it arrives damaged), sports related autograph memorabilia and collectibles, custom made items, personal care items or intimate products, any electronics (including software, video games, iPods, computer parts, laptops, or pcs) if they have been opened, or Halloween costumes, wigs, makeup, tights, or shoes that have been worn.
In order to return your items successfully, you will need to contact their Customer Service team for a Return Authorization number. Any packages that are returned without this number will be issued a restocking fee.
Customers who want to see a fully detailed explanation of their Return Policy will need to refer to their website.
Customer Service Contact Info
Customers who would like to contact Customer Service with any questions, concerns, or complaints can do so by phone at 888-657-8436, by email at [email protected], or by using the website's Live Chat feature whenever it is available.
Reputation
This company does appear to have mixed reviews. There are many customers that report being both happy with their products and their service, but there are also customers that have complained about receiving the wrong item, about high shipping costs, about damaged items, and about poor customer service.
The only good news is that there doesn't seem to be serious consistency among the complaints, which generally means that there isn't one area of their business that is significantly lacking or seriously problematic for their customers.
Competitors and Alternatives?
There are many other online retailers which promise to provide customers with excellent prices and good quality. In order to find the best possible alternatives to this website, customers will need to consider what it is they are truly shopping for, as fully dedicated websites can often offer more options and good prices.
If you have any experience with UnbeatableSale.com or their products, please leave your reviews below.
You may also be interested in
UnbeatableSale.com Customer Reviews

Randy
Wrong part delivered! Then they kept my money for over a month!

Don A
UnbeatableSale Not As Advertised
I used this company via Amazon. They sent the wrong item but the product manual inside