Pest Reject Reviews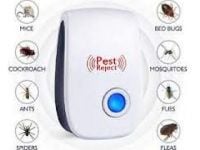 The Ultrasonic Pest Reject is a rodent repellent product claimed to use low frequency sound waves to deter insect and rodent pests without affecting pets or humans.
How Does Pest Reject Work?
According to their website, the Ultrasonic Pest Reject was developed by a Stanford scientist who was inspired by military technology to use low frequency sound waves inaudible to pets and humans but which will drive spiders and rodents out of your home.
Their website says they are proud to give consumers a product that is both non-toxic and environmentally friendly but still gives customers the ability to repel mice, rats, spiders, roaches, mosquitoes, and ants.
They say that none of these creatures are completely immune to the sound waves, so your home will be completely pest free after just a few weeks of use.
To use, all customers have to do is plug the unit into an outlet and let it work. One unit is appropriate to protect an average sized room; larger areas and spaces may require additional units.
Customer Reviews & Complaints
Unfortunately there does not appear to be many customer reviews of this product at this time, and of the few reviews that are available, they are very mixed.
It seems as though the biggest criticisms and concerns about this product is its difficulty in repelling insects – many customers commented that they hadn't seen any rodents, but that while the number of bugs they were seeing may have been reduced, they were not completely gone.
The biggest concern about this product, however, is their sales technique. Their website and promotional materials make it seem as though this is a revolutionary product which can't be found anywhere else and is being sold at a "bargain price" of $39.95.
The reality is that ultrasonic pest repellents are actually very popular, can be found at a wide variety of retailers, and are often priced at nearly half of this company's special discount price.
Better yet, many of these other products have lots of positive customer reviews that will make prospective customers feel a little more confident trying them for themselves.
Customer Service
Customers who would like to contact Customer Service with any questions, concerns, or complaints can do so by email at Co[email protected], or by phone at 1 (833) 394-8271.
Cost & Price Plans
Currently this website is having a promotion where all of their products are sale. The Ultrasonic Pest Reject is priced at $39.95, which is a 50% discount off of their standard retail price.
If customers choose to order larger packages of this product, they will receive an additional discount.
Refund Policy
This company does say that if their customers are not completely satisfied with their Ultrasonic Pest Reject, they are welcome to take advantage of their 90 Day Guarantee which will provide customers with a full refund, less the cost of Shipping and Handling.
In order for your product to be eligible to be returned, it must be in the same condition that you received it and it must also be in the original packaging.
Customers must also include paperwork that shows your full name as well as the email address you used to purchase your order.
Unfortunately the website does not show their customers exactly how their product is packaged, making it impossible to determine if the original packaging requirement ultimately means that customers will be unable to try this product for themselves before deciding if they want to return it.
Concerned customers will want to contact their Customer Service team for more information.
Competitors and Alternatives?
As mentioned above, there are many, many different alternatives to this product which can be found at your local hardware and home products stores, like Home Depot and Lowe's, as well as on online retailers like Amazon.com.
If you have any experience with Pest Reject, please leave your reviews below.
You may also be interested in
Pest Reject Customer Reviews

Karen K
They do not work and I am not happy!

Brother C
No sound generating device
I took a pest reject apart to confirm that there is not a speaker nor a piezo disk (like an alarm clock sometimes uses to buzz or beep) nor any other sound generating device inside it! The circuit board is very simple with just a plug, a small board that converts AC to DC and a red led on it.

bob

Nick
Waste of money. Does NOT work at all.

rick
I bought these because I've been having mice in my condo. Know I couldn't hear it because it's "ultrasonic" and never saw any in the spring/summer so was looking to see if I would see any in the fall/winter and sure enough am seeing them. The glue traps I bought works much much better.
So in closing don't waste your money

BaltousPrime789
More like just plain REJECT
Had the product about a week or two and instead of a reduction of bugs, we saw an increase in bugs. It's more like these reject 9000 units draw in the bugs, not drive them away.
These crooks should be locked in a room with there shoddy devices plugged in while the bugs take over the space.
Do not buy this scam product! The only thing that will be reduced is the money in your account/wallet.

Chris W
While I have not bought this obvious scam item, I have bought a few other "ingenious devices, guaranteed to help you in so many ways, satisfaction guaranteed! Several things in common: outrageous claims, "experts" who verify the claims, money back guarantee if not satisfied.
My experience: the items usually do nothing but help empty your wallet. The "experts" must be someone's uncle; don't hold your breath waiting for a refund...it's never coming. Once they have your $$$, it's never being returned. There will always be a reason why they are unable to return it.
Check the actual reviews on a reputable website, like Amazon or EBAY. Look for "verified purchasers" Remember, "Buyer Beware"!

Scott M
We saw no improvement concerning mice activity. They seemed to be completely unaware. What's worse, they send emails assuring you that the refund is"being processed" but you never actually get the refund. In short, run fast from this scam.

Patricia A
These repellents are a waste of my time and money. They don;t work at all.

Jacques P
Pest Reject nothing worst and scam
I bought two pest reject of China last year at the price of 5.02 $ CAD each and it is worthless rated efficiency. I still use mouse traps because these pest reject are worth nothing. They sell from China about 3.50 on Ebay while this site sells them 39 "95 US with several positive and doubtful reviews for sell them.
Many customers after buying this scam have tried a refund without success and impossible to speak with a representative of this company, be vigilant with the supposed miracle products that come just to get rid of your money, here is the link of this site which according to the price is a scam site.
https://ultrasonicpestreject.com/productca/checkout-pestreject.php

C. M
Dissatisfied with Product
Have been using this product for many months. We have more than one unit (gifts from our son), located strategically within a relatively small space, to optimize the efficiency of the units. Blah.
All summer long, the bugs kept coming. Near summer's end, a parade of mice began.
Want to know what *really worked?* Peppermint Essential Oil. (Few drops on cotton balls -- also 'strategically located' throughout -- et voila! no more rodents.)
$7 bottle of Peppermint Essential Oil from Big Lots (store near us): much cheaper than $78 of a gimmick that just does not work.
PS: Tried submitting this review with a 'zero' rating; wouldn't permit me to do so. Forced to give it *one* star -- for what? Something that doesn't work at all? Sorry for even that one star; the product did not earn it.