Ultra Accel II Reviews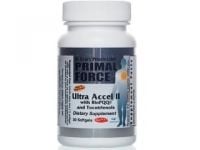 Ultra Accel II Review: A Detailed Look
Ultra Accel II, found online at PrimalForce.net, is a health and wellness supplement from Dr. Al Sears, which he claims can help users improve energy levels, metabolism, and overall health.
How Does It Work?
According to Dr. Sears, people often don't realize that common symptoms of aging, such as loss of energy, weight gain, sluggishness, and more, stems from the fact that as you age your cellular mitochondria begins to die off.
And since the mitochondria is responsible for creating cellular energy, these symptoms become worse as it begins to go.
The goal of Primal Force Ultra Accel II is to create the right combination of ingredients to re-ignite your mitochondria, raise your metabolic rate, and provide you with the energy and stamina you used to have.
Ultra Accel II Ingredients
In order to meet the goals stated above, Dr. Al Sears choose three ingredients: Gynostemma Pentaphyllum, PQQ, and CoQ10.
There are many health and wellness supplement providers that believe a combination of PQQ and CoQ10 re-invigorate the cell's mitochondria and is able to relieve many different common and age related problems.
Primal Force Ultra Accel II adds an important third ingredient, Gynostemma Pentaphyllum, which Sears states has the ability to stimulate an enzyme referred to as AMPK.
Dr. Sears states that AMPK is referred to as the "Master Metabolic Regulator" because it has the ability to flip a switch in your body to improve your health and increase your life's longevity.
In addition AMPK can also help speed up the metabolism, resulting in weight-loss due to an increase in the way the body naturally burns fat.
Ultra Accel II Side Effects
Dr. Sears states that the supplement ingredients are all natural, and that no users have yet reported any negative side effects from incorporating this supplement into their daily routine.
That said, it's always a good idea to consult with your primary care physician regarding dietary supplements that you plan to take regularly.
Customer Service

Contact Info
Customers who wish to contact Customer Service with questions, concerns, or complaints can do so by phone at 561-784-7852,
Users can also contact the company by email at [email protected], or by submitting them directly to their website through the Contact Us link.

Cost and Price Plans
This product's regular purchase price is actually not as straight forward as you would think.
Their website posts two different prices for a single bottle of their product.
The cost is $62.96 per bottle plus the cost of shipping for a one-time purchase, and $69.96 per bottle with "free" shipping if you choose to join their auto-ship program and automatically have a new bottle shipped to you each month.
This pricing structure seems to indicate that this company charges more than $7.00 in shipping fees for a single supplement bottle, which seems fairly extreme.
You can also choose their three month auto-ship program, which provides you with three bottles at $55.96 per bottle with free shipping and ships three new every 90 days.

Refund Policy
The company's Product Guarantee states that any customer who is unhappy has the option to return their bottles and the unused portion of their supplement within the first 90 days of purchase.
They will be sent a "no questions asked" refund, including the cost of S&H. The website even goes so far as to say that there are "never" any exceptions to this guarantee.
Customer Reviews & Complaints
There are some red flags associate with this website and company that may give customers a bit of pause.
For example, though the website promotes Dr. Sears as an "anti-aging specialist", the reality is that this is a certification given by a private organization, not an actual medical specialty that is recognized by medical boards.
The most important issue with this supplement, however, is that at this time there is no real scientific evidence to back up the claims this website is making.
There are no real studies proving that a combination of PQQ and CoQ10 has the ability to turn back the clock on your symptoms of aging, and Gynostemma pentaphyllum has a had a single study done that showed a potential effect on AMPK production in mice.
This study has not yet been conclusively replicated, nor is there any evidence that this supplement has the same effect on humans as it does on mice.
Some people will still be interested in taking this supplement for themselves, though for an unproven supplement its fairly expensive.
Customers are likely to be able to find these three main ingredients in other supplements at a more affordable price just by looking around their local health food store.
Competitors and Alternatives?
As mentioned above, these three ingredients are not completely unheard off, so customers who are interested in taking this particular supplement regimen should be able to find what they need at their local health food store.
If you have any experience with Primal Force's Ultra Accel II, please leave your reviews below.
You may also be interested in
Ultra Accel II Customer Reviews

Scott R
Cannot specifically point to this supplement providing what it says. However, both my wife and I take it daily and we both feel better than before. I m placing our third order today!

Toma
It gives me a great amount of energy when I take it. If I stop I notice my energy level decrease. I also had a heart condition upon my last visit was told my heart is good. I'm sure my diet and exercise helped but I may want to contribute some credit to the Ultra Accel. However I will never know if that actually played a part in healing my heart condition or not.

Stephanie W
With our cardiologists permission, my husband began taking this surgery after a very rocky recovery for a mitral valve replacement and a heart attack after surgery which left his heart in a very damaged and weakened state. Within 24 hours of starting on this product, I noticed improvement in his energy levels. Within a few days his whole outlook for recovery had changed for the positive. Within a week he was ready to looking forward to doing cardiac rehab. I have also personally used the product and find that it does seem more effective than other liquid and pill forms of CoQ10 we had been taking prior to our experience with his surgery. Stephanie