Tummy Tuck Belt Reviews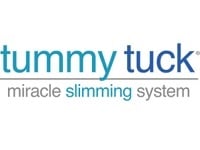 The Tummy Tuck Belt (miracle slimming system) was designed to reduce excess fat off the entire abdominal area. Additionally, you can wear it under your shirt to create an instantly smoother and slimmer mid-line.
How Does it Work?
The Tummy Tuck System works even without adding exercise and diet. Whether you lead a sedentary lifestyle, an active lifestyle, the belt is designed work for everyone.
If you work out, eat healthy and use the Tummy Tuck Belt, the results increase significantly and it takes less time to notice changes.
Fat loss may be seen within the first week of using the belt consistently. Within 30 days you could lose anywhere from 1-2 inches off your waist line.
It requires very little time and effort to use the Tummy Tuck Belt, all you need is 10 minutes twice a day.
First, you apply the Thermal Accelerator cream on your stomach, and then you put the Tummy Tuck Belt on and proceed to do 2 minutes of standing abdominal contractions to activate the thermal fat burning effect.
Leave the belt on for 8 more minutes to trigger the fat reducing chain reaction. This fat burning effect will continue for several hours while you go about your day.
The cost of the Tummy Tuck System consists of two payments for $19.99. It includes the belt, a 30 day supply of the Thermal Accelerator cream, a Tummy Tuck instructional video and a quick start guide.
They offer a 30-day money back guarantee so you can try the Tummy Tuck program to see if it works for you. If you don't see the results you want, they will refund the amount of your entire order.
The belts are made of a soft and flexible material, additionally; it is made for both men and women. On TummyTuckBelt.com there is a chart for you to use in order select the correct size: small, medium or large.
Although the name of the product may be similar to the surgical tummy tuck procedure, it is quite misleading. They are actually quite different because they target different issues.
If you have loose excess skin on your stomach from pregnancy or weight loss, surgery is the only solution for that.
Overall, the Tummy Tuck Belt has reviews online that are both good and bad. The positive reviews are from the customers who felt as if they saw real results after using the belt and for the customers who wore it under their shirts to create a slimmer look.
The negative reviews portray the Tummy Tuck Belt as a gimmick and a scam. Although fat burning creams have been on the market for quite some time, they believe that this is no different than all the others.
Another negative aspect of this system is that it gives people false hopes in achieving a certain body image without having to put in any extra effort, such as exercise or a healthy diet.
The pictures on their website display before and after pictures that show drastic changes which are almost impossible to achieve just by using a belt.
If you want to lose weight, don't rely solely on a product that does not require exercise and a healthy diet.
Working out regularly and eating healthy foods is the best way to lose weight and slim down your entire body.
If you have any experience with the Tummy Tuck Belt, please leave your reviews below.
You may also be interested in
Tummy Tuck Belt Customer Reviews