TrovaTrip Reviews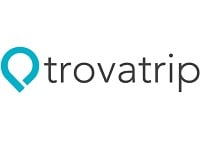 TrovaTrip is a travel arrangement organization that offers unique trips abroad hosted by topic experts and local guides.
How Does TrovaTrip Work?
All trips are managed by Trip Managers and other staff whose goal it is to make your travel experience as enjoyable as possible.
Although your schedule will be packed full of exciting activities while on a TrovaTrip, you'll also get some downtime to explore on your own.
One popular option is Patagonia with Chelsea Williams.
This yoga-centric journey allows you to hike to some spectacular ice glaciers and lagoons as well as to spend time hiking, meditating, and more. An eight-day trip, it includes double occupancy in three-star hotels.
Another option is the Philippines with Brinkley Davies. On this excursion, you'll spore the Philippines in an eco-friendly way, snorkeling through lakes and freediving in shipwrecks.
Also an eight-day trip, you'll be able to explore the best the Coron, Pass Island, and Uson Island have to offer on this adventure.
TrovaTrips are limited to 20 travelers so you will be able to see each and every destination up close and personal.
You'll receive an itinerary about two weeks before your trip start date telling you all the hotel and airport transfer information you need to know.
Then, you'll be invited to a WhatsApp group to meet other travelers and exchange information. Each trip begins with a welcome dinner so that you can meet everyone you are traveling with.
All TrovaTrips include accommodations, transportation between cities, a variety of activities, and some meals.
While most hotels include breakfast, you may be required to purchase lunch, dinner, and snacks separately. You may also need to pay for international flights to and from the trip destination.
Accommodations vary from trip to trip, from boutique hotels to backwoods camping.
All of these details are listed, but generally, TrovaTrip excursions do not include accommodations at hostels or hotels that are rated below three stars.
Rooms are shared, with twin sleeping arrangements that have private bathrooms.
If you're traveling with a friend, you can request to be roomed together - or you can always choose a single arrangement, too.
Cost and Price Plans
TrovaTrip has excursions that travel all over the globe, with destinations including Asia, North, Central, and South America, Africa, and Europe. Prices vary, with trips ranging from $1,545 all the way to $3099. Book early for the best rates.
When you purchase, keep in mind that you will need to pay a 25% down payment at the time of booking. This is refundable until your spot is confirmed. Usually, spots are confirmed within 24 to 48 hours.
Also remember that certain things, like international airfare, some food and all alcohol, and souvenirs are not included. You may be required to pay additional surcharges, too, depending on your destination.
Customer Reviews & Complaints
The TovaTrip gets mixed to generally positive customer reviews, there some negative reviews as well. One of the biggest complaints has to do with the cancellation policy.
Unfortunately, this is a pretty standard cancellation policy that a vast majority of all tour companies follow, so there's nothing new here - if you cancel your spot after it has been confirmed, your 25% down payment is no longer refundable.
However, if you confirm while your spot is still pending, you can get your entire down payment back.
Unlike some travel sites, such as Expedia, that allow you to cancel the day before your trip (as long as you paid a bit extra for the nonrefundable fare), TrovaTrip has no options that allow you to cancel closer to the start date of your trip.
If You cancel within 60 days or less of the trip, your entire payment is nonrefundable.
Customer Service
You can email at [email protected] or call +1 (877)- 698-7682.
The company has an active social media pages on Facebook, Instagram, and LinkedIn. You can also sign up for the email newsletter to receive regular updates on where to go - and when.
Competitors and Alternatives
TrovaTrip is not the only group tour company to be aware of. Another option is Intrepid Travel.
Intrepid Travel is home to a user-friendly interface that allows viewers to search the desired city of destination in order to find group tours in that area.
This website has a range of options and last-minute tours to choose from, with a bit more variety when it comes to price, location, and excursions.
Another option to consider is GAdventures, which allows you to connect to the world with smaller groups, exploring top destinations like the Maldives, Cambodia, and more. Again, there are a range of options to choose from.
The Bottom Line
If you're traveling to a new region and aren't sure where you should explore - or are planning on traveling by yourself - TrovaTrip is definitely worth a try.
However, keep in mind that there are additional expenses you will need to budget in on top of the their fees, so it might not always be the most economical option when it comes to international travel.
If you have any experience with TrovaTrip or their services, please leave your reviews below.
TrovaTrip Customer Reviews

Rachal S
TrovaTrip is a scam and an MLM. Not only do they not deliver the trip and services promised, they are openly negligent. We paid over $3k USD for the tour (NOT including flights) and received the worst tour I have ever been on. I cannot figure out where the $3172 USD was spent. It certainly wasn't spent on a qualified guide, nice hotels, activities or access to attractions. This is the most I have ever spent on a tour and it's the worst tour I've been on by far.
I honestly don't even know where to start. The guide, the accommodations, the food, the itinerary and the painful lack of caring.
Our guide - I have been on many tours (Globus, Trafalgar, Intrepid, hell even Contiki) and there is no way our Guide Luigi had any experience. He didn't bother to tell us anything about Italy on the agonisingly long bus portions. He only spoke about himself and made us all, frankly, uncomfortable. When it was clear we were all very unhappy, he started telling us more stories about his divorce, an accident he had, etc.He also didn't count if we were all on the bus, almost leaving without people a few times. Most egregious was his getting mad at us for asking questions. He very literally yelled at someone for asking how much time it would take to travel from the farm experience to our hotel. He only stopped yelling when someone yelled back at him in Italian 'That's enough'.
The Itinerary: Nothing about this itinerary made sense and it changed constantly. But if you asked about it – you were yelled at. Travel times were never accurate and we were always short changed when it came to free time, or when to expect lunch, dinner etc. This became became so stressful as we didn't know when to use the bathroom, bring food etc and resulted in further delays since all 25 of us went to the bathroom whenever we saw one just in case.
Day Two - Rome: I can't believe I didn't get to go in the Colosseum or the Pantheon on my first trip to Italy. It's a false advertisement that it was part of the tour.
Day Three - I cannot imagine what the person who made this day's route was thinking. We spent 8 hours being going to, backtracking and then going back between Orvieto and the Tarot Gardens. This day was easily one of the most stressful for the group, as we spent the majority of our time on a bus with no bathroom (27 people onboard). Once we arrived at the Tarot Garden we were once again yelled at (like we made this terrible itinerary) that we had a total of 30 minutes in the Tarot Gardens.
Day Four - Double Booking at the Castle: I lost all faith in this trip on Day Four. It became clear to everyone in the group including our host, that was openly discussed. We had just been on a two hour bus ride (which we were told would only be an hour) and were left waiting in the sun, without water or access to food. We were told there was a double booking and that our space had been taken. Many people felt faint as we had no access to water or food. We were left to find shelter and recover alone outside/inside the castle. So no food or water from 8:30-2:00PM.
Day 5 – Florence. I was so excited to see Florence but we were staying 40mins away for some reason and we only got a half day there. We were also supposed to have tickets to Palazzo Vecchio was cancelled, and we were notified days before the start of the trip. We left Florence, to head to a farmhouse. The farm was not set up for tourists, we were standing in fields or animal pens and didn't have proper warning to dress appropriately.
The Accommodations: For the price of the tour, I was expecting 4-star hotels. I truly felt like I was on a budget tour with the accommodations that were selected for this trip. The Grand Hotel Tamerici & Principe, was by far the worst hotel we stayed at. It was very old, musty (like feel it in your lungs musty) and the staff was SO rude to us
Trova blamed the tour operator (that they outsource to) and offered $200 refund. They take no responsibility. Our host has been requesting we get a larger refund and Trova told her that it will have to come out of her pocket.

Danielle G
$2k to eat with mice and pay for services not rendered
I joined a $2k 1 week trip to Bali. The first two nights we stayed at a decent hotel but were taken to the worst restaurant in town.
The next three nights we stayed in bungalows where it was about 7 STORIES OF STAIRS FROM RECEPTION TO OUR ROOMS. The bungalows SMELLED OF SEWAGE and most were FULL OF ANTS.
The restaurant in the hotel served the WORST FOOD I've had that I can remember. My "curry" was water seasoned with a Ramen packet full of poorly cooked cubes of chicken and vegetables.
Another travelers "noodle soup" was literally just Ramen, and a "pizza" was a giant tortilla with red sauce.
The next day we were all crammed into tiny cars and then a tiny boat that we shared with 2 Spaniards that paid only $10–i.e. the markup was astronomical.
Afterwards, we were taken to a restaurant where the host's drink contained an acrylic nail. And, there were MICE seen in both the KITCHEN and at the bar.
On top of this, our guide barely spoke English and did a terrible job communicating about what the day would entail, what shoes would be appropriate to wear, and that we would go OVER 8 HOURS WITHOUT A MEAL.
When I booked the trip, I let them know I had twisted my ankle—then both my knee and ankle—so I would not hike the volcano. At no time was I informed that the guided portion of the trip was 50% stairs.
Despite letting them know I would not hike the volcano, they allowed me to purchase a massage for $66 that unbeknownst to anyone on the trip was to take place directly after the volcano hike. The markup was about $60. Then, since I had been led to believe that the massage would be at the hotel, I explicitly let them know that I didn't want to wait around at the hotel for my 11 AM massage. Instead of informing me that the massage wasn't at the hotel, they only refused a refund and let me rush back to the hotel at 11 only to find out then that the group was actually coming back at 3 PM and I could not get the massage since I hadn't gone on the hike.
They REFUSED A REFUND OF A MASSAGE THEY KNEW I COULD NOT MAKE WHEN I BOOKED IT.
Another traveler got COVID on the trip. My discussion of the whole group testing for it was 100% ignored—the response was basically let us know when you feel better so you can rejoin the group.
This was one of 2 of the MOST EXPENSIVE trips I've been on and outside of the company and some views that took thousands of steps to appreciate, the WORST TRIP I've been on—and I travel all the time.

Sarah F
Cannot cancel trip???!!!!!
I've been trying to cancel a trip since November 5th through email (it is now November 26th). I got an initial response back and then when I asked them to proceed, I got nothing. Each time I email them, they gave me the same email that they did previously. Today I tried calling finally and had to leave a message. I will try calling every day until 60 days before my trip (December 19). If I am not able to cancel by then, I will go to a small claims court because I'm definitely not paying them anymore. I DO NOT RECOMMEND going with this company until they improve their customer service / make it easier to cancel trips.

Katie D
No refund, no empathy, poor customer service
My husband and I booked a trip for 2021 just as the world was embarking on the pandemic. Due to financial and medical reasons caused by the pandemic, we cancelled our trip (the trip was subsequently cancelled as well).
TrovaTrip refuses to provide a refund for our deposit (they will only provide a credit to be used by the end of 2022). We are not going to be able to travel in 2022 due to our circumstances. I find this completely unacceptable. We are in a 100 year pandemic.
Companies should (and most do) realize that and be flexible. We haven't used the money deposited in any way; so, there is no reason for the company not to issue a refund. Unacceptable during these difficult times.

Nicholas W
Unable to get money back period
They do not let you cancel at all! I have been going back and forth just get the deposit back for a pending trip. They basically offer you on-site credit minus $100 out of what you paid or nothing at all.