Sportsman's Guide Reviews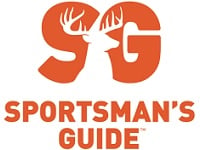 Sportsman's Guide Customer Reviews

tyler
DONT GIVE THEM YOUR MONEY!!
this company has the worst customer service items are shipped late orders are canceled for no reason... they don't like when your use a legit coupon at check out. the buyers club sucks and is a waist of money!!! my advice stay away the sportsmans guide and do business with a company that cares about its customers

Anthony N
They don't deserve your money
I've just completed my first and most certainly my last transaction with Sportsman's Guide. I ordered a night table safe and long story short, had to call in FIVE times to verify credit card information because I was a new customer. Why five times? Because whatever needed to be done on their end as a result of the verification in order to progress the order forward, just wasn't done. They even had me conferenced in with the issuing bank - something I've had to do with online orders in years and years and through thousands of orders, exactly NEVER. But even then, the order sat pending, thus resulting in yet another call.
No kidding, I spent a total of 3 hours on the phone for this order, including with supervisors twice, and not a single person sounded as though they cared even slightly.
Their processes are ridiculous. Their staff simple couldn't care less (including supervisors), and it's evident that management has absolutely no interest in improving things after a long history of complaints and poor ratings.
They simply do not deserve your hard earned money. With so many other places to get the stuff we want, I will never ever choose Sportsman's Guide again and would very strongly encourage you to spend you hard earned money someplace more deserving.

william n
low price guarantee ? not in my experience .
A few minutes ago I experienced Sportsman guide low price guarantee first hand . upon placing a few cases of ammo in my cart I decided to check out some other online stores to see if I could do better . Easily I found several sites with better prices . and one in particular with a $65 savings plus free shipping . So I called SG and asked if they would just meet this price and being a long time customer of SG figured I could use their club 4 pay plan and spread out the wallet shock over 4 months . No go , they wouldn't even match the offer . No guarantee there . So lesson learned Sportsman guide is not the cheapest place around , so do your homework boys and girls , there are better places and deals out there . and remember there are no guarantees in life no matter what they claim .