Sportsman's Guide Reviews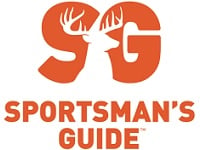 The Sportsman's Guide is an outdoors gear retailer that focuses on hunting, fishing, camping, and military surplus gear, as well as designing and selling several of their own brands of outdoor gear.
How Does Sportsman's Guide Work?
According to their website, the goal of The Sportsman's Guide is the same as the day they were established in 1977 – to provide their customers with everything they need for their favorite outdoor past times at the lowest possible prices.
As with any other online retailer, customers are invited to go to their website and look through their current inventory by category, including Ammo & Shooting, Guns, Hunting, Military Surplus, Boots & Shoes, Clothing, Fishing, Boating, Camping, Truck Accessories, Outdoor Creation, Tools & Power Equipment, and Home & Gifts.
They also offer their customers the ability to join their Membership Club, which is priced at $29.99 per year and offers their customers discounts on every purchase they make, as well as access to deals and promotions that are exclusive to their club members.
In addition, if you do not have savings in a given year that is equivalent to the price of your membership, they invite you to cancel your membership and request a refund of the fee.
Cost/Price Plans
This company sells a wide variety of products making it difficult to quote a single price range for the items you will find here; that being said, The Sportsman's Guide does promise their customers the most affordable prices in the industry.
To live up to this promise, they do provide their customers with a policy that states if within 30 days of the date of purchase you find a lower advertised price for any item that they sell, including if this price is in their own catalog, you will be given a refund in the difference in price.
The lower priced item must be in stock, and regularly priced. Items found in clearance, on an auction site, or with a special membership price will not qualify for the refund.
Refund Policy
The website says that they strive to make their customer's return process as simple as possible, so they never require you to contact Customer Service in advance of making a return.
Instead they ask their customers to complete the return form on the back of their invoice and send it along with the merchandise you are returning to the address listed on their website and on your invoice as well.
Customer Service Contact Info
Customers who wish to contact Customer Service with questions, concerns, or complaints can do so by phone at 888-844-0667 or by submitting them directly to their website through the Contact Us link.
Reputation
Unfortunately it seems that this retailer does have some fairly negative reviews out there written by customers who have had very poor experiences and are warning other customers against dealing with them.
These negative experiences range from customers complaining of defective merchandise that the company denied responsibility for, as well as some frustrated customers who were unable to take advantage of the low price guarantee.
But perhaps the most commonly repeated complaints are those that have to do with backordered items. Customers purchase equipment that has a published date saying it will be available to ship at that time and customers say this date is pushed back again and again and again.
One customer claimed their order was delayed for an entire year, and during that time period they were never able to cancel their order and receive a refund of their payment.
Competitors and Alternatives?
There are many different retailers who specialize in products designed for outdoor hobbies and recreation, including REI.com and many others.
If you have any experience with Sportsman's Guide or their products, please leave your reviews below.
Sportsman's Guide Customer Reviews