Amy Myers MD Reviews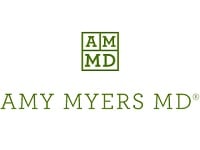 Amy Myers MD is a brand of nutritional supplements and skin care products developed by Dr. Amy Myers.
In addition to running a full time clinic and writing the best selling book "The Autoimmune Solution" she has managed to create a wealth of resources available through her website.
Her programs address health through a holistic approach, challenging the way people eat, exercise and supplements they take.
Products and Programs

Supplements
In addition to standard vitamins The Myers Way includes a line of kits specifically targeted to common issues.
For instance, they offer an Autoimmune Wellness Kit and a Thyroid Kit which contain a strategic combination of supplements and vitamins.
The Autoimmune Solution Program
This is 6 week video course designed to boost your immune system.
It's tailored specifically towards people with any kind of autoimmune disorder. The course contains resources that allow you to put into practice the tenets of her book, The Autoimmune Solution.
The Myers Way Multivitamin
This isn't just a regular multivitamin, the website states that it is formulated for those with thyroid dysfunction.
As such, it contains micronutrients and thyroid supporting minerals like zinc, selenium, and iodine, alongside antioxidants vitamins C and E.
The Autoimmune Kit
A combination of 4 key supplements that are part of most Myers Way programs.
This includes, Resveratrol, L-Glutamine Capsules, Acetylated Glutathione, and Curcumin Super Soluble. According to her this formula is critical for optimizing your immune system and combating inflammation.
Leaky Gut Revive®
This powder is made up of pharmaceutical-grade l-glutamine and a blend of botanicals and is geared towards fighting symptoms of leaky gut such as bloat, poor digestion, and damaged gut lining.
Programs and eLearning
The Myers Way Candida Control Program is a 30 day course that includes supplements, step by step guide, and recipes.
Her other multimedia resources also feature recorded summits, a variety of ebooks, and ecourses including the comprehensive elimination diet, guide on curing leaky gut and the guide to gluten free living.
Meal Planning
A variety of resources such as a monthly meal planning tool, recipe books, and weekly shopping lists.
Wellness Coaching
Clients can choose either a 25 or 50 minute consultation with a registered dietician to get personally tailored advice and custom plans to address your specific needs.
Protein Powder
One of their best selling and most popular items is The Myers Way Paleo Protein powder, a beef protein powder from animals raised without hormones or antibiotics.
Customer Reviews & Complaints
There are many positive reviews of the Autoimmune Solution with customers and health bloggers commending Amy's approach to treatment, specifically mentioning how helpful her resources for giving up caffeine and sugar are.
The supplements, for the most part, have positive reviews as well. The best selling Myers Way Multivitamin has a 4.5/5 star rating on Amazon with a majority of favorable reviews.
There are some complaints as well that claim they users didn't experience any effects from taking the product.
Others felt that the serving size is too big and that taking the recommended 6 capsules a day made the product too expensive.
There are also accounts of people experiencing adverse physical reactions but those complaints were much rarer.
If you have any concerns about dosages or ingredients you should consult with your physician before taking any supplements.
For the most part her programs receive favorable reviews as well.
One important thing to note is that you can actually find negative reviews on their company website. This is refreshing as many supplement producers exclusively post positive feedback.
Customer Service
If you have any issues you can reach someone at their phone number (512) 721-0424 or send an inquiry to [email protected].
The company offers a 90 day guarantee on supplements and body products. If you have any issues you can return an item by mailing back the unused portion.
Where to Buy?
You can order all products and courses directly from store.amymyersmd.com or select products through Amazon.com
Competitors and Alternatives
There are a few Paleo bloggers that write extensively about autoimmune issues so if you need extra resources they are out there.
There is also a plethora of supplement providers and producers of Paleo protein powder such as Vital Proteins, Bulletproof Whey, and Perfect Supplements.
The Bottom Line
There is a growing number of resources designed to address health from a diet first approach.
Many health experts are starting to draw the connections between food and autoimmune disorders so there is more information out there on how to reduce inflammation that causes autoimmune related flare ups.
The Myers Way line of supplements and programs are positioned at the top end of the market and as such they are more expensive than some competitors.
However if you are able to afford them and are looking for these exact resources they can be a good place to start.
If you have any experience with the The Myers Way or Amy Myers MD, please share your review below.


You may also be interested in
Amy Myers MD Customer Reviews

Tim C
They Apply NY City and State Taxes Illegally
The products are just okay but they charge taxes they should not (knowingly) and gaslight you if you point it out.

Franz
Helpful medical supplements
Serious alternative medical help with supplements, kits and programs. We tried Rest and restore and it helped.

Renae
Very good, but way to sweet! I can only eat one bite at a time.

Katie
I love the idea of having a quality protein powder to augment my smoothies but both the Chocolate and Vanilla are too sweet. I can always add a bit of stevia if they are too bland but no way to remove all that sweetness makes it hard for me to enjoy. I have used the bitter pure chocolate to try to take down the sweetness on the chocolate flavored one with little success but nothing I add to the vanilla can modify the sweetness including spinach, water cress and other bitter like greens. I would strongly suggest using a formula with less stevia.