The Lost Ways Book Reviews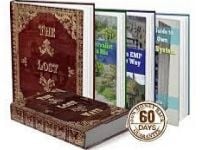 The Lost Ways Book is a guidebook written by Claude Davis which promises to give readers the knowledge and skills they need to survive in case of an extreme crisis.
How Does The Lost Ways Work?
According to their website, the creator of The Lost Ways realized that his family and his friends and their families had simply become much too comfortable feeling that they could walk out their door and purchase anything they needed – food, clothing, items for their home, and anything else they needed.
Unfortunately, there are many different times in modern day life when these kinds of conveniences are no longer available, like after a major storm of nature event where people lose access to power and running water, and suddenly the grocery stores are empty.
Most people in these situations would have no idea how to grow their own food, store their own water, or even protect their own home and family.
But Claude Davis realized that he was surrounded by people who did know these things – his grandparents and great-grandparents.
So utilizing all the people that he could, he collected an amazing amount of information in his book "The Lost Ways," and all of it is intended to give people the knowledge and information they will need if the worst circumstances occur.
Cost & Price Plans
Currently this company is offering this book in a collection with three different bonus reports, including:


What Every Survivalist Should Grow in His Backyard
How to Outlive an EMP the Early Pioneer Way
A Step-by-Step Guide to Building Your Own Can Rotation System


In addition, customers will get to choose the format in which they would like these products to be delivered.
Customers who are ok with simply being able to digitally download all of this information can do so for $37.00, while customers who prefer physical products to be mailed to them will pay $37.00 plus a Shipping and Handling charge of $7.99.
Customers can also choose to receive both formats, also for $37.00 plus the $7.99, for a total of $44.99.
Refund Policy
This company is currently selling all their products through the ClickBank digital marketplace, which means that they automatically provide a 60 day Refund Policy.
The Lost Ways Book website states that they are more than willing to provide a refund during this time period.
However, customers who contact their Customer Service team and don't get the assistance they need should contact ClickBank directly and ask them to process the refund on your behalf.
Customer Service Contact Info
Customers who would like to contact Customer Service with any questions, concerns, or complaints can do so by email at [email protected] or by submitting them directly to their website through their Contact link.
Reputation
The Lost Ways Book appears to get a lot of very positive reviews online, though it seems as though almost all the websites that provide positive reviews of this book also provide an affiliate link where they will earn money from the sale of the book.
That being said, there doesn't seem to be a lot of red flags regarding this book.
The writer says that all the information in the book is old school, traditional living-off-the-earth skills and knowledge simply intended to help people help themselves when in the worst situations or simply because they want to be more self-sufficient.
It's also sold through the ClickBank marketplace, which means that it has a guaranteed 60 day Refund Policy through ClickBank, and appears to be reasonably priced, especially when you take into account the three additional reports.
Competitors and Alternatives?
There are many other people, websites, and companies on the market today that specialize in providing people with survival-style information and products that will help them weather bad times, natural disasters, and even economic crises.
These products include Survival Seeds 4 Patriots, CrisisEducation.com, and many others.
If you have any experience with The Lost Ways Book, please leave your reviews below.
The Lost Ways Book Customer Reviews

CD J
Good information and value
Have purchased 4 physical books that include digital bonus reports. Lost Ways I and II, Lost Super survival Foods, and The Self Sufficient Backyard.
We have enjoyed all of them and benefited from the information. Good customer service. Shipping is dependent on the inefficient post office just like everything else, but they have arrived without delays.
We are most interested in the physical books, but appreciate having the digital reports as well. No, they are not hard bound and they do not pretend they are hardbound. We read through all of them and go back through the ones relevant to a current project.
The associated history alone makes the books worth reading. It is a unique library for us..

Mark.T
Old Ways To Survive What's Coming
This book really changed the way I look at prepping, A lot of good info in there that I have not read about anywhere else. I particularly liked the focus on the old way of doing things as this resonates deeply with me and the way I was raised up in a more traditional America.

Robert H
I ordered this book and it shows a hard cover, it wasn't, I was supposed to receive the other 3 books with this but didn't. It was cheap and looked like it was photo copied and looked very cheap. I would not have bought this book if I would have known it was a scam. Oh I got the book it was a soft cover and cheap.

Yonko T
The info is extensive and useful if you don't have a problem putting in the work