The Green Gardener Canna LS
The Green Gardener Canna LS Reviews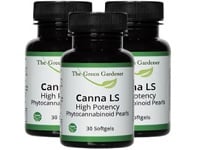 Canna LS is a CBD oil from The Green Gardener, a company that states they aim to be leaders in knowledge about hemp-based products and are dedicated to providing the latest research on the bioavailability of CBD.
How Does Canna LS Work?
You've likely heard a lot in the news lately about the healing power of hemp. Science suggests that it delivers relief better and more safely than other remedies, particularly pharmaceutical drugs.
There is some evidence that CBD oil can help treat multiple conditions, including reducing inflammation, helping with aching joints, restoring insulin levels, anxiety, and more.
CBD found in hemp has also been shown to reduce amyloid beta protein levels and reduce the inflammatory response from nerve cells caused by this protein.
It can also reduce blood pressure and blood sugar, making it easier to fight infections and disease.
The Green Gardener claims its high potency product can help support mood, sleep, memory, healthy joints, inflammatory responses, and more.
They state that Canna LS is unique from other hemp supplements in that it does not only harness a single compound, but utilizes the full range of all of hemp's healing benefits.
It contains no pesticides or toxins and includes only the natural ingredient of phytocannabinoid-rich hemp oil (in quantities of ten milligrams per dose).
According to The Green Gardener, there are three crucial hemp amplifiers that must be included for the maximum healing potential of hemp to be realized, and Canna LS utilizes all three at the precisely correct dosage.
It is made in the United States and is non-GMO and organic. Its free of THC, and is delivered via a proven system that maximizes your body's absorption and makes it easier for your body to heal.
Customer Service
The Green Gardener has excellent customer service, offering a free trial program as well as a satisfaction guarantee.
The manufacturer allows dissatisfied customers to return the unused portion of their Canna LS within 90 days of purchase for a refund of every expense paid.
The company has a publicized mailing address on their website, making it easy to get ahold of them.
Although their website is relatively new and there is minimal information available about the company's sales success, you can find plenty of positive reviews on the company's website.
Where to Buy Canna LS?
Currently, the Green Gardener's Canna LS is only available directly through the seller's website.
There, you can access all of the special deals and promotions that this organization offers to first-time and repeat customers.
They also have an eBook with more information about the product.
Cost and Price Plans
The company sells 1 bottle of Canna LS for $69.95, and offers discounts for larger orders are when customers agree to an auto-ship offer.
For example, three bottles of Canna LS with an auto-ship every three months costs $167.00, or $55.67 per bottle.
Shipping is not included and is calculated depending on where the order is being shipped.
If you decide, for whatever reason, that this product is not for you, you can return it to the company without any questions asked.
Customer Reviews & Complaints
The Green Gardener has received rave reviews from users who claim that it can be used to treat a variety of conditions. It has no side effects and requires no prescription, hospitals, or surgeries.
Users have reported that it helps them sleep and makes it easier for them to think.
In some cases, customers have even suggested that it can reverse the aging of the brain - making it possible for them to act, feel, and even look young again.
Competitors and Alternatives
Many people consider CBD oil as an alternative to hemp oil products, like those offered by The Green Gardener.
While these two products are very similar, there are some differences you should be aware of.
The main difference in these two products is where exactly the oil comes from. Hemp oil is derived from the hemp plant, which is a form of cannabis sativa typically grown for industrial purposes.
While these plants include low levels of cannabinoids, such as THC and CBD, hemp seeds do not contain any THC. Hemp Oil is extracted from hemp by pressing the seeds.
CBD oil, on the other hand, contains a high concentration of cannabidiol. It is easily extracted from hemp but must be extracted from hemp that is cultivated to be high in CBD.
In many locations, you must have a prescription to purchase CBD oil, while you don't have to have one to purchase hemp oil.
The Bottom Line
If you're looking for an inexpensive, all-natural solution to a variety of ailments, aches, and pains, you should consider trying out the Green Gardeners' Canna LS.
While this product claims to cure a variety of medical issues, you should of course consult your healthcare professional first to see if it is right for you.
Fortunately, this company offers generous money-back and trial offers to make trying this product easier.
If you have any experience with The Green Gardener Canna LS, please leave your reviews below.
You may also be interested in
The Green Gardener Canna LS Customer Reviews

Stan M
I have tried to contact them for a refund. I can find no info or phone number. It had no effect what so ever and I want a refund. I paid $69.00 for two bottles of the pearls How do I contact them. Thank you.
S. Mason

Russell
All good, does all it claims to do

Dan F
Why is it so hard to find your site to reorder?

Carmel D

Cindy F
Is this good for a 30 year old person shes got problems with anxiety and sleep. I hope you can respond back soon.

DrOlga M
Helps me sleep and relax! I truly love it!
Dr Olga Essential Oils

scott g