Teeka Tiwari Reviews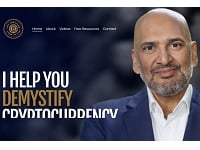 Teeka Tiwari is a financial advisor who writes the Palm Beach Confidential Newsletter, a new financial publication that promises to help people understand how to capitalize on investments in cryptocurrency.
How Does It Work?
According to their website, Teeka Tiwari says that cryptocurrencies – like Bitcoin – have recently been on such a meteoric rise that most potential investors are nervous that they may now be in an investment bubble and not worth the risk.
Teeka Tiwari says that there is a financial theory called Metcalfe's Law that proves that Bitcoin isn't done rising in value yet. This Law says that the value of a network is the square of the number of its users, and the more people that join the network, the more valuable the network will become.
In addition, "networks" are self-fulfilling prophecies where the more people that use them, the higher the number of users that will want to join them.
But Tiwari still wants his readers to protect their investment, which is why he uses a strategic approach called "asymmetric risk" investing.
This is when you invest a small amount of money into an investment that has potentially for massive growth. This way, if the investment does bust, your loss is very small. But if the idea skyrockets, the payoff will be huge.
Cost & Price Plans
Right now Teeka Tiwari is promoting a free seminar in which he will describe his entire crypto training series for investing in cryptocurrencies; this is the same system he used to make more than 200% gains in two weeks.
In addition, his website says that he will be hosting a "$1 Million Dollar Bitcoin Giveaway" for people who register for this seminar. Registration for this giveaway should be free as well.
Refund Policy
Palm Beach Group does not provide their customers with any kind of general refund policy at this time, and any customer that is considering signing up for that newsletter will want to make sure that some kind of cancellation or Refund Policy is available before they purchase this product.
Customer Service Contact Info
Customers who would like to contact their Customer Service team with any questions, concerns, or complaints can do so by phone at 888-501-2598 or by submitting them directly to their website through the Palm Beach Research Group Contact Us link.
Reputation
Unfortunately it seems that Teeka Tiwari and the Palm Beach Confidential Newsletter have really mixed reviews at this point in time.
Customers seem to be excited about the type of information this newsletter provides them, but there doesn't seem to be any information available which shows whether or not the theories discussed in this newsletter are actually effective.
The one positive aspect of Teeka Tiwari's financial advice, however, is that he claims to show people how to invest a small amount of money with a lot of promise to provide larger payoffs. This means that if his information doesn't turn out to be accurate, at least customers are not losing a huge amount of money.
But if you begin working with this program and it seems that their advice begins to go against this and is actually telling people to invest significantly larger amounts of money, then customers will want to back off and do more of their own due diligence before committing.
Competitors and Alternatives?
There are many, many different financial newsletters, websites, and blogs which will promise to help you invest your money with a large ROI, but it is always up to the individual to do their own research on each of these resources to see whether or not they have a positive reputation.
If you have any experience with Teeka Tiwari or their products, please leave your reviews below.
You may also be interested in
Teeka Tiwari Customer Reviews

Denis G
Half-decent advice. But deceit and spam everywhere.
Forget about whether his advice is good or bad, and read into my experience with him and his spammers:
In late 2020 I got into crypto thanks to Teeka Tiwari of PalmBeach. He predicted the rise correctly.
As gratitude, I purchased his newsletter for a year at a discount for $20-30. There were never any other business-related newsletters on that email of mine. So all was well for a while. And then my email started exploding with more and more new newsletters saying "thank you for subscribing!".
1.5 years passed since then. And this hasn't changed. I get dozens of emails in my spam folder daily. I get a lot in my inbox. They all have the same stylistic. They all talk about some investment opportunities. I don't want them. I keep unsubscribing. Nothing helps.
That email is gone. Lost to Teeka's team's foul spam-campaign.
On top of this: beware, as there is no simple way to cancel paid subscription of his newsletter: you have to write to their support to do that and hope that they let you.
And the crypto introduction course I had as a part of the newsletter had barely any value to it.
So I absolutely hate this guy and his company for using such disgusting spamming tactics. And absolutely not caring for anything else, but making money off of users.

Doug
Don't take this guy's advice!
This guy is a salesman. His advice isn't worth the bandwidth it takes to download. Maybe a year ago he was pushing The Graph along with a bunch of other cryptocurrencies. The Graph is now down 90% over the past year. Not 9 but 90%! His other recommendations are also all in the toilet. Don't bother paying for his hyped up BS.