TakeLessons Reviews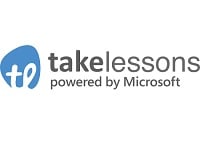 TakeLessons Customer Reviews

BetsyM
Very poor quality, not worth a dime!
Shame on Microsoft for backing this nonsense.
I looked at some of the video lessons, and participated in a couple live classes for singing.
Thankfully, I never gave takeLessons a penny,.
The instructors in the videos could not demonstrate the skills they were supposed to be teaching.
The live classes, all listed in PST, (I'm in EST) were mostly terrible.
One instructor who claimed to be instructing breath control instead simply had the obviously beginner students sing to prerecorded songs like Halo (an extremely advanced piece) and gave minimal, unhelpful feedback. I sang and played Uke, was asked if ukulele was the only instrument I played, furthering the common misconception that Uke is somehow lacking.
I wasn't able to use the chat function to respond to other students or the instructors. Very frustrating.
Another singing instructor took us through some Ludgen exercises which is the only bright spot in this dismal excuse for online education.
It's definitely not worth a penny, since there is evidently no qualifications set for instructors. It's a free for all for anyone claiming to be a musician to put up videos and try to gain a following.
I reiterate…Microsoft, do better!!!

michelle
If you are an adult student, the policies on this site are intolerable and unfeasible. The music teachers use this site because if you attempt to cancel even a minute past the 24 hour "cancellation period" you lose your money, unless you happen to have one of a VERY few teachers, who will offer a makeup lesson.
I had a teacher who stole hundreds of dollars because the lessons are prepaid and I had some issues come up that were beyond my control.
Recently, I contacted the teacher 20 minutes outside the cancellation window and she deliberately ignored me to ensure that she would get her money, even though I had to miss my lesson.
I contacted takelessons.com and they would not intervene on my behalf. The owners of this site care NOTHING for the students.

Kay M
Horrible unprofessional tutor named Lilla for analytical Geometry. I would not ever recommend Takelessons.com service to anyone especially when they use unprofessional tutors.

Max
I texted for this guy, by name PEJA, soccer training hard to believe, the way he responds, this is not the coach to my son, funny thing we pick him what we saw FIVE STAR??????????????????? HOW????? NOT HIM.... HE CHARGE AGAIN $$60/4HRS.

Anastasiya G
Terrible Teaching Experience with Takelessons
Terrible service. I tried to register as a teacher and the money was withdrawn from my banking account. Then it took a long time to find out that the account is not active, I won't be able to teach with Takelessons and the registration money are not refundable.

Tom A
Bad teacher but got total refund from TakeLessons
I had a horrible teacher. She literally knew absolutely nothing about the instrument (Chinese violin). She fired up youtube when I got there and we just watched videos. She had never seen the instrument before. No help.
So I called Takelessons and they refunded 100% of what I sent them including for the one and only lesson I had.
They are a little aggressive about getting money from you but their customer service (Sarah) was helpful and I am satisfied.